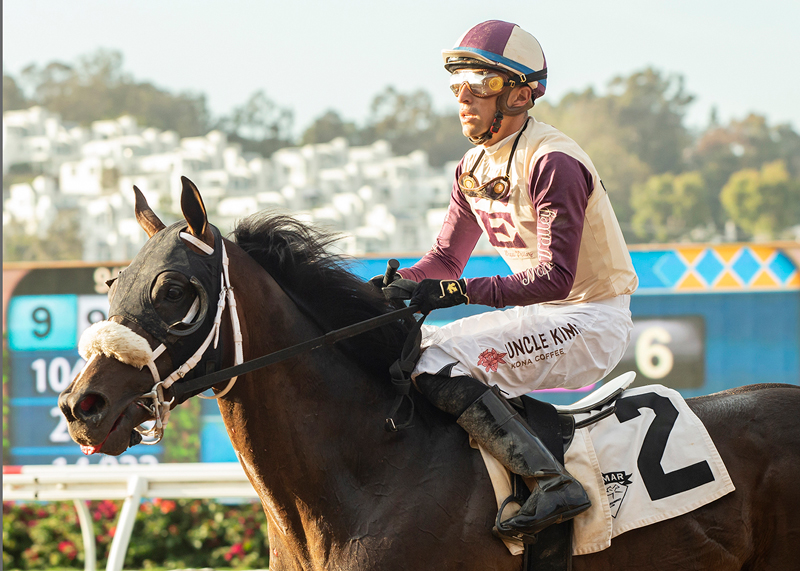 Bello and Bartlett's The Big Wam was a double "Ship & Win" winner last summer, including the Graduation Stakes. © Benoit Photo
Del Mar's "Ship & Win" program, the track's highly successful magnet for attracting out-of-state runners to compete at the shore oval, will be on deck for the 13th consecutive season when racing returns at the seaside starting July 21.
Since its inception in 2011, "S&W" has drawn more than 2,400 equine competitors to Del Mar, which has helped it regularly establish itself as one of the nation's top tracks for field size both in the summer and during its fall session. Additionally, the popular program has had a solid ripple effect for the other major racing facilities throughout the state as a majority of its imported "S&W" runners stay on in California to continue their careers.
The current "S&W" enhancements include a $5,000 first-start bonus and a 50% purse supplement for all dirt runners. Further, turf horses earn a $4,000 starter bonus and a 40% purse supplement.
The purse supplements extend to any additional starts during the summer meet and hold true for first through fifth finishers in their races. Also, should a "S&W" horse be claimed out of its first outing and subsequently run back at the session, the original owner will receive all earned supplements.
"This program has proven to be an absolute home run for Del Mar and all of California racing," said David Jerkens, a Del Mar vice president and its racing secretary. "Our fields grow stronger each summer with "Ship & Win" horses and then the lion's share of those runners stay on and race at other venues in the state. Our local owners and trainers bring us most of these imports, so that provides beneficial enhancements for our regular backers."
Here are the simple guidelines for "S&W" horses:
Horses cannot have raced in California in the past 12 months and must have made their last start outside the state.
First-time starters do not qualify.
Purse bonuses will extend to a horse which makes its initial "S&W" start in May or June at Santa Anita. Further, that same horse may make up to two starts during that period and still have its purse benefits extended through the Del Mar meet.
Guaranteed $5,000 check for any qualified starter in their first "S&W" outing on dirt; Stakes races included.
50% bonus applied to same qualified horse's purse earnings for EVERY dirt start during the summer meet.
Guaranteed $4,000 check for any qualified starter in their first "S&W" outing on turf; Stakes races included.
40% bonus applied to same qualified starter's purse earnings for EVERY turf start during the summer meet.
Purse bonus applies to earning for places 1-5, excluding stakes races. If a "S&W" horse is acquired after its initial "S&W" start, the original owner will receive purse bonuses for subsequent outings throughout the summer stand.
Horses that make their original Del Mar "S&W" start will remain eligible for bonus money for their first start at the Santa Anita Fall meet, provided the horse makes only one start at Del Mar.
DMTC reserves, at is sole discretion, the right to determine eligibility for qualified starters.
Those with questions about "S&W" are asked to contact David Jerkens at (858) 792-4230, or at david@dmtc.com
"This signature, innovative and popular program has increased the horse population and field size for every owner in California," said Thoroughbred Owners of California chairman Gary Fenton. "DMTC continues to be a leader in positive and innovative changes within our industry."
Earlier this month Del Mar announced a robust purse and stakes schedule befitting its standing among the nation's foremost racing headquarters. Its 31-day session will include purse payouts of over $800,000 a day and its stakes schedule will consist of 39 events worth $8,275,000.
The iconic track's 84th summer season will go from Friday, July 21 until Sunday, September 10 with most of its racing days starting with its traditional 2 p.m. first post.