Thursday, July 23rd, 2015 ( 6 years ago )
'High Five' Work for American Pharoah and Baffert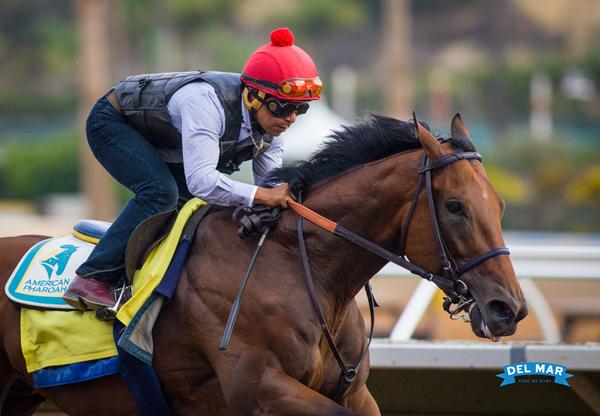 'HIGH FIVE' WORK FOR AMERICAN PHAROAH AND BAFFERT
And on the fifth day, American Pharoah worked six furlongs in 1:11.00.
And verily did trainer Bob Baffert say in the aftermath: "I think he's getting faster" and "He gives me goosebumps."
Five days after working six furlongs in 1:11.40, American Pharoah went the same distance two ticks faster Thursday morning under Martin Garcia. The interim splits were :12.40, :24.00 , :36.20 and :58.80.
In what was announced to be a five-furlong work, American Pharoah went from the five-eighths pole to the wire and was still going strong enough that Del Mar's clockers gave an official six-furlong time for the exercise. American Pharoah galloped out to seven furlongs in 1:24.00 and a mile in 1:38.40.
It came as a surprise to some that the first Triple Crown champion in 37 years would be given such a short break between serious workouts in preparation for a start in the $1 million Haskell Invitational on August 2 at Monmouth Park in New Jersey. But it was a case of Baffert knowing the horse and going on his Hall of Fame instincts.
"I'm going with a five-day schedule with him now," Baffert said. "I've done that with other horses before. First time with a Triple Crown winner, though."
"We'll work him a half before we leave. An easy half; next Tuesday. He needed to get back to the track. That last one (work), he came out of it blowing a bit. Not today, though. He looked like he did it easy.
"If I wait too long with him, he starts to get antsy. He'll work too fast when I put him back out there. I waited 14 days after Arkansas (Derby) and he went real quick. He needs to get out there."
"The track here is a little demanding. But he just doesn't make it look that way."
"He's right on course (for the Haskell). No excuses. He'll be ready to go there."
Head clocker John Malone was duly impressed. "He looked good; as good as always," Malone said. "Some folks are saying they think he has lost weight. I don't think so. He looks like he's still growing."