Friday, August 21st, 2015 ( 6 years ago )
Hard Aces, Hardly Heralded, Has High Hopes in Pacific Classic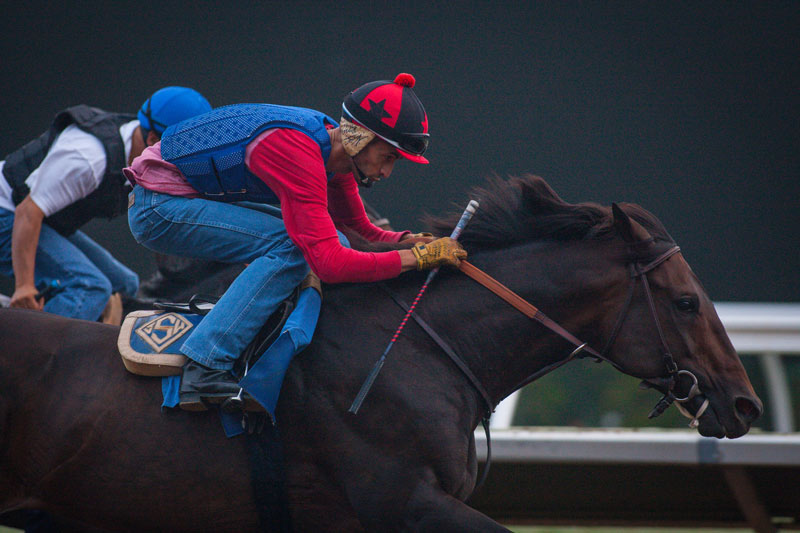 Hard Aces working at Del Mar
By Hank Wesch
Gold Cup at Santa Anita winner Hard Aces was made the 5-1 co-third choice on the morning line for Saturday's $1 million TVG Pacific Classic behind Hall of Fame trainer Richard Mandella's 1-2 punch of standout mare Beholder (5-2) and Catch a Flight (9-2).
If the numbers hold, it will mean more respect than some but less than most Gold Cup winners in the past decade.
That the spotlight has been focused directly on Beholder, attempting to become the first female runner to win a Pacific Classic, is of no concern to Hard Aces' trainer John Sadler.
"We don't care about that," Sadler said with a laugh. "We just care that he's doing well down here and looks ready to run a big race."
The Gold Cup victory over fellow Pacific Classic entrants Hoppertunity and Catch a Flight was accomplished as an 8-1 surprise. It was largely attributed to a rail-skimming and perfectly-timed ride by jockey Victor Espinoza. Hard Aces edged Hoppertunity by a nose with Catch a Flight 1 ¼ lengths back in third.
"The start (to the Gold Cup) was not that great but I got him settled and we had a good trip down the inside," Espinoza said.
"He's a laid-back horse and he doesn't do anything on his own. You have to encourage him because if he gets out of rhythm, he'll stop. The first couple times I rode him he didn't run like he had been back east (near the lead), but then he started getting better and better. He looks great and I think he has a chance. I think any horse I ride has a chance."
Hard Aces was privately purchased by Hronis Racing of brothers Kostas and Pete Hronis in February following a four-length victory in the Louisiana Handicap at Fair Grounds. The previous owners were a partnership headed by trainer J. Larry Jones, the man who conditioned Hard Spun, Hard Aces' sire.
Thrust immediately into the highest level of California competition, Hard Aces finished fourth, beaten 6 ½ lengths by 2014 Pacific Classic winner Shared Belief, in the Santa Anita Handicap in March.
Hard Aces was subsequently sixth, beaten nearly 13 lengths, in the Oaklawn Handicap in Arkansas in April, and third, beaten four lengths by Catch a Flight in the Californian in May at Santa Anita.
Since the Gold Cup victory, his sixth in 23 career starts that boosted his career earnings to $592,145, Hard Aces has been trained up to the Classic with four works over the Del Mar track, among them a bullet six furlongs in 1:13.80 on August 3.
Jones, contacted by phone, has been following the California progress of the horse he trained to five victories in 19 starts.
"We always felt like he was a real good horse, he just wasn't precocious," Jones said. "We own his mother (All in With Aces, who is by Quiet American) and we could tell he was a little different than the foals she'd had and, looking back, the ones she's had since then.
"He showed he had talent, but he showed he had a lot of growing up to do. We never got into a huge hurry with him and we never got discouraged. I had good partners that allowed him to develop. Now, you look at Hard Spun as a sire, his 5-year-olds do well. He's got the filly Hard Not To Like, she's 6 and winning Grade I stakes.
"We thought his (Hard Aces) 5-year-old year was going to be a big year and that's how it has turned out to be."
Having first-hand knowledge of Hard Aces' family tree, Jones sees greater maternal than paternal influence.
"He's more like his mother," Jones said. "His father was speed oriented. He wanted to get out and get the game on. Hard Aces is more like his mother. He just waits and waits until you tell him, 'OK, you have to go and do it now.'
"And the ironic part is, I used to use his mother as a workmate for Hard Spun, trying to teach him to sit back off horses and make one run."
Given his vested interest, personal and financial, Jones' reaction to the Gold Cup at Santa Anita win was unsurprising.
"No one was cheering harder than we were because we still have the mare and she's in foal to Hard Spun," Jones said. "We were ecstatic. When John and his people were inquiring about buying him, we told them that the farther they ran the better he'd be. But in the part of the country that I run there aren't that many mile-and-a-quarter races.
"So it worked out well for them, it worked out well for us and I hope it's going to work out well again this weekend."
Sadler has 51 stakes victories at Del Mar, sixth all-time at the track and right between Hall of Famers Mandella (56) and D. Wayne Lukas (48). Sadler is oh-for-six in the Pacific Classic, however, and it would make a nice addition to his two previous Million Dollar Race victories – the $2 million Dubai Golden Shaheen with Our New Recruit and the $1 million Sunshine Millions Classic with Musique Toujours.
The Hronis brothers, who led all owners for earnings at the 2013 and 2014 Del Mar summer meetings, have their first Pacific Classic starter.
Gold Cup winners Majestic Harbor (2014), Awesome Gem (2010) and Mast Track (2008) went off at 7-1, 9-1 and 8-1 to finish sixth, 10th and third in respective Pacific Classics. Game On Dude, the 2012-13 Gold Cup champ, was a winning Pacific Classic favorite in 2013 after finishing second as the betting choice in 2012. The 2009 Gold Cup winner, Rail Trip, was third as the favorite in the Classic two months later. And Lava Man, the Gold Cup winner and Pacific Classic betting favorite from 2005-07, sandwiched a Pacific Classic win in 2006 between third and sixth-place finishes.
Now it is Hard Aces' turn.