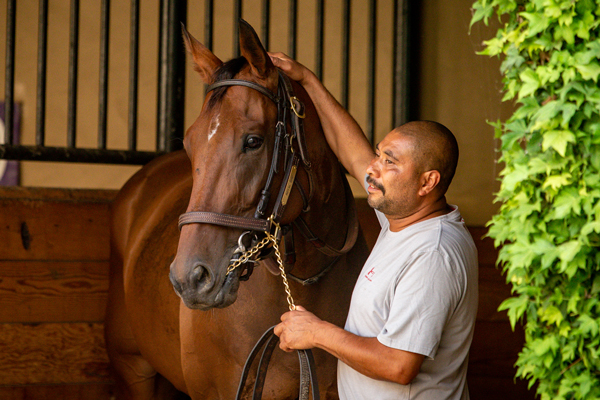 Royal Ship schooling Thursday at Del Mar © Zoe Metz Photo
By Hank Wesch
Hall of Fame trainer Richard Mandella and Hall of Fame jockey Mike Smith have a combined 27 "participations" in the $1 million TVG Pacific Classic.
They have four wins apiece and a combined 18 in-the-money finishes.
For Mandella, the record shows 17 starters, four wins, six seconds and a third. Dare And Go's phenomenal upset of Cigar in 1996 was the first victory for Mandella with Gentleman (1997), Pleasantly Perfect (2004) and Beholder (2015) following.
For Smith, it's 10 mounts, four wins, one second and two third-place finishes. The victories were guiding Came Home (2002), back-to-back with Richard's Kid in 2009-10 and Shared Belief in 2014.
It's all been separately. The two have never combined on a TVG Pacific Classic runner.
"It's about time," was Mandella's immediate reaction.
"It's about time," were Smith's first words when apprised of the fact a few days later.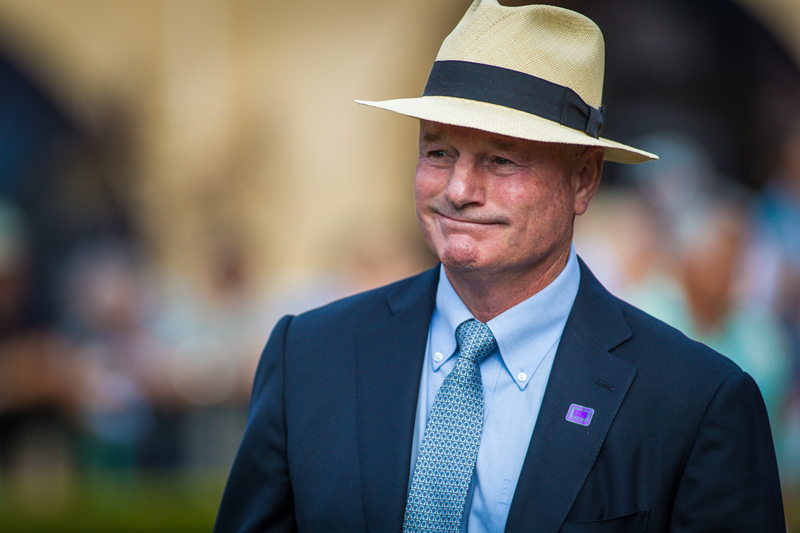 Richard Mandella
The time will come Saturday in the 31st running of the signature event of Del Mar's summer meeting. Mandella will saddle and Smith will ride Fox Hill Farm and Siena Farm's Royal Ship, a Brazilian-bred 5-year-old son of 2008 Del Mar Futurity winner Midshipman, the 7-2 second choice behind 3-1 favorite Express Train on the morning line.
If Mandella and Smith haven't hooked up for the Classic before this, it's because they were orbiting at different, albeit exceptionally high, levels when selecting riders for mounts or mounts to ride.
Gary Stevens (Beholder and Gentleman), Jerry Bailey (Pleasantly Perfect) and Alex Solis (Dare And Go), Hall of Famers all, piloted Mandella's TVG Pacific Classic winners. Three of Smith's four Classic victories came for Hall of Fame trainers – Bob Baffert with Richard's Kid and Jerry Hollendorfer with Shared Belief.
And there was one notable near miss.
"I was riding Pleasantly Perfect, but I had already (committed to) Came Home," Smith recalled. Pleasantly Perfect finished fourth to Came Home in 2002, skipped the Pacific Classic in 2003 but won the Breeders' Cup Classic and returned as a 6-year-old in 2004 to win the Dubai World Cup and the Pacific Classic.
"You don't know what would have happened if I'd have been able to stay with him," Smith said. "But he won just about everything the next year and the year after that."
That Mandella and Smith are together on Royal Ship is in a major part attributable to John Fulton, a former Southern California-based trainer who is now a bloodstock agent and equine talent scout in South America, and the late Rick Porter of Fox Hill Farms.
"John Fulton contacted Mr. Porter and sent him some films of the horse that he thought looked really good," Mandella said. "Mr. Porter sent them to me and I agreed, so they bought him."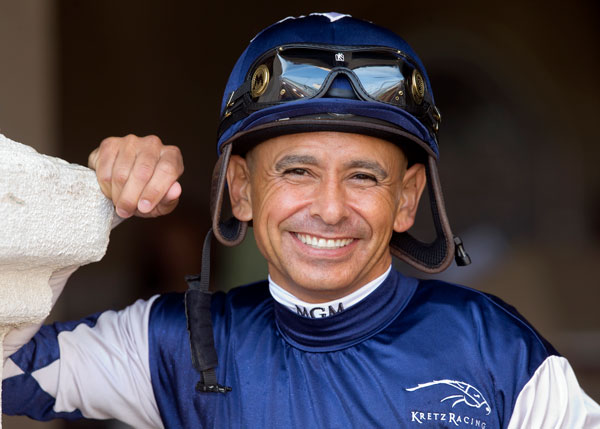 Mike Smith
Porter's recommendation that Smith get the call was based on years of success together. Smith provided Porter, who died from cancer on June 6, with his first Grade I win on Jostle in 2000. More recently, Smith rode the filly Songbird through a career of 13 victories in 15 starts, 12 of them stakes, Eclipse Awards in filly divisions as a 2-year-old in 2015 and 3-year-old in 2016. And, in one of the most memorable races of recent years a runner-up to Beholder by a nose in the 2016 Breeders' Cup Distaff at Santa Anita.
Royal Ship was on a five-race winning streak in his native Brazil, capped by a victory in the Group I Estado do Rio de Janeiro in February last year, when the call came to send him to America. There was quarantine upon arrival and four months acclimating under Mandella's care before his first U.S. start. It came on August 23, 2020 in the Del Mar Mile and resulted in a third-place finish, beaten 4 ¼ lengths by Mo Forza.
It took three more starts, all in Graded events, and the "ultimate equipment change" of being gelded before notching a victory in the Grade II Californian in April, a close second in the Grade I Hollywood Gold Cup in May and third, beaten 1 ¼-lengths by TVG Pacific Classic favorite Express Train in the San Diego Handicap on July 17.
"He has always trained like a really good horse," Mandella said. "He's done well, but as he got older he got a little studdish, and that that's when we gelded him. He was having trouble in his races, but he was making his own trouble."
Smith has been a co-contributor through the work-in-progress stage with Royal Ship
And now speaks with enthusiasm about the horse.
"When he first came over, he was not a very mature horse," Smith said. "He would never stand straight in the gate, didn't break that well. All his races had been on turf and we thought of him as a turf horse at first.
"His first few races here were good, but he wasn't really giving his all. I knew there was more left in him. We wound up gelding him and it made a difference. He's been standing in the gate well, jumping really well and he hasn't run a bad race since.
"The horse is really coming around at the right time and he has really found a home and a place to excel at the mile-and-an-eighth to mile-and-a-quarter distance."
With Smith in the irons, Royal Ship breezed a half-mile in :47.80 last Monday in his final TVG Pacific Classic tune-up
"He was in the bridle, wanting to do it and finished strong," Smith said. "Hopefully he'll get a good run, do what I believe he can do and combine for a fifth win apiece."
For the first-time TVG Pacific Classic combination of Smith and Mandella.