Friday, August 14th, 2015 ( 6 years ago )
Hall of Fame Connections Believe in Beholder For Classic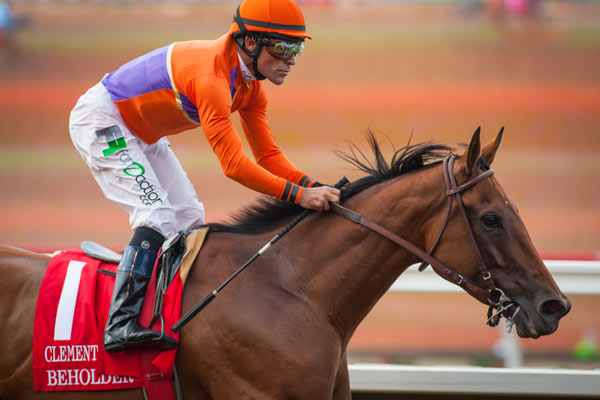 By Hank Wesch
Hall of Fame jockey Gary Stevens has some experience aboard female Thoroughbreds in races against males. Most famously, Stevens guided Winning Colors to a wire-to-wire victory in the 1988 Kentucky Derby, holding off the desperate surge of Forty Niner to win by a neck.
Hall of Fame trainer Richard Mandella guesses he's saddled a few female runners in "Battle of the Sexes" races in more than four decades in the business. He scored a major stakes victory when Advancing Star beat the boys in the Grade III $200,000 Hollywood Turf Express on November 28, 1997 at Hollywood Park.
And both Stevens and Mandella expect to go into the 25th Anniversary running of the TVG Pacific Classic on Saturday, August 22, brimming with confidence in the 5-year-old mare they'll be pitting against whatever top handicap division males go against her. Because the mare is two-time Eclipse Award champion Beholder, a winner of eight of her last nine races, the most recent a seven-length romp in the Grade I Clement L. Hirsch Stakes at Del Mar on August 1.
It will be the first time against males for Beholder, who has earned $3,656,600 for the Spendthrift Farm of B. Wayne Hughes. And in the 1 ¼-mile Pacific Classic, Beholder also will be asked to run an eighth of a mile farther than she has in any of her previous 18 starts, which have produced 13 wins.
But Stevens, asked what it takes for a girl to beat the boys, indicated that Beholder certainly fits the profile.
"I think it's more their temperament and mental attitude going into it," Stevens said. "I don't think, obviously, Richard would have tried this as a 3-year-old. But we've talked about it in the past and she's continued to mature and she's to the point right now where she's a total professional, a big, strong mare, and she can handle it.
"A lot of them that I've ridden against colts they've performed well but it has knocked them out for a while, too. I think that's a consideration, where she is right now and where she's going to be. She has plenty of time to recover."
The long range goal for Beholder is the $2 million Breeders' Cup Longines Distaff on Friday, October 30 at Keeneland in Lexington, Ky.
Winning Colors led every step in winning the Santa Anita and Kentucky Derbies, but got roughed up and never saw the front in finishing third in the Preakness and sixth in the Belmont Stakes before returning to her own gender division for the rest of her career. But Stevens doesn't think the lead is where Beholder has to be.
"She's got speed, as everybody knows," Stevens said. "But she's got that style now where I can do whatever I want to with her. She is capable of doing things that a lot of good colts I've ridden in my career weren't capable of doing."
Four mares have run in the 24 years of the Pacific Classic, two in the last three editions. Paseana was the pioneer, finishing fifth of seven in 1992, still the best result for a female runner. Island Fashion (9th, 2005), Amani (6th, 2012) and Byrama (7th, 2013) followed.
Mandella, who took back-to-back Classics with Dare And Go in 1996 -- famously upsetting Cigar -- and Gentlemen in 1997, simply says it's time to give Beholder a greater challenge.
"I think when you come to a point when you're winning in your own class so much, you probably ought to try something different," Mandella said. "That's what I'm doing.
"I don't often do it, but I don't often get one as good as Beholder. I think she deserves a chance to step up. It has been pretty easy for her for a year and she's not over raced, so I think there's nothing wrong in trying and I'm pretty confident in her. She's pretty good."
That last sentence is Mandella at his understated best.
There's relatively recent precedent for females winning major races against males in the U.S. Zenyatta became the first female to win the Breeders' Cup Classic in 2009. Rachel Alexandra won the 2009 Preakness, making her the first victorious filly in a Triple Crown race in 85 years.
Ask Stevens -- who has won nine Triple Crown races, 10 Breeders' Cup races and 84 stakes at Del Mar, seventh all time -- where Beholder ranks among the horses he has ridden and he replies: "Right at the top of either sex.
"When I won the Breeders' Cup Distaff on her two years ago, I said I'd never felt the power and had the confidence I had in that race except for maybe one or two colts. Maybe Silverbulletday when I won the Breeders' Cup Juvenile Fillies (1998) and came back and won the (1999) Kentucky Oaks.
"She (Beholder) was just dominant. I felt that had she run against the colts in the Classic that day, she could have won it. We're going into uncharted territory not only going against the colts, but going a mile and a quarter for the first time. But I've got a lot of confidence in her."