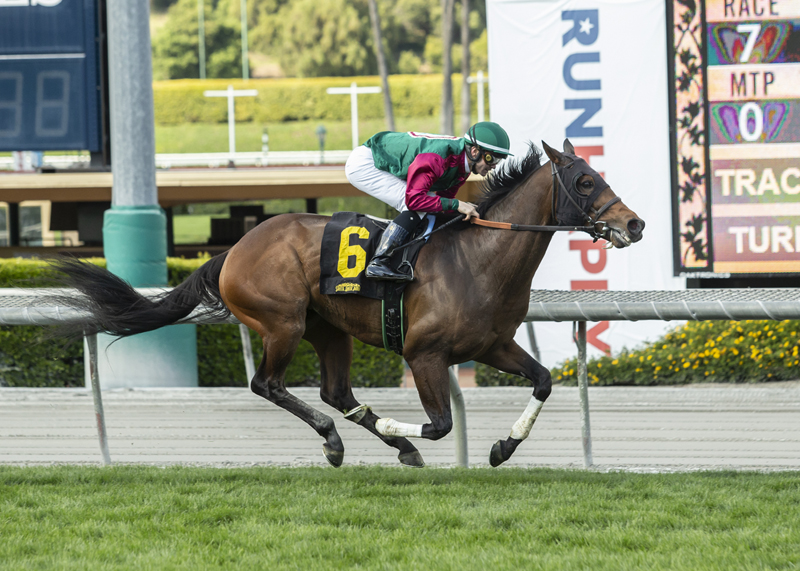 Ward 'n Jerry © Benoit Photo
Long-winded allowance horses will stretch out to a mile and three-eighths Thursday for a $74,000 allowance purse that will serve as the feature attraction on the day's eight-race card. It goes as Race 7 on the program and has lured eight runners to test their legs and lungs over the demanding 11-furlong distance.
Along with the feature, there will be an extra buzz to the day's card as the track's Pick Six Single Ticket Jackpot wager will be up for grabs once more this time with a $1,645,118 carryover to serve as extra incentive. The bet has carried forward for 16 straight racing days and its prize just grows more and more lucrative. If it is not "hit" on either Thursday or Friday of this upcoming week, it goes to TVG Pacific Classic Day on Saturday and that's a "mandatory" afternoon when all money in the pot gets paid out to those holding tickets with the highest number of winners.
The feature is an interesting betting affair with the likely favorite being an old pro named Ward 'n Jerry, a homebred 8-year-old gelding who races in the silks of Mr. and Mrs. Larry Williams. The Mike Puype-trained veteran has run the most races – 29 – won the most – 8 – and banked the most money -- $474,759 – in the lineup.
There's little doubt that Ward 'n Jerry can get the trip. In eight of his last 12 outings he's run farther than the Thursday headliner, so the old boy has a lot of things in his corner. Leading rider Flavien Prat signs on the ride, so there's yet another thing in his favor.
Here's the full lineup for the feature from the rail out with riders: Bran Jam Stable and Firsthome Thoroughbreds' Big Buzz (Jessica Pyfer); Reddam Racing's Parsimony (Mario Gutierrez); Three Diamonds Farm's Ocean Atlantique (Trevor McCarthy); Alfred Pais' Margot's Boy (Juan Hernandez); Ward 'n Jerry; Karl Pergola's K P All Systems Go (Tyler Baze); Slam Dunk Racing or Nentwig's Rijeka (Joe Bravo), and Mr. and Mrs. W. K. Warren, Jr.'s Seven Charms (Kyle Frey).
First post on Thursday is at 2 p.m.