Saturday, September 4th, 2021 ( 3 weeks ago )
Going to Vegas Handy Winner of Saturday's Mabee at Del Mar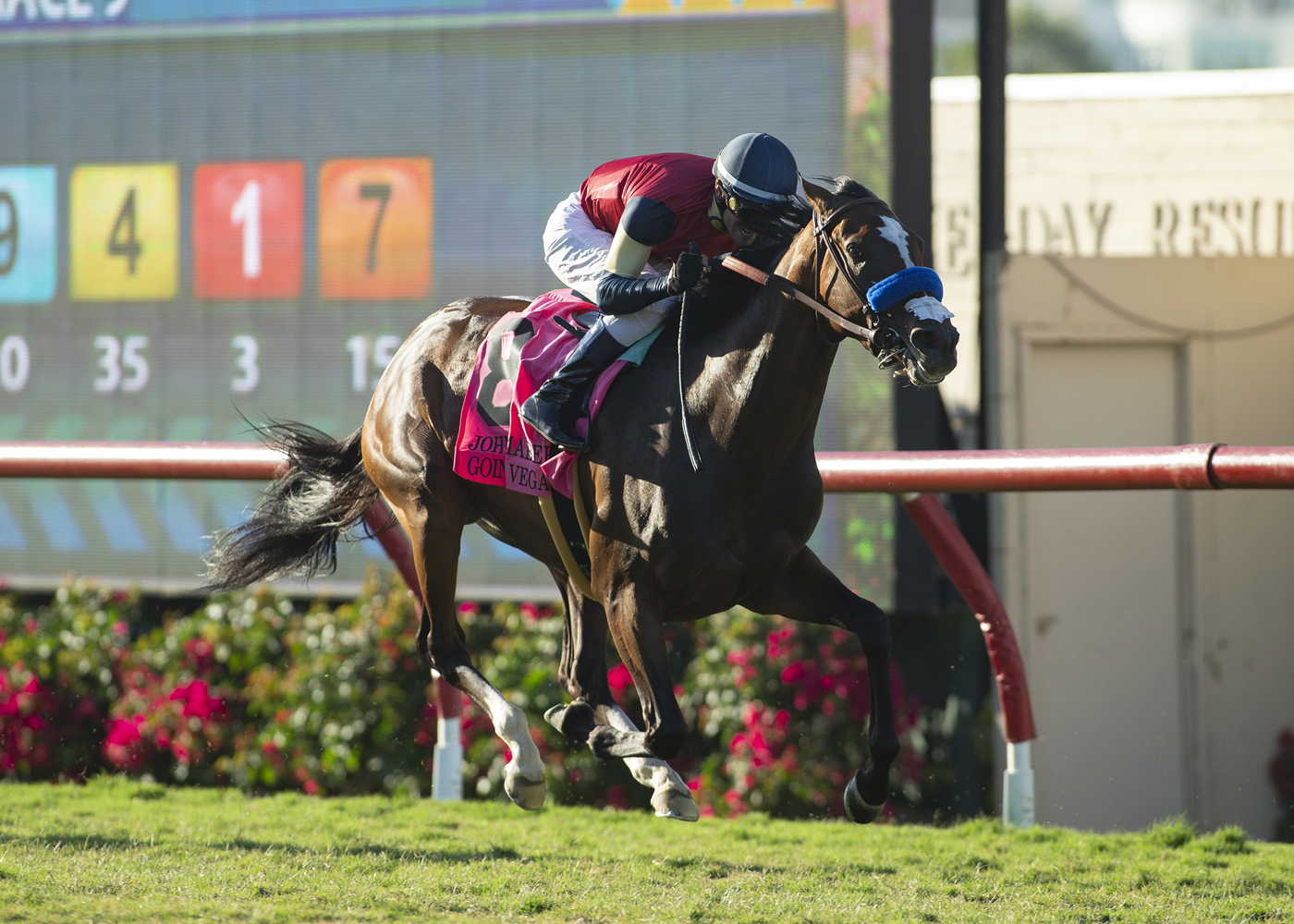 Going to Vegas © Benoit Photo
Going to Vegas and Del Mar's leading rider Flavien Prat sat a perfect trip Saturday in the nine-furlong John C. Mabee Stakes at Del Mar, then pulled clear at the top of the stretch and could not be caught in scoring a two and one-quarter length triumph in the Grade II headliner.
The winner, a 4-year-old filly by Goldencents, was winning the sixth race of her career and the $120,000 winner's share of the $201,000 purse increased her earnings to $454,151. The bay Kentucky-bred is trained by Richard Baltas.
Going to Vegas is owned by three racing groups – Abbondanza Racing, Medallion Racing or MyRacehorse. An estimated post-race crowd of 250 of her owners filled Del Mar's winner's circle to capacity, and then some.
Finishing second in the grass test was LNJ Foxwoods' Dogtag, who had a length and a quarter on Calvin Nguyen's Bodhicitta.
The winner, the 19-10 race favorite, returned $5.80, $3.20 and $2.60. Dogtag returned $2.80 and $2.40, while Bodhicitta paid $2.80 to show.
This was the 64th running of the Mabee, named for one of the founders of the Del Mar Thoroughbred Club.
---
FLAVIEN PRAT (Going to Vegas, winner) – "I had a good post and a good break. I got right where I wanted to be and we weren't going that fast. When I asked her, she had a really good turn of foot. She was a winner all the way today."
RICHARD BALTAS (Going to Vegas, winner) "She was where she wants (second, stalking position) from the start. She'll rate now, she used to not rate. I'm very proud of the horse coming back fairly quickly from the (allowance win) at the start of the meet to win a mile and an eighth graded stakes. (On the overflow crowd of owners in the winner's circle) This is great. They're all having fun and that's what it's all about."
---
FRACTIONS: :24.20 :47.80 1:12.41 1:36.60 1:48.14
The victory was the 11th of the meet for rider Prat and his fifth score in the John C. Mabee. He now has 68 stakes wins at Del Mar, tied for 11th most in track history.
The victory was the third of the meeting for trainer Baltas, but his first win in the John C. Mabee. He now has 20 stakes wins at Del Mar.
The winning owners are Abbondanza Racing (Bing Bush of Del Mar), Medallion Racing (Philip Shelton of Nicholasville, KY) and the large ownership group of MyRacehorse.
(Post-race estimates put the crowd in the winner's circle for the Mabee at 250 people.)