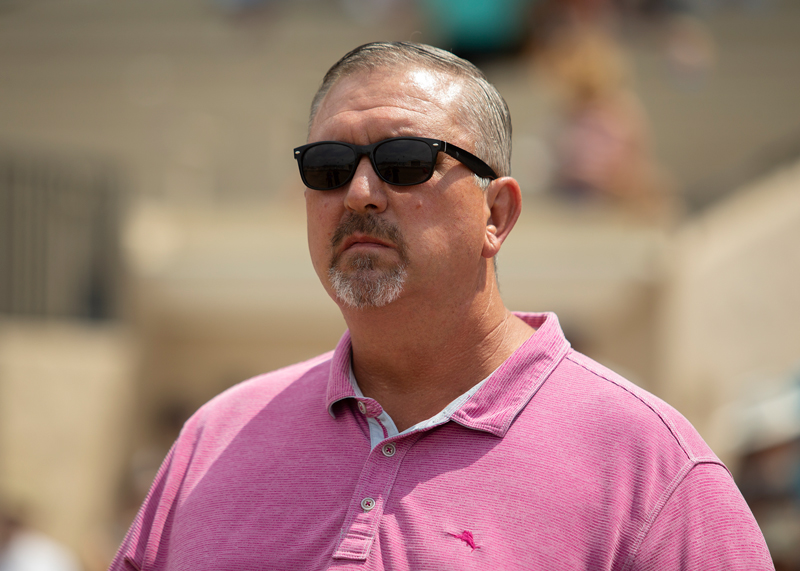 Mark Glatt © Benoit Photo
By Hank Wesch
Mark Glatt saddled Collusion Illusion and Law Abidin Citizen for the 2020 edition of the Bing Crosby Stakes and was rewarded with a 1-3 finish that provided him the first Grade I victory of his 16-year career as a Thoroughbred trainer.
And the resultant victory celebration was, as Glatt mildly puts it: "Kind of subdued, with no one around.
"We couldn't go out to dinner or anything, there weren't many restaurants even open, and we had to wake up early the next day."
Blame COVID which, although racing went on, precluded crowds, winner's circle presentations or even close-contact celebrations by the connections of the victorious horses. So Glatt was relegated to socially distanced media interviews and loosely-posed pictures with family members and stable employees.
Not that it mattered all that much.
"A Grade I is a Grade I, no matter where (or under what circumstances), you win," Glatt said.
On Saturday, Glatt will be back for another Bing Crosby seeking the second Grade I score of his career. He entered the same two horses, Collusion Illusion and Law Abidin Citizen, from 2020 and one more, 3-year-old Dr. Shivel, to boot.
Late in the week he was still giving all three consideration. But Glatt indicated the most likely scenario would be that Collusion Illusion and Dr. Shivel would start and Law Abidin Citizen would be held out for another assignment.
Collusion Illusion and Law Abidin Citizen are both sons of Twirling Candy that Glatt picked out for clients from Kentucky sales.
"I was stabled next to John Sadler when Twirling Candy was running and just thought he was an amazing looking animal and certainly a very good racehorse," Glatt said. "I thought that maybe when he went to stud I'd have an opportunity to pick up one or two of (Twirling Candy's progeny)."
He picked both Law Abidin Citizen and "Collusion" for a group based in his native state of Washington – Dan Agnew, Jerry Schneider, John Xitco and Dr. Rodney Orr.
In the 2020 Crosby, 6-year-old Law Abidin Citizen, ridden by Abel Cedillo, didn't wilt after being close to a fast early pace and held on for third as 3-year-old Collusion Illusion, given a heady ride by leading jockey Flavien Pratt, rallied along the rail in the final furlong to edge Lexitonian on the wire.
The horses are a year old. The riders are different. And there was not an ounce of nostalgia involved in Glatt's thoughts of doubling back to the cast of 2020.
"The race is different from one year to the next, the horses and the way they're coming into the race is different. That's what you base it on," Glatt said.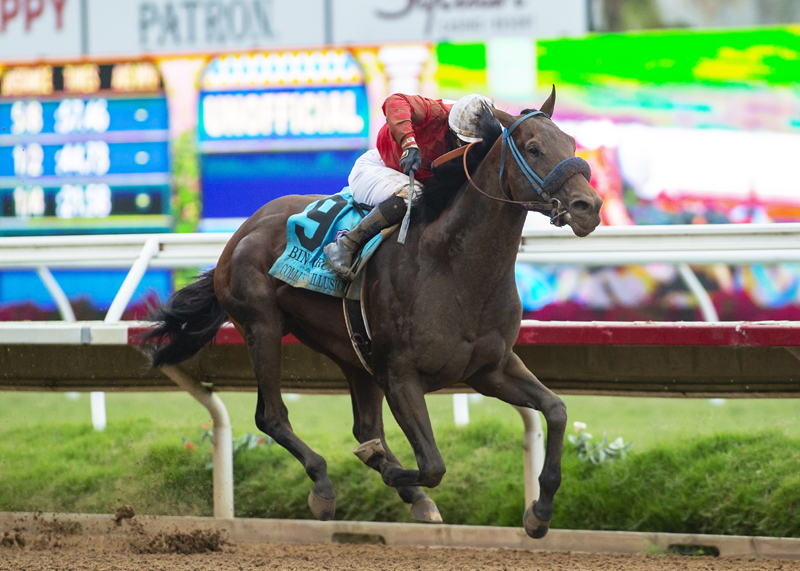 Collusion Illusion © Benoit Photo
Collusion Illusion earned an automatic berth into the $2 million Breeders' Cup Sprint via last year's Bing Crosby victory. A traffic-troubled 12th of 14 result in the BC Sprint at Keeneland in November was sandwiched between a second in the Santa Anita Sprint Championship in September and third in the Grade I Malibu in December.
Collusion Illusion's six-race 2020 campaign ended with earnings of $317,800, boosting his career total to $474,751. The Bing Crosby will be his 2021 debut.
Law Abidin Citizen followed the Bing Crosby with a start in the seven-furlong Pat O'Brien, the second in Del Mar's summer sprint stakes series, and was third to C Z Rocket. He made his 2021 debut with a fourth-place result in the Grade III Daytona at Santa Anita on May 29 then won the Oak Tree Sprint at Pleasanton on July 3.
"He's a hard-trying horse and maybe he can pull a little bit of an upset," Glatt said.
Dr. Schivel won the Del Mar Futurity last September for trainer Luis Mendez after it had been reported that the ownership partners -- Red Barons Barn and Rancho Temescal -- were soon to turn the Violence colt over to Glatt.
The media voted Dr. Schivel the top 2-year-old of the meeting and Collusion Illusion the top sprinter, giving Glatt two returning division champions to saddle in the Crosby.
Dr. Schivel started his 3-year-old campaign with a neck victory in an allowance sprint at Santa Anita in June. Prat, who has won five of the last six runnings of the Bing Crosby – missing only in 2019 – will be aboard.
"He had a very good comeback race and he has trained very well since," Glatt said.
Collusion Illusion became Glatt's fifth Breeders' Cup starter and a Crosby victory with any of the horses would put him in the enviable position of "home track" advantage when the BC Sprint is held at Del Mar as part of the 14-race, $28 million, two-day fall championships on November 5-6.
Collusion Illusion joined Eddie Haskell (11th, 2019 Turf Sprint) and La Tee (10th, 2008 Filly & Mare Sprint) as short-distance race Breeders' Cup starters for Glatt. He also had Blackjackcat (3rd, 2017 Mile on turf) and Sharp Samurai (3rd, 2020 Dirt Mile).
The performances of Blackjackcat and Sharp Samurai should serve as a shield for Glatt, a 48-year-old native of Washington, from being typecast as a "sprint" trainer. Not that he's worried about that either.
"If that's the worst thing they call me, I'm doing all right," Glatt said.
Equibase statistics show Glatt is No. 42 in North America for earnings in 2021. Entering the third week of Del Mar racing on Thursday, July 29, he had 34 wins from 160 starters with stable purse earnings of $1,739,366. His career numbers: 6,774 starters, 1,039 wins (No. 1,000 was recorded last November 20 at the Bing Crosby fall meeting with Zestful) and earnings of more than $34 million.
With one Grade I victory on the record, he has loaded up for another on Saturday.
And this one, if it happens, won't be so quiet.