Saturday, July 18th, 2015 ( 6 years ago )
Gabriel Charles Wins Eddie Read Stakes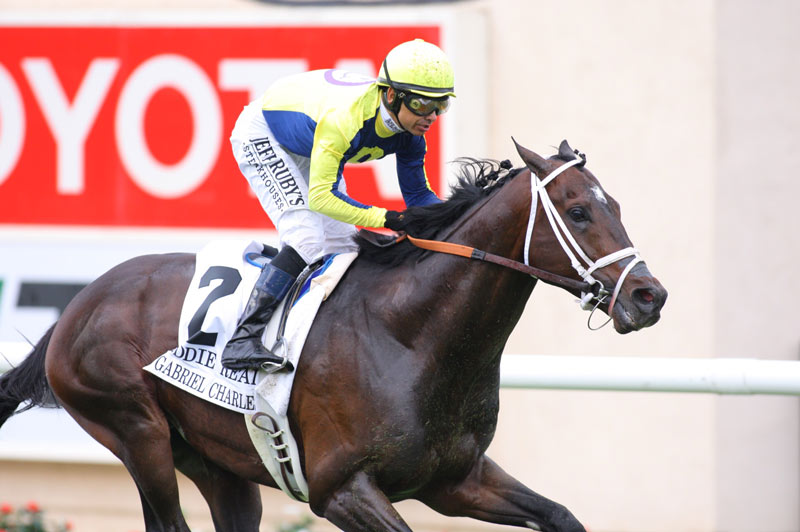 Winless in three starts since scoring in the 2013 Del Mar Derby, Gabriel Charles showed a return to his best form with a brilliant stretch rally to win the Grade I $400,000 Eddie Read Stakes under Hall of Fame jockey Mike Smith Saturday.
Next-to-last in the early stages of the nine-furlong grass race, Gabriel Charles surged into contention from the outside on the final turn and dominated his opposition in the stretch to score by 3 ¾ lengths. Time for the distance over a course labeled yielding after a rain storm that hit Del Mar in the early afternoon was 1:48.13.
Gabriel Charles, a son of Street Hero owned by Sam Britt and Michael House and trained by Jeff Mullins, was out of action from November of 2013 until April of this year while recovering from a bowed tendon. In two starts at Santa Anita this winter he was second in an allowance race and third in the Grade III American.
Twentytwentyvision, an 11-1 longshot, was runner-up in the Eddie Read, 1 ½ lengths ahead of Finnegans Wake, 2-1 second choice in the wagering, with Power Ped fourth in the field of seven grass horses.
Midnight Storm, victor in the Del Mar Derby last summer, was a disappointing fifth as the 6-5 favorite after pressing the pace of Big Cazanova, who wound up sixth in front of last-place Maltes.
Gabriel Charles went postward the 9-2 third choice and returned $11.40, $6 and $3.40 while scoring his fourth victory in eleven starts. First money of $240,000 increased the five-year-old horse's earnings to $584,400.
Mullins and Smith also combined to win the opening-day Oceanside Stakes Thursday with Soul Driver.
Twentytwentyvision paid $8.20 and $4.20, while Finnegans Wake returned $3 to show.
In the day's supporting feature, the $88,480 Osunitas Stakes, even-money favorite Gas Total and jockey Flavien Prat got up in the final strides to defeat My Monet by a neck, with Theatre Star third and Istanford fourth.
Gas Total, owned and bred by Haras Philipson in Brazil and trained by Richard Mandella, ran the mile and one-sixteenth over a tiring, "good" track in 146.68. She paid $4.20 after her fifth win in 28 starts. First prize was $49,920 for the six-year-old mare.
The Osunitas Stakes was originally scheduled to be contested over the infield turf course but was moved to the main track because of rain Saturday. As a result, there were nine scratches from the field, resulting in a line-up of five fillies and mares to run.
Saturday's attendance totaled 12,609.
---
MIKE SMITH (Gabriel Charles, winner) – "I don't think it rained on the turf course; only the main track. It was plenty fast. My horse was so nice and comfortable; going along so easy. I was watching the competition up front, but I thought I could handle them. I was worried about that one in the back (Finnegans Wake). I knew he was going to be coming and he's run some big ones. On the turn I gunned him (Gabriel Charles) to put a little distance between myself and the rest. I guess I sure did. He was impressive."
FLAVIEN PRAT (Twentytwentyvision, second) – "He really ran great. The winner was just too much today. But my horse is a very good one."
VICTOR ESPINOZA (Finnegans Wake, third) – "He just got a little tired at the end. Maybe he came back a little quick. But he always tries; he always runs his race. Today just wasn't his day."
GARY STEVENS (Power Ped, fourth) – "Good trip; good race for this horse. He needed it. The course is good. It isn't yielding. It feels really good."
TYLER BAZE (Midnight Storm, fifth) – "He just never got comfortable. I'd like to blame it on the course, but I don't think that was it. He just couldn't get into a rhythm today."
JAMES GRAHAM (Big Cazanova, sixth) – "Just got tired. He tried hard. They quickened and he didn't."
JEFF MULLINS (Gabriel Charles, winner) – "The early fractions were well enough that I thought we were OK. He was perched up on him like they were going a two-minute mile and when he swung him into the clear I could see he had plenty of horse. How many horses bow a tendon and come back and win a Group I? We took our time with him and that was the key. We knew he had this caliber of talent, it was a matter of keeping him healthy. We were worried about the turf course after the rain but Mike (Smith) said the course was great."
---
FRACTIONS: :23.43 :47.26 1:11.04 1:35.95 1:48.13
---
The stakes win was the second of the meet for rider Smith. It was his second win in the Read (he won last year's edition on Tom's Tribute). He now has 52 stakes wins at Del Mar.
The stakes win was the second of the meet for trainer Mullins. It was his first in the Read, but his 18th overall at Del Mar.