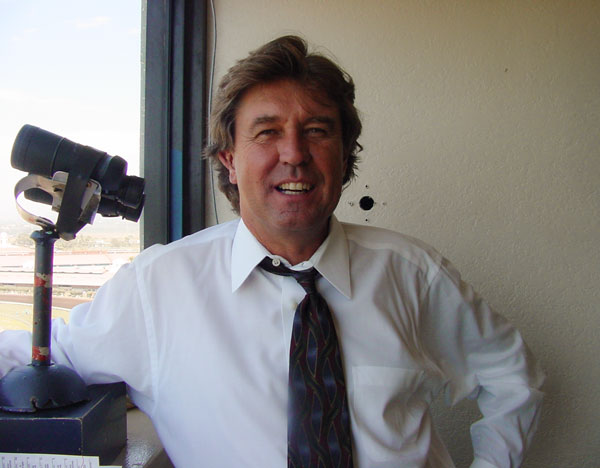 "I've been calling races for 44 years and I've never had one like this."
The voice, that unmistakable voice, was Trevor Denman on the telly from his retreat in Minnesota. To be specific Kellogg, Minnesota, population 450.
And the thing he hadn't encountered in more than four decades of manning microphones up high at racetracks around the world?
How about a break; a holiday; a complete shutdown. How about seven and a half months between his last call -- at Del Mar on November 29, 2015 -- and his next one to be – also at Del Mar on July 15, 2016.
"So very different," Denman said. "I'm feeling fresh, feeling good. But maybe there's just a little bit of trepidation, just a bit of apprehension about that first call back. It's been a while now. Then again, when I think about it, how lucky can I be? I'll be calling the first day at Del Mar, the best day on the California racing calendar. I couldn't ask for better and I'm sure I'll get right back into it."
The South African expatriate surprised more than a few people – himself included – when at the end of last year he decided to call it a career, so to speak, at Santa Anita racetrack, where his distinctive style and tone had been heard since 1983.
"I just knew it was time," Denman said. "It was getting to me. Los Angeles and the traffic; the cars that never end. Driving on the 210 freeway. All the people. Let me tell you a little story: In Minnesota I live on my farm about seven miles outside of Kellogg. When I have to drive into town to get something, I play a game of over under. I estimate the number of cars I'll see along the way at four. And I am getting ready to drop it down now to three because the under is always winning. Many a time I don't see a single car. It is just so very different."
From Kellogg, it's about another seven miles up the road to the "much bigger" town (2,495) of Wabasha (the Jack Lemmon/Walter Matthau movie "Grumpy Old Men" was shot there), where folks go to stock up on supplies. Then if you travel on a bit – something Denman and his wife of 21 years, Robin, rarely find need to do -- you get into the "big" towns of Red Wing (16,513) and Winona (27,546).
The Denmans' Minnesota farm, all 500 acres worth, is a place full of history (it was built in 1858), quiet and calm. They do share it, though, with about 40 dairy cows.
"This is dairy farm country and our farm has some beautiful pasture land that the cows love," he notes. "We've got alfalfa and that's like telling humans you've got ice cream. We rent some of our pasture space to our neighbors and their cows. You've got to have animals on a farm; they just give it that good feeling. All I do is feed them a bit and make sure they're doing fine; that they're not lame or anything like that. And they in turn just add so much to it."
Robin is a native of Minneapolis, which was the key for them winding up in Kellogg. They both love the outdoors; they enjoy their friendly, intelligent and hard-working neighbors, and they both like the clean air and starry, starry nights.
When Denman announced that he was backing off of his year-round race calling routine, he used a lovely phrase to explain it: "It is time to stop counting dollars and to start counting the stars."
"You just can't believe the skies here," he said. "I know living in L.A. if you looked up you were lucky to see any stars. But here on most any night you can see a billion of them – and that's billion with a B. Then to take a set of binoculars and look up, you can see a hundred billion. It is simply spectacular."
This weekend, the Denmans will head out on a three-day, cross-country ride that will bring them to Southern California. Then next Friday, Trevor will take up his perch on the Del Mar roof for his 33rd season at the seaside oval.
"You know, for me, I'm not a racing guy all of the time," Denman offered. "When I'm away from the track, I'm away – all the way. I'm not watching TVG every day. I did see the Kentucky Derby this year, but it was a few days after it had been run. Next Wednesday, though, when I get the (Daily Racing) Form, I'm back in it 100%. But when I'm away, I'm not in it at all."
The plan now, as Denman sees it, is for him to call races at Del Mar for its summer and fall meets, then to spend all the time in between in Minnesota.
"I think it is going to be just right for me," the 63-year-old race caller said. "Del Mar is a wonderful place to be and working there will be good. And for the foreseeable future, I'm going to be there and in Minnesota. How much longer will it be that way? Of course, I don't know. But if I had to put a number on it, I'd guess I'm going to do this for the next 12 years. That will take me to 75. That used to sound old, but I don't think that way anymore.
"In the end, it has to come from your soul. The thing with Santa Anita was just spontaneous. Del Mar is still good. It will be exciting to be back calling there again. I'm looking forward to it."