Thursday, November 2nd, 2017 ( 1 year ago )
Four Major Stakes Enhance Friday's Breeders' Cup Program at Del Mar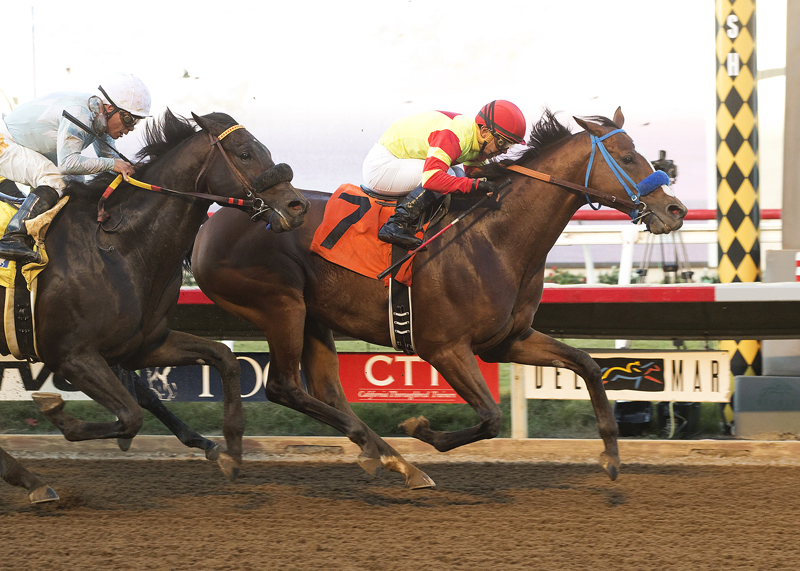 Silent Bird © Benoit Photo
In addition to the quartet of Grade I Breeders' Cup races scheduled for Friday – the Juvenile Fillies Turf, Las Vegas Dirt Mile, Juvenile Turf and climactic Longines Distaff, Del Mar Thoroughbred Club will present an outstanding program of four supporting stakes events.
Post time for the first of ten races Friday is 11:25 a.m., leading off with the $200,000 Damascus Stakes at seven furlongs for three-year-olds and up. The $200,000 Golden State Juvenile Fillies for two-year-old fillies at seven furlongs on the grass is slotted as the fourth race, followed by the $200,000 Marathon Stakes for older Thoroughbreds at one mile and three quarters on the main track as the fifth race, setting the stage for the four Breeders' Cup races.
Completing the ten-race program will be the $150,000 Ken Maddy Stakes at five furlongs on turf for older fillies and mares.
Breeders' Cup weekend, hosted for the first time by the historic track "where the turf meets the surf," continues Saturday with nine Breeders' Cup races, starting at 10:10 a.m. for the first of a dozen over-all contests. Climaxing the 2017 Breeders' Cup will be the $6 million Classic, scheduled for 5:35 p.m., with "Horse of the Year" recognition on the line.
The Damascus Stakes attracted seven sophomore runners, with Silent Bird the 5-2 morning line choice versus Good Bye Greg, Leading Score, Kobe's Back, Americanize, Mr. Hinx and Loose on the Town.
Ismelucky is the 5-2 early favorite in the Golden State Juvenile Fillies and she will be opposed by One Fast Broad, Mama's Kid, Show It N Moe It, Sharona Sunset, Pulpit Rider, Smiling Tigress, Spiced Perfection and Family Girl.
The aptly-named Marathon Stakes will match a field of eight distance-loving horses, headed by the venerable Hard Aces, the 5-2 morning line choice, versus Archanova, Infobedad, Destin, Estrechada, Noble Nick, Ground Rules and Dressed in Hermes.
Finally, Firsthand Report is the lukewarm 7-2 early favorite in the Senator Ken Maddy Stakes. Her ten foes are So Sweetitiz, Belvoir Bay, Instant Reflex, Vigor, What a Ten, Snack Shack, Little Jude, Long Hot Summer, Street Surrender and Paquita Coqueta.