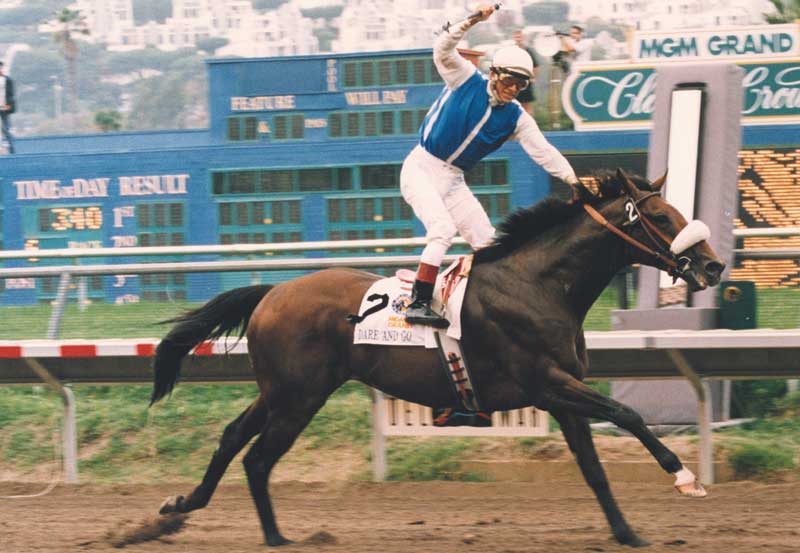 Alex Solis crossed the finish line aboard Dare And Go in the 1996 Pacific Classic.
By Gene Williams
In a career already marked by numerous highlights, long-time Southern California jockey Alex Solis' past year is one that ranks right there at the top of them all.
Since mid-2014, the native Panamanian, who recently turned 51, entered racing's Hall of Fame, chalked up his 5,000th career victory and became the first active jockey to be named to a racing board in America when he became a member of the California Horse Racing Board. Though furlongs away from anything Solis had done before, this last accolade ranks as high as any on the jockey's superlative career resume.
And he's taking it as seriously as a riding assignment that would take him to the Dubai World Cup or the Breeders' Cup Classic, both of which he won on Pleasantly Perfect. Or maybe the Preakness Stakes, which he won aboard Snow Chief; or Del Mar's Pacific Classic, in which he scored the race's most stunning upset by defeating Cigar aboard Dare And Go in 1996.
"It is truly an honor to serve on the board," Solis said of his recent appointment. "I was approached for the position and I understood the responsibility and work that goes with it. I thought about it for awhile and then accepted gladly." Solis, who serves as chair of the jockey and driver welfare committee and as a member of the medical and track safety committee, began duties in April and looks forward to fulfilling his three-year term.
"I've been around the backside for 34 years and I know how things unfold out there," Solis said. "I intend to do everything I can do to make racing better."
Solis replaces popular and super-active board member Bo Derek, who retired after serving for seven years. "It's going to be hard to replace her," he said. "She is such a wonderful person and worked very hard on many parts of racing, especially on safety."
Charles Winner, chairman of the CHRB, expressed enthusiasm for having Solis on the board, something for which he had strived. "I pursued this from the start, thinking we should have a new perspective from a new side of things," Winner said. "I've known Alex for years and I have always held him in the highest regard. He's diligent, a hard worker and a very ethical individual. He cares about horses and horse racing and he brings a lot of the same stuff to the board."
Solis started the New Year by chalking up career win No. 5,000 when he rode the filly Lutine Belle to victory in the Blue Norther Stakes at Santa Anita for trainer and fellow Hall of Famer Jerry Hollendorfer. Having chased that 5,000th for some time, Solis acknowledged that it starts wearing on a person and creates a growing pressure, but he remembers how he began feeling confident of the win with a sixteenth of a mile from the finish.
"I can remember thinking 'I can win this,' and the filly did just that. I was happy to be over that hump."
Helping to make the moment even more special for Solis was the fact his son, Alex II, a successful bloodstock agent, had acquired the filly for Hollendorfer.
Of his Hall of Fame induction, Solis remembers how he had been warned he'd get so emotional he'd cry. "I didn't cry but I choked up a few times while I was giving my speech. It is a wonderful honor. When I was growing up in Panama I never thought I would have these blessings. I was doing something I loved and was trying to do my best. It's pretty amazing that now I'm in there with my two best friends, Chris McCarron and Laffit Pincay." They both spoke in his honor at the ceremony.
With the opening of the Del Mar season only days away, Solis can think back over a fruitful time at the seashore that has netted him 95 stakes victories, putting him fourth on the all-time stakes winners' list, just one behind his all-time hero Pincay.
One of those victories came on that unforgettable August day in 1996 when he exploded from five lengths behind the seemingly unbeatable Cigar and roared to a 3 1/2-length victory in the $1-million Pacific Classic. Cigar had won 16 races in a row and had gained rock star status in racing circles.
And how does Solis remember that day? "It was the first time I was booed on the way back to the winner's circle," he said. "I just kept thinking, 'I just have to do my job. Sorry'."
He recalls, also, that he thought Dare And Go, trained by Hall of Famer Richard Mandella, had a good chance in the race. "He had been training really well and there was a lot of speed in the race, which fit his running style. We stayed away from the pace, where three horses were battling and I knew I had plenty of horse. When I asked him at the three-eighths pole he really kicked in."
Dare And Go paid $81.20 for the win and he and Solis were the toasts of the town, in spite of the boo-birds.
Solis has been cheered many times since en route to the winner's circle. He hopes there will be more of that to come. But meanwhile, he is preparing for other opportunities besides.