Saturday, July 25th, 2015 ( 6 years ago )
Fleet Treat Stakes Quotes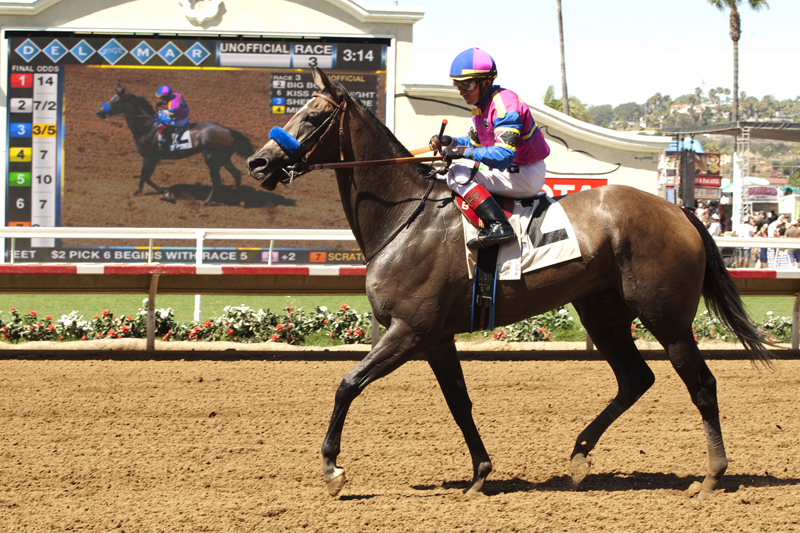 George Krikorian's Big Book and jockey Rafael Bejarano win the co-featured $200,000 Fleet Treat Stakes Saturday, July 25, 2015 at Del Mar Race Track, Del Mar, CA.
Fleet Treat Stakes
RAFAEL BEJARANO (Big Book, winner) – "She had something left at the end and I could tell. I was riding her with confidence. We were all up in there, but my filly was very comfortable. Even though it was close there for a while, I felt like I could take the race whenever I wanted."
JAMES GRAHAM (Kiss At Midnight, second) – "She ran hard; she ran her heart out. The outside post didn't help me. They all wanted the lead, but nobody was fast enough to take it."
TYLER BAZE (Sheer Pleasure, third) – "It is what it is."
TIM YAKTEEN (Big Book, winner) – "It was a moderate pace and I think that's why they all lined up (in the early going). When you've got Rafael (Bejarano) riding you don't need to give him directions and he knew what to do. She didn't run as a 2-year-old because she's a big filly and she needed time to mature and grow into herself. Waiting on her is a key factor in the success we're having right now. We'll enjoy the moment and I'll talk to George (owner George Krikorian) before we decide what to do next. We'll find a race for her, possibly here. "
---
FRACTIONS: :22.64 :45.69 1:11.70 1:24.77
---
The stakes win is the second of the meet for rider Bejarano and his third in the Fleet Treat. He now has 45 stakes victories at Del Mar.
The stakes win is the first of the meet for trainer Yakteen and his first in the Fleet Treat. He now has five stakes wins at Del Mar.
The winner is owned by George Krikorian of Torrance, CA. Mr. Krikorian is also a member of the California Horse Racing Board.