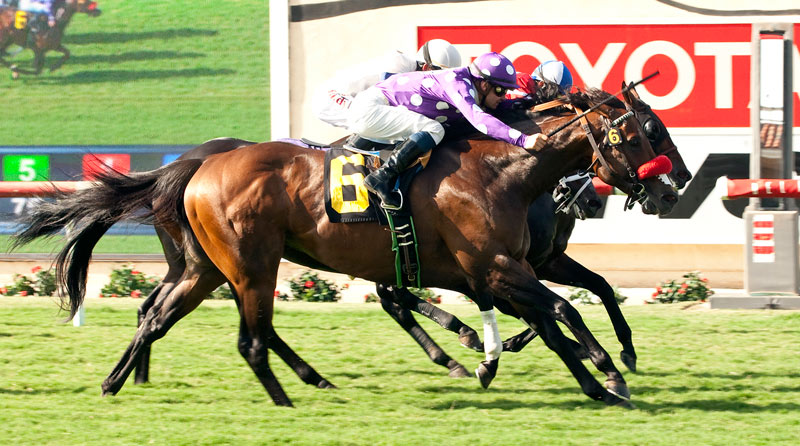 Flavien Prat (No. 6) wins the Wickerr Stakes aboard Pure Tactics July 22 at Del Mar.
By Hank Wesch
A freaky two-day weather system wasn't the only thing to take Del Mar by storm in the first week of the 76th summer race meeting.
There was also 22-year-old French jockey Flavien Prat.
The weather – thunder, lightning and rain to degrees rarely if ever seen in a Del Mar summer – resulted in turf races being switched to dirt and horsemen and fans dealing with much greater degrees of discomfort than usual.
Prat, on the other hand, finished the first four days of the meeting atop the jockey standings with six wins, including his first stakes, and had horsemen and fans becoming comfortable with a rookie-to-Del Mar rider.
"He's like the (Angels' All-Star outfielder) Mike Trout of horse racing," said trainer Doug O'Neill. "He's got an unbelievable natural gift for getting a horse to settle and finish. He's pretty phenomenal. And I'm not saying anything that I don't think anyone around here doesn't agree with. What a great kid, a breath of fresh air and a great addition to the jockey colony.
"He's got a great present and an even greater future."
Hall of Fame trainer Richard Mandella has been a major Prat patron since the native of Melun, France, started coming to America in 2009.
"He's a coming star, I think," Mandella said. "His record speaks for itself. Just a terrific, gifted rider and terrific person with it. I can't say enough about him, I think the world of him."
The son of a trainer, Prat grew up around horses and committed early to a life in racing. "I don't know if I was born to be a jockey but it was always in my mind," Prat said. "It was what I wanted to do."
He rode his first winner at age 17 at Fontainebleau, France in 2009, the initial step to the "Etrier d'Or" as the country's top apprentice and at the end of the year he crossed the Atlantic seeking U.S racing experience. That began a pattern of riding winters in California -- under the tutelage of Mandella and French-born trainer Leonard Powell among others -- summers in France, which was only broken this year.
In 2012, Prat was named the second call in France for the powerful Wertheimer stable behind star Olivier Peslier but was not promoted when changes were made last year. That prompted a decision to riding year-round in the U.S.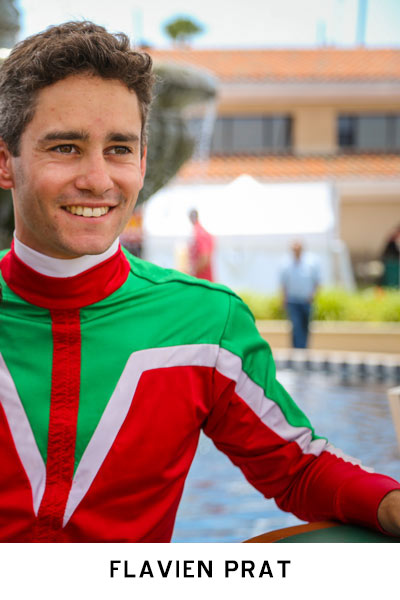 French-speaking veteran American agent Derrick Lawson assisted in the transition and has been securing mounts in a 2015 campaign that has Prat 29th in the North American rider standings through Wednesday, July 22, with 56 wins from 400 starts and total purse earnings of $3,300,631.
"I was in touch with him the whole time and I said, 'Hey man, they (French stables) won't give you the No. 1 job but Dick Mandella will," Lawson said. "So I went to getting him his visa, which is good for five years. Got that done, he arrived here in December and got to work right away."
Prat had 10 victories from 17 mounts in America from 2009 to 2014. He finished 11th in the rider standings at the Santa Anita winter meeting and fifth at the spring meet this year. Significant progress which has led to significant early impact at Del Mar.
Prat won two races each day from Friday through Sunday the first week of the meeting to climb to the top of the jockey standings. On the rain-soaked Saturday, he notched his first Del Mar stakes victory aboard Gas Total in the Osunitas Stakes for Mandella, a source of pride for both.
As the wins have increased, so has Prat's confidence. And while Mandella remains his primary benefactor – in combination they've accounted for more than $1 million in purse money – the client list is increasing.
Prat notched his second Del Mar stakes victory on Wednesday in the $86,350 Wickerr aboard Pure Tactics for O'Neill.
"It's one thing to see a kid from France be good on horses going long on the grass. It's still special but you kind of expect it from the way they race over in Europe," said O'Neill. "But to see the same individual doing what he does sprinting, and especially sprinting on the dirt. That's a natural right there."
Lawson: "I've had people come up to me and say 'He doesn't ride like a French guy.' He watches videos and he studies other guys and he picks up the little things other guys do and the tendencies of other riders. He's a pro. A very professional rider."
Prat has lived up to advance billing before his first Del Mar meeting and exceeded even his own expectations.
"I didn't expect to be the leading rider at the end of the first week but it's a good thing," Prat said. "There is a demand now from a lot of trainers to continue after such a successful week.
"Everybody knows what a great meeting this is and it's very exciting to win here It's not like any other track, it's different, but the ambience can be like Deauville or Longchamps with the people and the horsemen - it's the place to win."