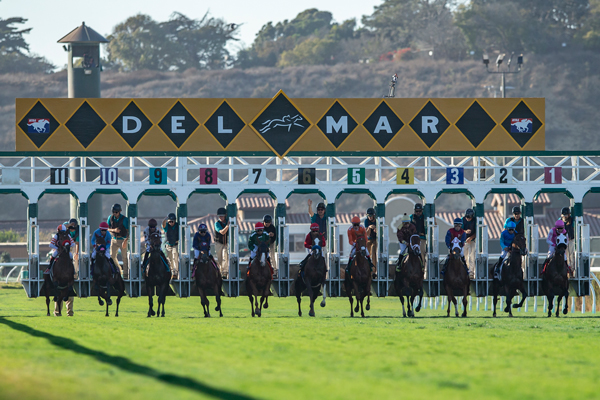 Del Mar has announced the release of its first condition book for the upcoming Bing Crosby Season, an 8-day book that will cover the first half of the 15-day session, which runs for Saturday, October 31 to Sunday, November 29.
This is the seaside track's seventh fall season, annually a short-but-sweet run that has become the foremost late-year meeting in the country.
"Our fall meet has just gotten better and better as we've gone along," said Del Mar's racing secretary David Jerkens. "We're again putting the emphasis on the two things that have worked very well for us in the recent past -- turf racing and 2-year-olds. This first book will get our horsemen through the initial three weekends, then we'll be out with a 7-day one that will take us to the finish."
The condition book is now available on-line at www.dmtc.com/horsemen/condition-book. Hard copies also are being distributed at racing centers throughout California.
The track will offer 16 stakes worth $2,250,000 during the stand, with nine of them run on its Jimmy Durante Turf Course. Additionally, its overnight purses – already among the highest in the nation – will rise by 10% across the board this fall making a good thing even better for its horsemen.
Among its stakes offerings are nine graded events, topped by the Grade I, $300,000 Hollywood Derby for 3-year-olds on Saturday, November 28 and the Grade I, $300,000 Matriarch Stakes for older fillies and mares on Sunday, November 29. Both are run on turf.
Further, there will be six stakes for juvenile runners, including a pair of graded grass miles.
The stakes lineup with its turf emphasis has drawn a stellar sprinkling of top-line horses from across the country previously and more of the same is expected in 2020.
Racing will be conducted on Saturday and Sunday to open the session, then Friday, Saturday and Sunday for the following three weeks. It will finish with a four-day week kicked off by the Thursday, November 26 Thanksgiving holiday.
First post will be 12:30 daily with the exception of Thanksgiving Day when there will be an early 11 a.m. post.