Sunday, December 4th, 2016 ( 1 year ago )
First-Class Racing Highlights Del Mar's Third Fall Season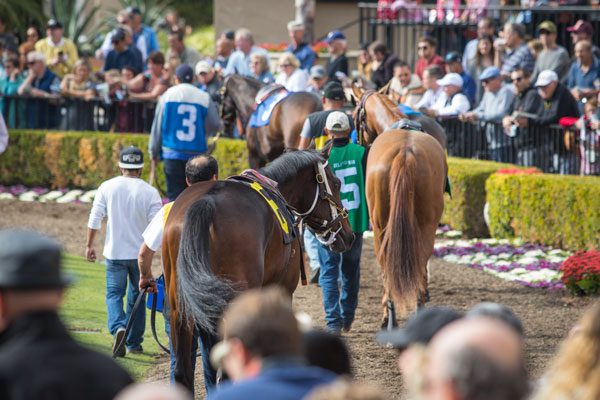 Highlighted by a series of terrific stakes races to finish out its final weekend, Del Mar brought its third fall racing season to a sparkling close Sunday with strong wagering numbers rung up and a solid place on the racing calendar etched in.
The seaside track concluded its 15-day meet with notable increases in out-of-state handle and out-of-state participation by horsemen, especially from east coasters.
Total daily average handle increased by 4.6% to $10,174,775 per afternoon. The wagering was led by upgraded out-of-state numbers that increased by 15.3% to average $4,801,429 per card.
Field size was the best it has ever been for a fall session at 8.5 per race. That number puts the Del Mar fall season among the best of the best nationally for all meets.
"A very solid meet," said Del Mar Thoroughbred Club president and general manager Joe Harper. "Total handle numbers were up and field size was strong. I think this meet has set us up nicely for the Breeders' Cup in 2017. We're going to be ready for it and it's going to be very good at Del Mar."
Del Mar's racing secretary, David Jerkens, feels the fall meet has now found a home with horsemen from coast to coast.
"We've put in three years now and our horsemen have become very comfortable with us in this spot," he noted. "We've had additional locals come and stable with us for the fall and the others have found out that shipping in from other Southern California locations works just fine. Additionally, horsemen from the east now know that we're here to stay this time of year with good purses and good opportunities and they're jumping on board. Our stakes program has drawn top-of-the-line runners -- winners from the east; a winner from Japan. Folks are thinking about the Breeders' Cup here next year and wanting to become involved. We're part of fall thinking everywhere now."
Jerkens went on to note that the 2016 field size of 8.5 for the meet was better than 2015's number (8.1), as well as 2014's (8.3).
Del Mar's on-track attendance took a slight dip by 5.9% to 5,815 on average daily. A storm-filled next-to-last weekend broke the track's magic weather spell and took a serious bite out of the crowd count.
Del Mar's fourth "Bing Crosby" meet in 2017 will feature the two-day Breeders' Cup programs with its 13 major stakes races and $28 million in purses.
The track will open next fall on Wednesday, November 1 and run through Sunday, November 26. After two days of racing on November 1 and 2, the Breeders' Cup cards will unfold on Friday and Saturday, November 3 and 4. There also will be racing on Sunday (November 5) that week, then the track will revert to its usual fall pattern of Thursday-through-Sunday racing for the balance of the session.