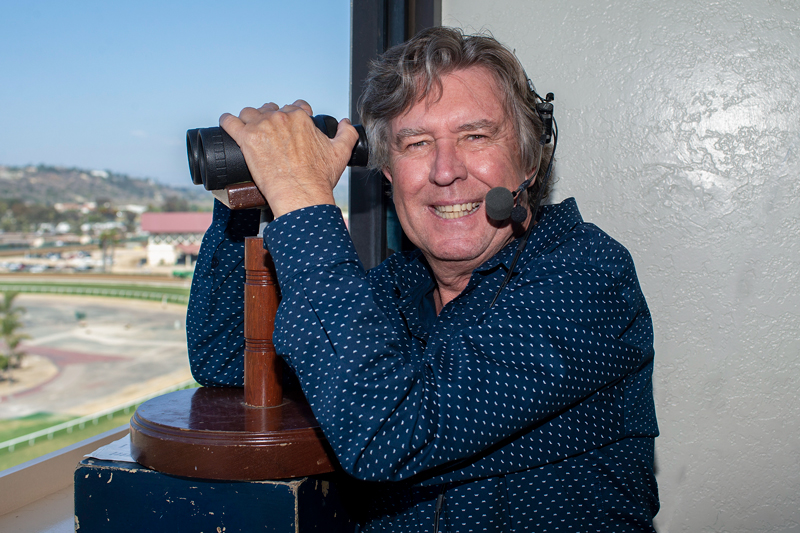 Trevor Denman © Benoit Photo
By Hank Wesch
The date: August 14, 1971. The place: Clairwood Racetrack in Durban, South Africa.
Track manager Gerald Lea was on hand as an 18-year-old, who had been pestering him for an announcing job, called the first six races from a relatively remote spot, nowhere near the public address microphone. Then Lea said, "Trevor, come with me, you're calling the next race."
They proceeded to the announcer's booth, where Trevor Denman called the first race of a career that hits the 50-year mark on Saturday at Del Mar. Denman has made calls from booths at many tracks since August 14, 1971. But, of course, he vividly remembers the first.
"It was the best thing that could have ever happened to me," Denman said Thursday from his rooftop office at Del Mar. "Mr. Lea was a very intelligent man and he had a lot of sagacity and courage to take a chance on somebody as young as me."
Given advance notice of his hiring, Denman contends, would have only provided time for nerves and pressure to build up and insecurities to formulate in his mind that would have affected his performance. As it was, he made the call as smoothly and faultlessly as most of the tens of thousands of others since.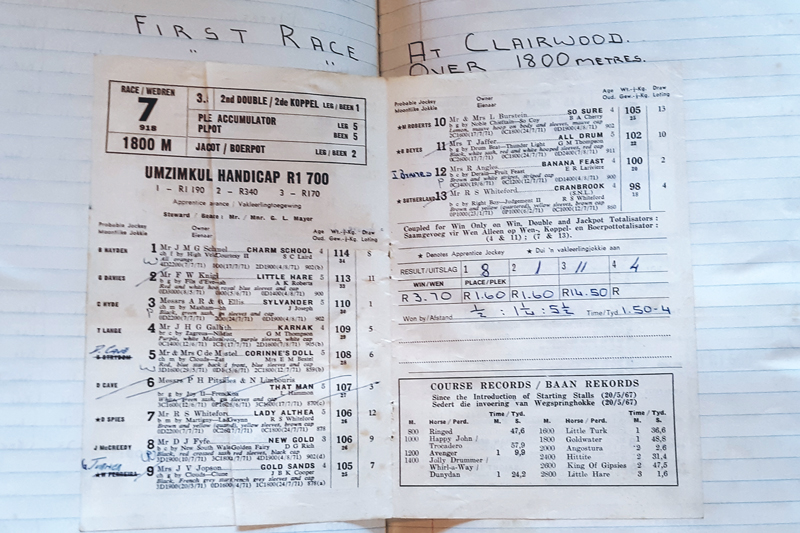 And for the record: the winner was New Gold, ridden by John McReady and trained by Des Rich; the runner-up Charm School, ridden by Burt Hayden and trained by Syd Laird. In Durban, and South Africa in general at the time, newspapers were the most widely and readily available media and horse racing was big news.
So the story of a new, young announcer's breakthrough wasn't on Page 1 of the sports section, it was on the front page of the paper.
"I woke up, not thinking I was famous, but thinking I was now 'known' and it felt great," Denman recalled. "For me to get the job was like getting the Monday Night Football job a few years ago when it was big, or something like that.
"People would point me out and say, 'I saw your picture in the paper."
That was the starting point for a career about to hit the half-century mark. What follows are some notable moments, in and out of the booth, by decades.
The Rest of the 1970s
"Two things made announcing in South Africa huge," Denman recalled. "The tracks were huge, a mile and a half around, and there was no television until 1976. So people relied on the announcer to (communicate) what they couldn't see and it was very important.
"When television came around, we started mentioning things like the colors the jockeys were wearing. It was a switch from calling for people who couldn't see what's going on, 90 percent of them anyway, to calling for people who could see on the television. Equipment changed as well as the technology got much better."
The 1980s
The summer of 1981 marked a full decade for Denman at the job he had gravitated to when exercise riding and aspirations of being a jockey faded. And he was getting restless.
"The three racetracks in South Africa were very good, but when I got to be 28 – and 40 seemed old -- I couldn't see myself working the same three tracks for the next 10 years," Denman said. In need of a challenge, and forseeing the social unrest and political upheaval that lie ahead before the inevitable end of apartheid, his thoughts turned elsewhere.
There were, he said, only six English-speaking countries to consider and in four there was "no chance," without some strong personal connection with someone in a high position – which he lacked – for genuine opportunity. It broke down to Canada or the U.S. for Denman and, with pluck, luck and skill, the U.S. became home.
At his own expense, he flew to Golden Gate Fields in San Francisco to call a race at an international jockey's day. In Los Angeles, with time to spend before a flight back to South Africa, he went to Santa Anita and, with a recommendation from track publicist Bill Kolberg, got an audition with track executive Alan Balch.
That led to his hiring at Santa Anita in the fall of 1983 and Del Mar in 1984 where his "analysis on the run" style of calling – instead of just going through the names front-to-back – caught on with Southern California fans and eventually went nationwide. Staccato out; storytelling in.
Which led to his call for Pimlico's in-house network of the 1989 Preakness, the consensus "Race of the Decade."
Pimlico owner Frank De Francis called and asked Denman to be the guest announcer for three weeks, the end of which was the Preakness with Sunday Silence and Easy Goer going head-to-head for the length of the stretch and Sunday Silence prevailing by a nose.
"Two great horses, two great trainers in Shug McGaughey and Charlie Whittingham and it was so close," Denman said. "That was exciting for sure."
The 1990s
Talk about busy.
Early in the decade, Hollywood Park owner R. D. Hubbard became the latest in a line of racetrack executives to conclude that Denman at the microphone was a business asset.
"He came and asked if I would come to work for him at Hollywood Park," Denman recalled. "I was under contract with Santa Anita, but he went to management there and got it cleared with them."
What ensued was a period from 1992-95 in which Denman was the voice of the Southern California circuit, essentially year-round. By his estimate, approximately 250 days a year.
"I don't know how I did it," Denman said. "Except I was a lot younger then."
Racing aficionados cite Denman's calls of Cigar's victory in the 1995 Hollywood Gold Cup and Free House in the 1999 Santa Anita Handicap as examples of how he could anticipate an outcome before it happened (in the former case) or maintain the suspense until the last fraction of a second (in the latter).
Near the end of 1996, he and his wife Robin bought a farm in Minnesota (she was originally from there) that would eventually become a place to retreat to once he started to cut back on his virtual non-stop schedule.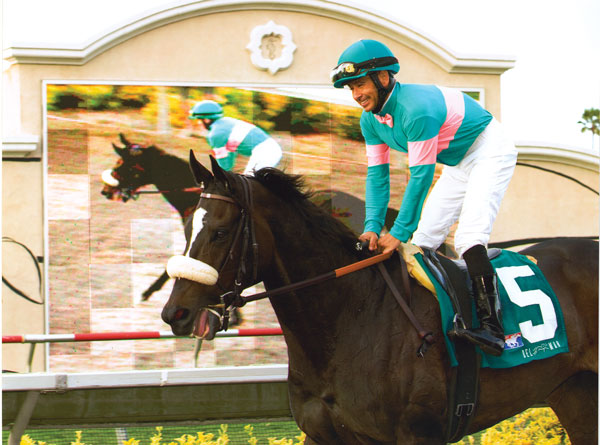 Zenyatta © Benoit Photo
2000-2010
One word: Zenyatta.
Denman called six of the great mare's first 14 victories leading up to the 2009 Breeders' Cup Classic and he, like the rest of the racing world, was eager to see the John Sherriffs-trained superstar take on males.
"That just set up so beautifully," Denman recalled. "The California mare against such a talented field. Some were saying she'd only beaten up on California (females) and now she's facing the best in the world."
Appearing hopelessly beaten even partway into the stretch, as she often did in her races, Zenyatta came with a powerful rush and Denman's pitch-perfect words gave everyone watching a rush of a different kind.
"Zenyatta is flying on the grandstand side! This. Is. Un-be-lievable! What a performance! We will never see another like this!"
The "This. Is. Un-be-lievable!" phrase was said in perfect rhythm with Zenyatta's final, winning strides to the wire.
"Her cadence was just right for that," Denman said. "I never think about things like that beforehand, it just came to me and the cadence was perfect. It was as if she were listening to me as she was striding through it.
"Amazing, absolutely amazing."
2010-2021
The 2009 Breeders' Cup was the fourth of seven consecutive years in which Denman was the announcer for the ESPN/ABC broadcasts, sharing the duties with Larry Collmus in 2012 before the event was switched to NBC.
The 2010 Classic, in which Zenyatta put a 19-race win streak on the line but had her late run come up inches short against Blame at Churchill Downs, is memorable to Denman for what might have been.
"It was one of those races where at the end, you think, 'Let's do it again,'
he said. "Man, I thought she was going to do it. It would have meant so much for the sport for her to retire undefeated."
In December of 2015, Denman announced his retirement from Santa Anita after 33 years of calling at "The Great Place." (He parted with a Denmanesque statement: "It's time to stop counting dollars and start counting stars.") He soon started a Del Mar-only schedule of announcing the summer and fall meets and repairing to his Minnesota farm in the months between.
That schedule was interrupted last year when he opted to remain in Minnesota during the COVID pandemic, to be replaced by Collmus at Del Mar. He returned for the current season – his 37th at the place where the turf meets the surf -- and plans to be back again in the fall and beyond.
"I can tell you in my life, right now, I've never, ever, ever been happier," the 68-year-old Denman said. "In calling races, I think it's the absolute quintessential calendar year. If you've got to work, Del Mar is the place to do it. The scenery and the atmosphere here; that's it.
"Three months in the summer, one month in the fall, retired nine months."
And 50 years into a job he loves.