Sunday, July 18th, 2021 ( 2 months ago )
Favored Tizamagician Outruns Them in 12-Furlong Cougar II at Del Mar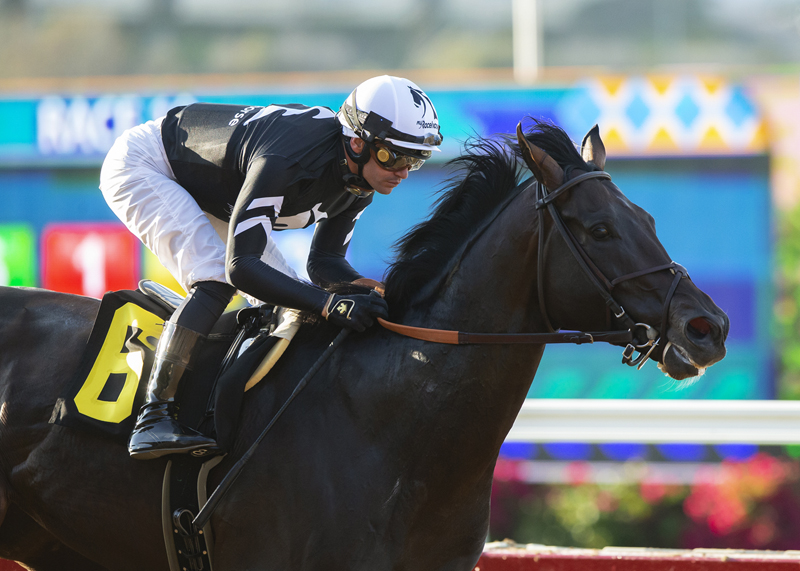 Tizamagician © Benoit Photo
MyRacehorse or Spendthrift Farm's Tizamagician, the 3-10 favorite, repelled a late threat for Cupid's Claws and went on to win the Grade III, $100,500 Cougar II Stakes at 12 furlongs Sunday at Del Mar by two and a quarter lengths. He ran the testing distance in 2:31.45.
The winner, a 4-year-old colt by Tiznow, is trained by Hall of Famer Richard Mandella, who was winning his fourth edition of the marathon. He was ridden by Flavien Prat, who was winning his second Cougar II and his third race on the day. (The rider subsequently won the 11th race nitecap for his fourth victory of the afternoon.)
Cupid's Claws, owned by Flawless Racing and Masino Racing Stable, gave the victor a try around the turn and through the stretch, but in the end could not keep up. He finished five and a quarter lengths ahead of Hronis Racing's Heywoods Beach.
The winner paid $2.60, $2.20 and $2.10 across the board. Cupid's Claws returned $4.40 and $2.80 and Heywoods Beach paid $2.60 for the show.
Tizamagician earned $60,000 from the Cougar II purse and increased his career bankroll to $427,851.
In an earlier race, favorite Neptune's Storm, given a masterful front-running ride by Prat, smartly handled seven rival in the $85,500 Wickerr Stakes, an overnight affair run at a mile on the Jimmy Durante Turf Course.
The 5-year-old gelding by Stormy Atlantic won by a length and three quarters and scored the seventh win of his career to push his bankroll to $918,485 while paying $4.60 for a $2 bet.
The horse is owned by CYBT, Saul Gevertz or Lynn Gitomer and partners and is trained by Peter Miller.
After its three-day opening weekend, Del Mar will drop back now for the next four days and return again on Friday for another three-day run. First post on Friday is at 4 p.m.
---
FLAVIEN PRAT (Tizamagician, winner) – "He broke well today. The thing with him is to get him to relax. He did that pretty well. At the three eights (pole) I began to ride him and he responded. It's always good to win a race for Mr. Mandella. That's special. He was the man that brought me over here (from France) and it's good when I can win one for him."
RICHARD MANDELLA (Tizamagician, winner) – "He likes to run all day. I think Flavien (Prat) even had trouble pulling him up after all that. He's figuring things out and he really likes the long distance. He's improving my training. We'll size it up (regarding next race) there may be one down here and there's a really nice marathon during the Breeders' Cup. That's what we're really looking for."
---
FRACTIONS: :25.88 :50.04 1:14.79 1:40.67 2:05.92 2:31.45
The win in the Cougar II was the second for rider Prat (Curlin Road in 2017). He now has 61 stakes wins at Del Mar.
The win in the Cougar II was the fourth for trainer Mandella. He now has 68 stakes wins at Del Mar, sixth most all time at the track.
The winning owners are MyRacehorse, which has hundreds of shareholders, and Spendthrift Farm of B. Wayne Hughes of Lexington, KY and Malibu, CA.