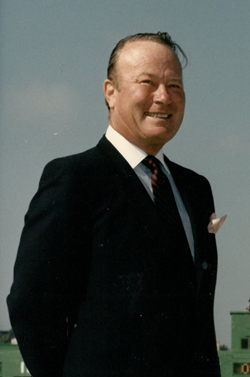 Ernie Myers at Del Mar, 1989
Ernie Myers, a San Diego media star whose two great passions in life were radio and horse racing, died Tuesday morning of the effects of Parkinson's disease at his home in La Mesa. He was 86.
Myers, who at one point was the top radio DJ in San Diego over a career that spanned nearly four decades, died in the company of his longtime friend Onyx Novelle Jones. She said he had been fighting Parkinson's for the past four years and had just recently entered into a hospice care arrangement.
He grew up in Glendale and aspired to be an actor as a teenager, landing parts in several movies. Subsequently he did a four-year tour in the Army, then turned to the radio business.
The affable and smooth-toned Myers was a "DJ" from the 1950s through the 1980s. He started playing big band music, then transitioned to "rock" and subsequently talk radio and was the leading radio personality in San Diego for many years. Among others, he did extended stints on Mighty 690, KSDO and KOGO. In the summer, he would broadcast from the backstretch at Del Mar and feature many of racing's big stars and regular guys on his programs.
Myers also called races, a job he said was the most difficult in sports for an announcer. He called at Caliente in Tijuana, on the California fair circuit and in New Mexico. He also was a television host for the satellite feed at Del Mar, working alongside several partners, including Santa Anita's Mike Wilman and Daily Racing Form's Jay Privman.
He loved to bet a winner and was not shy in trying to do so. He said that Swaps was the greatest horse he'd ever seen.
Service arrangements are pending.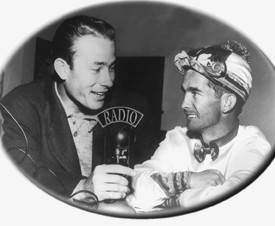 Ernie Myers and Bill Shoemaker