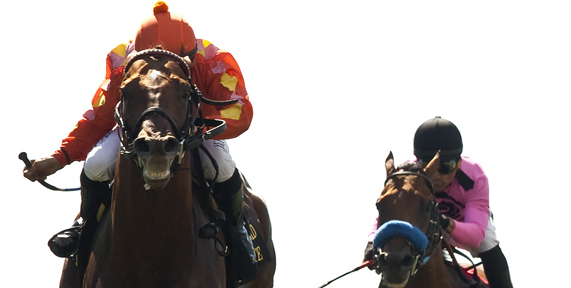 MIKE SMITH (Tom's Tribute, winner) – "He really relaxed today. That's the key with this horse. It was nice having that pace up front. We sat in right behind him (early leader Horizontalyspeakin) and were real comfortable. Because he was so relaxed, when it came time he had lots. He won like he wanted to. I have to give all credit to Jim (trainer Jim Cassidy). He pointed this horse for this race and he was ready."
JOE BRAVO (Summer Front, second) – "He ran a good race. The winner gets all the credit. I was closer than I wanted to be, but that's not an excuse."
COREY NAKATANI (Spring Up, third) – "He ran good. They were trying to get him a two turn race, but they couldn't come up with one. He had to come into this race off just that one sprint. But he ran well."
JOE TALAMO (Horizontalyspeakin, fourth) – "The plan was to go for it. He tried; he just got outrun."
JIM CASSIDY (Tom's Tribute, winner) -- "It was a beautiful ride. I think I'll vote for Mike Smith for the Hall of Fame next year. You've got to get this horse to relax, that's the key, and today Mike got him to relax and (Tom's Tribute) was the most professional of any race he's run. We had originally planned on the Del Mar Mile and not this race, but then I changed my mind. I don't know what's next but we'll be thinking about the Breeders' Cup."
---
FRACTIONS: :23.84 :46.95 1:10.30 1:34.18 1:46.01
The stakes win was the 41st of Mike Smith's career at Del Mar. It is his first in the Eddie Read, but second of the current meeting. He now has won 11 Grade I races at Del Mar.
The stakes win the 10th one at Del Mar for Jim Cassidy. It is his second in the Eddie Read (The Usual Q.T. in 2010) and his fourth Grade I.
Tom's Tribute is owned by the Braly Family Trust, represented by Marilyn Braly of Indian Wells, CA.