Friday, August 7th, 2015 ( 6 years ago )
Dr. Vince Baker: From 'Pharoah' To All Below
- Each One Special
By Alexis Garske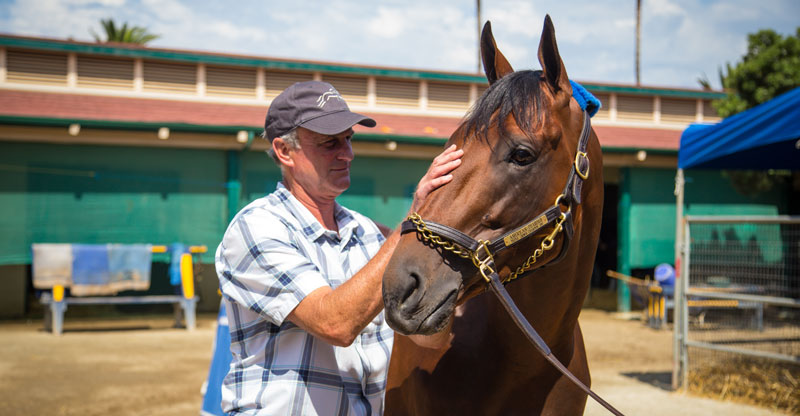 Dr. Vince Baker with Triple Crown champion American Pharoah at Del Mar
Dr. Vince Baker celebrated his birthday August 1, one day before Triple Crown Champion American Pharoah catapulted his fame even further into the stratosphere by winning the Haskell Invitational in New Jersey.
Alongside wife Carol and 12-year-old daughter Aubrey at their home in Santa Rosa Valley, he was even more anxious watching the Haskell than he had been viewing the Belmont from the same spot almost two months earlier.
The difference between Baker and the millions of fans who watched American Pharoah's Triple Crown achievement is that Baker knows the sensational colt more intimately than just about anyone. He is American Pharoah's personal veterinarian.
"I made it home just in time to watch the Belmont," Baker recalls. "Bob (Baffert) had extended a personal invite to me and my family to attend but I had too much work and couldn't go. We were sitting on the couch and then Aubrey and I were jumping up and down and my wife was crying; it was pretty cool. Chances are that I'll never again see that in my lifetime.
"I knew he was good when he won the Del Mar Futurity. Conformationally speaking, he's put together ideally for efficiency. When he reaches out, his shoulder blade is parallel to the ground - his shoulder just extends like that." When asked if he is a fan of racing, "Big time. I look at the results of every single race. Even on my day off, I know the winners and how our horses ran." Favorite horses? "I really loved Serena's Song and Spain."
As head of his own practice in Southern California and boasting a client list that encompasses a high percentage of the backside, Baker and his four practicing veterinarians, Dr. Wade Byrd, Dr. Keith Latson, Dr. Ryan Carpenter and Dr. Sam Bradley, have attended to some of the finest horses to grace the sport in recent years, including 2014 Horse of the Year California Chrome.
Baker only ever aspired to be a vet and was immersed in the equine world since birth, having grown up on a horse farm in Garden Grove, CA. He attended Washington State for his undergraduate and graduate schooling, where both his father and all four siblings went, moved on to the Caribbean to attend Ross University's School of Veterinary Medicine and completed his academic journey at Oklahoma State.
Baker has always been a part of the Baffert contingent. Once he became a licensed veterinarian, he started out under his father, the renowned Dr. Bart Baker at Los Alamitos who had been working with Baffert in the Quarter Horse world. Still fresh from vet school when Baffert claimed his first horse on the Thoroughbred circuit in 1988, Vince followed at Baffert's request and they've been together ever since. For a time, he existed in both worlds, traveling to Los Al in the mornings and Santa Anita later in the day.
When trainer D. Wayne Lukas called in the summer of 1990, just before the Del Mar season, he told Vince that he was giving him the opportunity to oversee both his Thoroughbred operations at Del Mar and Santa Anita if he switched over completely. Vince agreed, has never looked back and has kept moving forward, literally. "I still lived in Huntington Beach at the time so I would drive all the way down to Del Mar in the early mornings, then I would drive back up to Santa Anita, every day" says Baker.
Working hard never has never been a foreign thought - his father was tough. As Baffert puts it, "His father was a savage. I remember he got kicked by a mare one time at Los Al and was back the very next day working with a cast on his leg." When son asked father for three days off to visit Montana for some of the world's best fly fishing, father asked son why he needed a day off, he had only been working half days. "He had a point, I was only working from seven until seven each day," recalls Vince.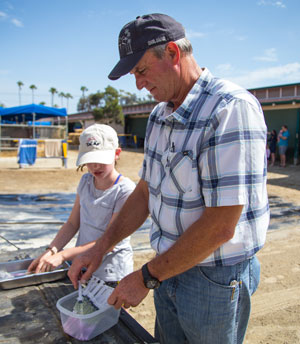 "My father was a hard worker, and everybody liked him; he was a good person," says Vince. "I'm sure that when people saw me working for Lukas they thought I was good enough for them, too. That, and my father was a well-respected veterinarian. That's how I got my 'in.' "
Baker works long hours, sometimes even on his days off. Often he is observed near his home working on Hunter Jumpers or helping out with the local rodeo circuit youth. If you ask Baffert, the sentiment seems to ring true for the entire family. "He's extremely smart and he has a lot of integrity, just like his dad. He's a true horse lover. When you're a high profile barn you want a well-respected vet with a high level of integrity. He's been involved in every good horse I've ever had. He always tells you how it is, there's never any 'vet speak' with him, he just tells it like it is."
Baker has been involved with every great horse Baffert has had from Thirty Slews, the last horse he ever bet on, to the first Triple Crown winner in 37 years, American Pharoah. "I was watching Thirty Slews in the Breeders' Cup Sprint in 1992. I put $20 across the board on him and I almost lost it, I got so nervous! I thought he won by lengths afterwards but it was only a neck! It was awful! I never bet again."
The vet is extremely dedicated to his craft and it's shown in many of the champions with whom he has worked. When Silver Charm traveled to Dubai for the World Cup in 1998, Baker administered fluids before he departed, to prevent jet lag per usual, but then met him on his lay-over in Germany to give him more fluids and finally again when he landed in the middle east. Traveling that far can be hard on a horse but Silver Charm had gained three pounds by the time he landed in Dubai and had earned millions by the time he flew back home.
Though new to the Thoroughbred industry, he was an innovator. "I used to jog horses out on the road. Back then people would feel for heat (to check for lameness) but they used to look at me like I had a third eye. Now, everyone does it."
He's still making strides today. His is the only practice on the grounds that has a board certified surgeon, by the American College of Veterinary Surgeons, and he doesn't have just one in Dr. Carpenter, he has another in Dr. Latson.
Baker's client list is long in names and includes a range from Hall of Famers to little known trainers. "I work for some people that only have one or two horses but they're so enthusiastic that it's great to be around!" His demeanor around the workplace is contagious and his positive attitude doesn't go unnoticed by his colleagues, including Dr. Latson. "People absolutely love him. He makes everyone feel like they're the most important thing in the world, only it's not a show. It's the same with the horses, whether he's working on a twelve-five claimer or American Pharoah. That's hard to do, especially after 20-plus years in this business and it's admirable."
Baker sums up his philosophy, saying "I think treating everyone the same, especially the workers, is important. Regardless of what you work at, if you work hard, you deserve respect."
When you practice what you preach, it's no wonder the good doctor has earned his respect.