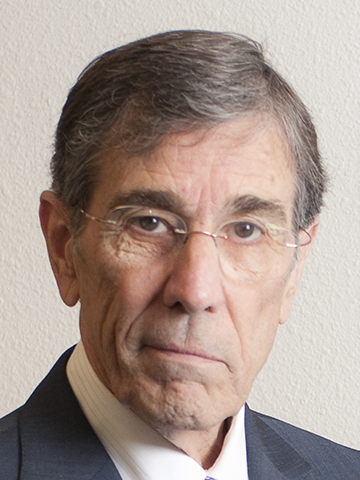 Dr. Gregory Ferraro © Photo Courtesy CHRB
Dr. Gregory Ferraro, the current chairman of the California Horse Racing Board and a veterinarian for over half a century who has made an enduring impact on California racing as a practicing veterinarian, an equine surgeon and a medical executive, has been named the 17th recipient of the Laffit Pincay, Jr. Award. He'll be honored in that role at Del Mar with ceremonies during this Saturday's TVG Pacific Classic Day program.
The Pincay Award, named for and presented by the Hall of Fame rider, goes to those who have served the sport "with integrity, extraordinary dedication, determination and distinction."
"I can think of few people who fit the requirements for this award better than Dr. Ferraro," stated Pincay. "He has been a champion for horses and horse people throughout his life and his mark on our game will go on and on. He most certainly deserves this award and it will be my honor to salute him with it."
Dr. Ferraro, 75, a native of San Francisco and a graduate of University of California, Davis and the renowned UC Davis School of Veterinary Medicine, was a working veterinarian and surgeon on the tracks of Southern California for 27 years. Subsequently, he accepted the position of Director of the Center for Equine Health at UC Davis where for 17 years he led efforts to promote research and education in equine medicine to the advantage and health of all breeds of horses.
His list of accomplishments across his stellar career is exceptional. It was Dr. Ferraro who designed and developed the horse ambulances that are used on North American tracks. Working in partnership, he also developed a splint that can be applied to stabilize lower leg injuries in horses. Among his other innovations and insights, Dr. Ferraro was among the first to adapt human arthroscopic surgical techniques to horses. He also co-founded the Southern California Equine Foundation, a humane society whose goal was to stop animal suffering. Among other things, that group established equine hospitals on the backstretches of Hollywood Park and Santa Anita Park, the latter of which continues to provide diagnostic, surgical and medical services to injured horses.
One of his colleagues at the University of Davis' Center for Equine Health, Dr. Carrie Finno, DVM, PhD, spoke highly of Dr. Ferraro's leadership in that role:
"Dr. Ferraro's application of scientific studies to support critical decisions has revolutionized the industry's approach to Thoroughbred racing, health and safety," she said. "Through advocating and facilitating collaborations between equine clinicians and basic science researchers, (he) set the stage for bringing the brightest minds together to advance equine health."
Dr. Ferraro has lent his expertise to many industry organizations and boards and has held numerous leadership positions including those of the Racing Board Medication Committee, the Southern California Equine Foundation, the International Animal Welfare Training Institute and the Dolly Green Research Foundation. He is currently a member of the American Association of Equine Practitioners and the American Veterinary Medical Association.
Pincay was at one point the world's winningest jockey with 9,530 victories. He rode for 39 seasons, including 27 summers at Del Mar, where he is still the leading rider with 1,011 firsts. The Panamanian native was voted five Eclipse Awards as the nation's foremost rider and led the country in earnings seven times. Now 74-years-old, he lives in Arcadia near Santa Anita Park and maintains a close connection to the game.
The list of previous Pincay Award winners follows:
| | | |
| --- | --- | --- |
| 2019 – Julie Krone | 2018 – Martine Bellocq | 2017 – Mike Smith |
| 2016 – Chris McCarron | 2015 – Victor Espinoza | 2014 – Art Sherman |
| 2013 – Eddie Delahoussaye | 2012 – John Harris | 2011 – Jerry/Ann Moss |
| 2010 – Oak Tree Racing Assn. | 2009 – Merlin Volzke | 2008 – Pete Pedersen |
| 2007 – Elwood (Bud) Johnston | 2006 – Mel/Warren Stute | 2005 – Noble Threewitt |
| 2004 – Bob Benoit | | |