Thursday, January 19th, 2017 ( 1 year ago )
Dennis Moore Takes Additional Role As Del Mar's Director Of Track Maintenance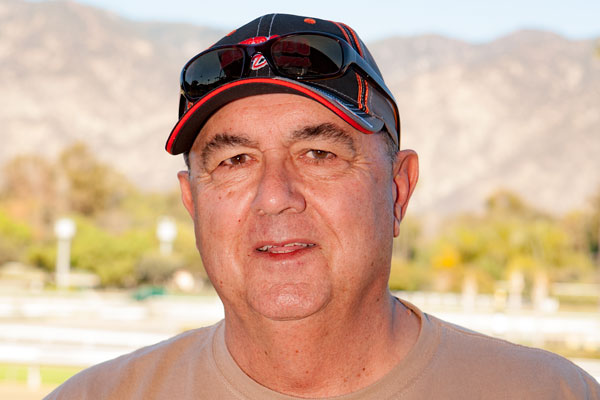 Dennis Moore © Benoit
Veteran trackman Dennis Moore, the track superintendent at Santa Anita Park, has agreed to accept the additional role of Director of Track Maintenance at Del Mar, it has been announced.
Moore, 67, with more than 44 years of experience working racetracks around the world, will continue his full-time role at Santa Anita while also assuming his new responsibilities at Del Mar for its summer and fall meetings.
"Having consistency is a key element in safety and that can mean surface and personnel," said DMTC president and general manager Joe Harper. "With Dennis Moore on board at Southern California's two major tracks – both featuring the same racing surfaces – we've moved solidly in that direction. We owe Keith Brackpool and his people at Santa Anita a big thank you for their willingness to 'share' Dennis with us, which will go a long way toward enhancing Southern California's racing and training environment.
"We're doing everything in our power to ensure the finest, safest and most horse-friendly racing surface we possibly can offer at Del Mar," Harper continued. "Dennis knows his business and our horsemen know Dennis and respect the work he does."
Moore has extensive experience both maintaining and building racetracks in the U.S., Canada, Europe and the Middle East. Most recently he directed the expansion of Los Alamitos Racecourse from five furlongs to a mile and led the installation of the new dirt track – using "El Segundo sand" – at Santa Anita Park in 2014. Del Mar installed the same "El Segundo sand" on its main track in 2015.
"Dennis is not only one of the most savvy trackmen in the country, he's got an almost instinctive feel for how the 'El Segundo sand' sets up and plays, which will be a natural plus for his work here at Del Mar," said DMTC's executive vice president for racing Tom Robbins. "He's a pro's pro and a very bright man who is always learning and open to new ideas. He takes input from all sources and uses it to good advantage."
Moore is replacing Del Mar's previous track superintendent, Steven Wood, Jr., a role the latter assumed in 2016. Wood now will be the senior crew member working for Moore at the seaside oval.
Moore, who was born in Lynwood, approximately 15 miles south of downtown Los Angeles, comes from a racetrack family with expansive experience with track surfaces. His father, Bob, and his brother, Ron, were both track superintendents and his son, Rob, currently works on the track maintenance crew at Los Alamitos. Dennis first began his career at Los Alamitos in 1972 and subsequently has worked, built and/or consulted at dozens of racetracks around the globe, including all the Southern California surfaces, among them the now-closed pair of Hollywood Park and Pomona. Besides his Santa Anita work, he additionally serves as a consultant at Los Alamitos and the training centers at San Luis Rey Downs and Galway Downs.
Moore was the track superintendent at Remington Park in Oklahoma City in 1988 when they installed a revolutionary surface called Equitrack, among the nation's original synthetic racing surfaces. He used the experience gained there to guide the installation and enhancement of Cushion Track at Hollywood Park in 2006, which turned out to be one of the more successful synthetic surfaces put in place in Southern California during their state-mandated run between 2006 and 2014.
With Del Mar hosting its first Breeders' Cup on November 3 and 4 this year, track officials now know its racing surface will be under the guidance of a man with a trio of Breeders' Cups already under his belt – the 1997 edition at Hollywood Park and the 2014 and 2016 runnings at Santa Anita.
Additionally, Moore has worked closely over the years with Dr. Mick Peterson, the executive director of the Racing Surfaces Testing Laboratory, which is considered the preeminent racetrack testing and review provider in the nation. Dr. Peterson is currently DMTC's track surfaces consultant.
Moore and his wife, Chris, currently live in Temecula, roughly midway between Del Mar and Santa Anita. The Moores have been married for 47 years and also have a daughter, Kristin. For the past 25 years the Moore family has been directly involved in the Reins Therapeutic Riding Program in Fallbrook, which provides children and adults with physical and mental disabilities the opportunity to ride and interact with horses.
Del Mar's 2017 summer meet – its 78th – will run from Wednesday, July 19 to Monday, September 4.