Thursday, June 21st, 2018 ( 7 months ago )
Del Mar's Stable Area Kitchen "Refreshed" for 2018 Season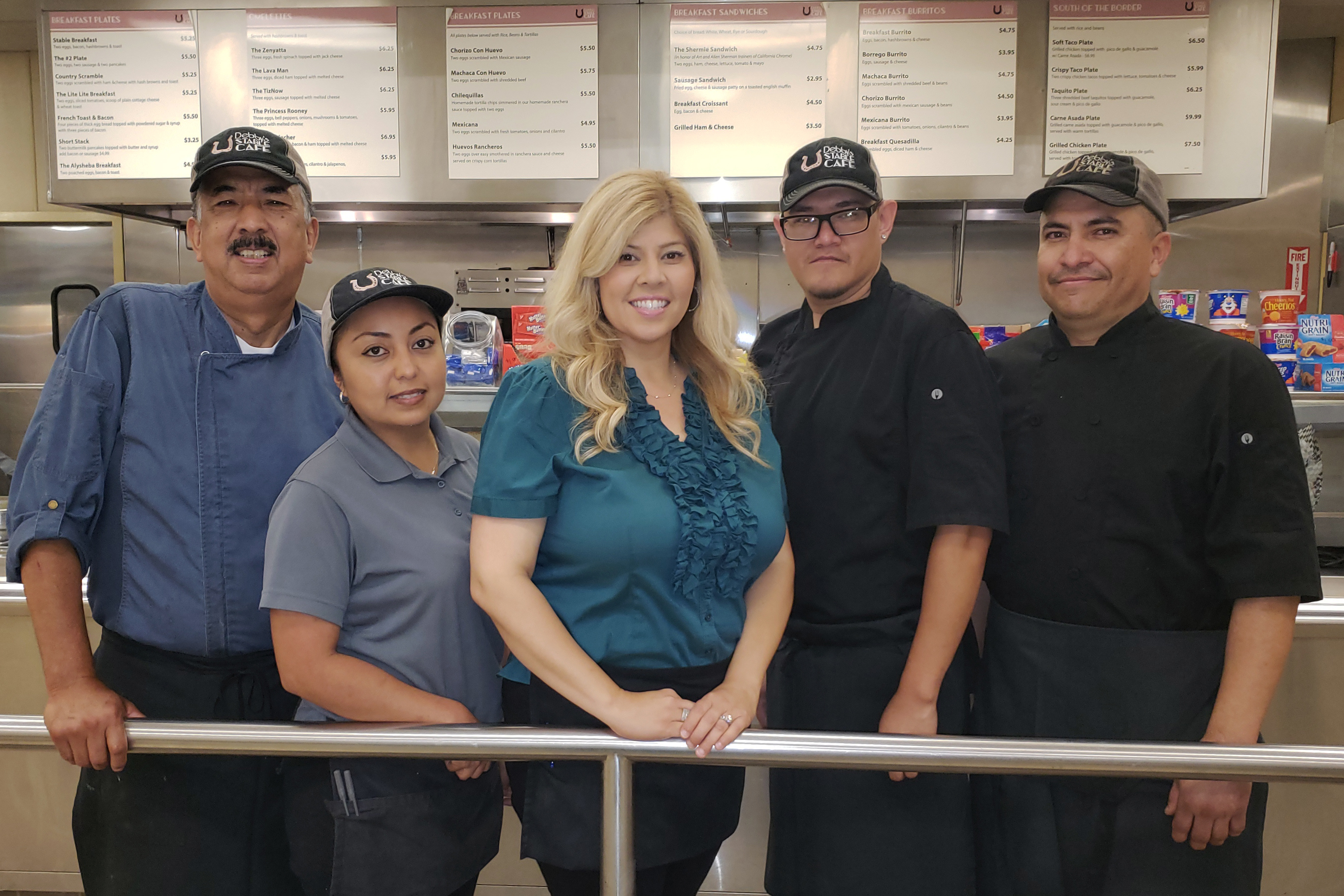 Debby Baltas & her kitchen crew © Benoit Photo
Del Mar's friendly backstretch kitchen, long a staple for backstretch workers as well as visitors to the stable area, will have a "refreshed" look this season with new equipment and new management in place when the 2018 summer meet opens on Wednesday, July 18.
Over the past several months, work crews removed all the old kitchen equipment and brought in new gear, redid floors and walls in that section of the large facility and added some extras to the main dining area.
Debby Baltas, the wife of trainer Richard Baltas and the lady who ran, or runs, the backstretch kitchens at Hollywood Park and Santa Anita, will come on board to oversee Del Mar's arrangement, which has been dubbed the "Backstretch Canteen."
"I'm excited, grateful and proud to be asked to run the stable kitchen at Del Mar," Baltas said. "I believe my good reputation has preceded me and was a key reason I was asked to do this. I plan on providing congenial, first-class service for stable workers, visitors and families who'll be part of our backstretch community."
Del Mar has invested substantial funds in new equipment and upgrades for the kitchen, which serves three meals a day, seven days a week beginning at 5 a.m. daily. The kitchen will be open starting on Saturday, July 14.
"We're well aware how important good food in a good environment can be to our backstretch family," said Del Mar executive vice president for racing Tom Robbins. "The backstretch is home for most of our workers down here and we've invested $400,000 in funding to ensure that good meals in friendly surroundings – prepared and served by a warm, trusted professional -- are part of the Del Mar ambiance."
Baltas ticked off a list of the new industrial-size equipment she'll be working with starting next month: stove, oven, a walk-in refrigerator, side-by-side freezer, convection oven, soda machine and coffee machine. Additionally, the dining area will be dressed up with two new chandeliers and a 65-inch television.
Baltas has an extended background in the restaurant business, starting at her parents' restaurant in San Marino soon after she finished school. She subsequently opened, ran and then sold-for-profit two restaurants on her own prior to taking over the backstretch kitchen at Hollywood Park in 2006, a role she earned plaudits for right up until the track was shuttered in 2013. She then was asked to come on board in a similar role at Santa Anita in 2017 and now completes the major Southern California racetrack loop with her Del Mar assignment.
Baltas' many backstretch fans can be assured that all their favorites will be on the Del Mar menu. She noted that her offerings once again will include her highly popular pancakes, breakfast sandwiches, chicken noodle soup and carnitas, best sellers all at her other backstretch stops.
The kitchen and dining room are part of a 6,500-square-foot facility on the Del Mar backstretch that also includes a large recreation area for backstretch workers. It is located just north of the track's backside racing office.
Del Mar's 36-days summer season runs until Labor Day Monday, September 3. Racing will be conducted on a Wednesday through Sunday basis with the lone exception of closing day.