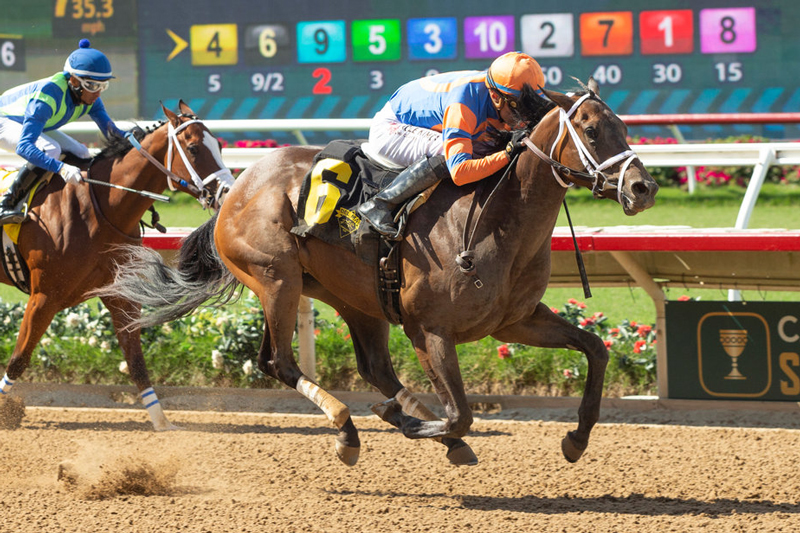 Uncontrollable © Benoit Photo
As it did in 2022, Del Mar again will offer an alluring bonus package for maidens competing at the highest levels on dirt throughout its upcoming 84th summer season.
The bonus package, which adds 25% in purse earnings to runners who fit the simple specifications of the program, is available to all dirt competitors in maiden allowance races, all California-bred maiden allowance races or any maiden-claiming race at the $62,500 level or above.
The one key proviso that makes the program work is that the maiden must come from the barn of a trainer who has no more than 60 horses stabled in Southern California.
"It is simply a monetary incentive for owners and trainers to run in essential races that help solidify our racing cards throughout the meet," said Tom Robbins, Del Mar's executive vice president for racing.
The track once more has raised its maiden allowance purses for '23 to a California record $82,000. Its 25% maiden bonus elevates that purse to $102,500.
The other races that qualify for the maiden bonus program are maiden-claiming $150,000 ($57,000 purse, that rises to $71,250 with the bonus), maiden-claiming $80,000 ($50,000 purse, that climbs to $62,500) and maiden-claiming $62,500 ($46,000 purse, that goes up to $57,500).
The bonuses apply to horses that earn purse money for finishes from first through fifth.
Del Mar officials note that the track's popular "Ship & Win" program is in play once more this year offering a $5,000 starter fee and a 50% supplement for its dirt races. That sets up a potential jackpot scenario for a "S&W" maiden allowance runner who would be racing for $82,000 to start, then a 25% boost as a qualifying maiden (add $20,500), followed by a further 50% enhancement as a "S&W" qualifier (add $41,000) for a total dual qualifier purse of $143,500.
"This is a financial incentive to create balance within an ecosystem that demands it," said Gary Fenton, chairman of the Thoroughbred Owners of California. "Once again, Del Mar leads the charge in innovative changes that fosters growth in horse population and field size to the benefit of all of our members."
The seaside oval will be presenting its most lucrative season ever during its 31-day session with more than $25 million in purses for a daily average purse payout of over $800,000 each afternoon. Additionally, it has scheduled 39 stakes races during its eight-week stand worth $8,275,000.
The historic track will open its season with a three-day weekend (July 21, 22, 23), then have five four-day weeks (Thursday through Sunday), a five-day week (including Labor Day Monday, September 4), then finish with a Friday-through-Sunday weekend (September 8, 9, 10). First post daily for the majority of the summer will be the traditional 2 p.m. start.