Sunday, July 30th, 2017 ( 1 year ago )
Del Mar's "Artist of the Week" Program Returns Wednesday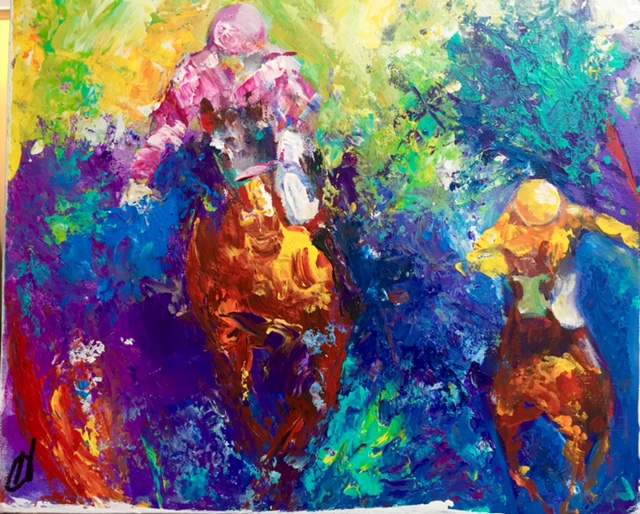 Racing art by Heather Roddy, one of the artists who'll be part of "Artist of the Week" at Del Mar.
An arrangement that Del Mar featured previously but had gone dormant of late will spring back to life starting this Wednesday when the track's "Artist of the Week" program begins a four-week run.
The quartet of artists – Amy Treadway, Michelle Gonzalez, Stephen Bennett and Heather Roddy – each will take a turn presenting their art in the area alongside the small fountain in the Turf Club/Clubhouse entranceway to the facility where they will be both painting and interacting with racing fans.
Treadway, a locally based artist who especially likes horses and cars ("one horse under saddle or 450 horses under the hood"), has been featured in dozens of local galleries and also worked at the Booth Western Art Museum. She is into bright, vibrant colors that represent a strong feel of energy. "Electric" is the way her work has been described. She'll present her art from Wednesday (August 2) through Sunday (August 6).
Michelle Gonzalez will step up next with showings between Wednesday, August 9 and Sunday, August 13. Gonzalez works out of her studio in Spanish Village in Balboa Park where she offers her art and leads classes for artists to be. Her mediums of choice are watercolors and acrylic. One of her specialties is plein air landscapes, or painting in the great outdoors.
Next up will be the portrait specialist Stephen Bennett, a far-ranging artist who has literally painted all over the world. He often searches out indigenous people and paints them on a grand scale, some pieces as large as 7-foot by 5-foot. His take on Del Mar is featured this year on the cover of the track's programs and Media Guides. He'll be on display from Wednesday, August 16 to Sunday, August 20.
The closer on the artists' run is Heather Roddy, the San Diego-born daughter of two artists who has a studio right in Del Mar. She thinks big, she paints big and she's sold her work to art collectors all over the globe. She seems to paint best for an audience and has a special touch as a teacher of art. Her colorful strokes will be on display from Wednesday, August 23 to Sunday, August 27.
First post at Del Mar daily is 2 p.m. with the exception of 4 O'Clock Fridays. The gates are always open two hours before first post for those who might want to come in early and interact with the visiting artists.