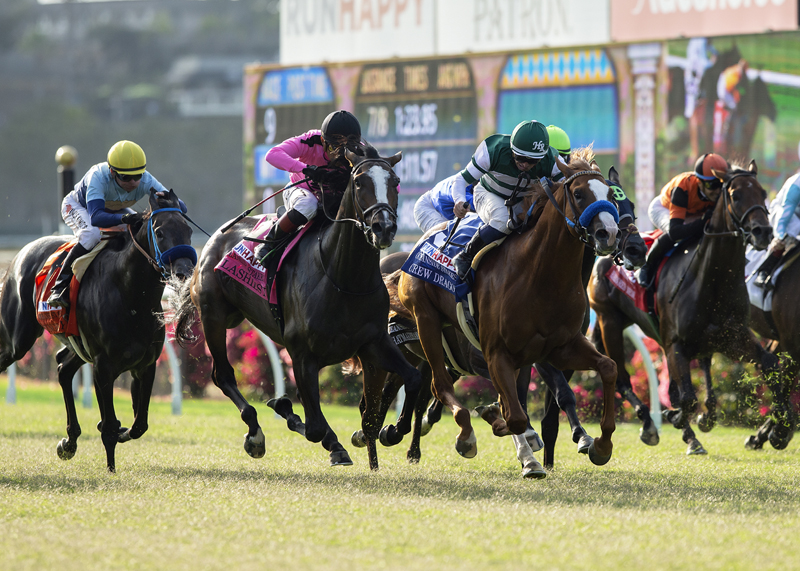 As part of its upwards flow of positives for the summer 2022 race meet, Del Mar has unveiled an enhanced stakes schedule that features 34 major races with more than half of them boosted above their 2021 purse numbers resulting in a record gross value of $8,275,000 for its 31-day stand, the 83rd in the seaside track's rich history.
Besides the major stakes, there also will be increases from $80,000 to $100,000 for all five of its overnight stakes.
Major stakes purse raises will be in effect ranging from $25,000 to $100,000, notably including amplifications to a pair of Grade I offering – the six-furlong Bing Crosby Stakes on Saturday, July 30 climbing from $300,000 to $400,000 and the filly and mare showcase that is the Clement L. Hirsch Stakes on Saturday, August 6 also rising from $300,000 to $400,000.
In 2021, the shore oval's stakes schedule carried a gross value of $7,450,000. This year's additional $825,000 in purse monies means an approximate 10% increase for black type runners, making it the most lucrative stakes schedule in the shore oval's history. All told 16 major stakes are worth more money for this go-round, along with the increases for the five overnights.
"This is Del Mar shining bright and I believe our horsemen and women are going to be delighted with it," said David Jerkens, one of the track's vice presidents and its racing secretary. "Across the board we have exceptional offerings for most any type of good horse you'd care to bring our way. We're proud to present this program and expect it will be well received."
The track's premier event is the Grade I, $1,000,000 TVG Pacific Classic, which will be run for the 32nd time on Saturday, September 3. The mile and one quarter for 3-year-olds and up will be bolstered once again by four additional stakes surrounding it on a rich card that undoubtedly will be the highlight of the summer season.
Along with the "Classic" will be a trio of Grade II races, all carrying $300,000 purses: the Del Mar Handicap at 11 furlongs on turf; the Del Mar Mile at eight furlongs on turf, and the Caesars Sportsbook Del Mar Derby at nine furlongs on turf. The cherry on top of the afternoon will be the $125,000 Shared Belief Stakes at a mile on the main track.
Joining the three Grade I headliners already mentioned are three other Grade I presentations in the $300,000 Del Mar Oaks on Saturday, August 20; the $300,000 TVG Del Mar Debutante on Saturday, September 10, and the $300,000 Runhappy Del Mar Futurity on Sunday, September 11.
Additionally, the track will offer a stakes tripleheader on Saturday, September 10 (TVG Del Mar Debutante, John C. Mabee Stakes, Del Mar Juvenile Fillies Turf) and nine other weekend dates where it has scheduled stakes doubleheaders.
Further, Del Mar also will present its usual compliment of eight California-bred stakes, part of the Golden State Stakes Series that consists of 36 races at tracks up and down the state worth more than $4.4 million. Its stakes are the $175,000 Fleet Treat Stakes, the $175,000 Real Good Deal Stakes, the $150,000 California Dreamin' Stakes, the $125,000 CTBA Stakes, the $125,000 Graduation Stakes, the $150,000 Solana Beach Stakes, the $125,000 Generous Portion Stakes and the $125,000 I'm Smokin Stakes.
Del Mar will open its season with a three-day weekend (Friday, July 22, 23 and 24), then have five four-day weeks (Thursday through Sunday), a five-day week (including Labor Day Monday, September 5), then finish with a Friday-through-Sunday weekend (September 9, 10 and 11).
The list of stakes follows:
DATE
RACE / CONDITIONS
PURSE / DISTANCE
Fri. Jul 22
OCEANSIDE STAKES
Three-year-olds, N/W S/S of $50,000 at 1 M o/o in 2022
$100,000 Guaranteed
1 Mile (T)
Sat. Jul 23
SAN CLEMENTE STAKES (Gr. II)
Fillies, Three-year-olds
$200,000 Guaranteed
1 Mile (T)
Sat. Jul 23
Osunitas Stakes*
Fillies & Mares, Three-year-olds & up, N/W S/S $50,000 at 1 M o/o since September 1
$100,000 Guaranteed
1 Mile (T)
Sun. Jul 24
COUGAR II STAKES (Gr. III)
Three-year-olds & up
$125,000 Guaranteed
1 1/2 Miles
Sun. Jul 24
Wickerr Stakes*
Three-year-olds & up, N/W S/S of $50,000 at 1 M o/o since September 1
$100,000 Guaranteed
1 Mile (T)
Thu. Jul 28
FLEET TREAT STAKES
Fillies, Three-year-olds, Cal-Bred
$175,000 Guaranteed
7 Furlongs
Fri. Jul 29
Daisycutter Handicap*
Fillies & Mares, Three-year-olds & up
$100,000 Guaranteed
5 Furlongs (T)
Sat. Jul 30
SAN DIEGO HANDICAP (Gr. II)
Three-year-olds & up
$300,000 Guaranteed
1 1/16 Miles
Sat. Jul 30
BING CROSBY STAKES (Gr. I)
Three-year-olds & up
$400,000 Guaranteed
6 Furlongs
Sun. Jul 31
EDDIE READ STAKES (Gr. II)
Three-year-olds & up
$250,000 Guaranteed
1 1/8 Miles (T)
Fri. Aug 05
REAL GOOD DEAL STAKES
Three-year-olds, Cal-Bred
$175,000 Guaranteed
7 Furlongs
Sat. Aug 06
CALIFORNIA DREAMIN' STAKES
Three-year-olds & up, Cal-Bred
$150,000 Guaranteed
1 1/16 Miles (T)
Sat. Aug 06
CLEMENT L. HIRSCH STAKES (Gr. I)
Fillies & Mares, Three-year-olds & up
$400,000 Guaranteed
1 1/16 Miles
Sun. Aug 07
LA JOLLA HANDICAP (Gr. III)
Three-year-olds
$150,000 Guaranteed
1 1/16 Miles (T)
Sun. Aug 07
CTBA STAKES
Fillies, Two-year-olds, Cal-Bred
$125,000 Guaranteed
5 1/2 Furlongs
Fri. Aug 12
GRADUATION STAKES
Two-year-olds, Cal-Bred
$125,000 Guaranteed
5 1/2 Furlongs
Sat. Aug 13
SORRENTO STAKES (GR. II)
Fillies, Two-year-olds
$200,000 Guaranteed
6 Furlongs
Sat. Aug 13
YELLOW RIBBON HANDICAP (Gr. II)
Fillies & Mares, Three-year-olds & up
$250,000 Guaranteed
1 1/16 Miles (T)
Sun. Aug 14
BEST PAL STAKES (Gr. III)
Two-year-olds
$200,000 Guaranteed
6 Furlongs
Fri. Aug 19
CTT & TOC Stakes*
Fillies & Mares, Three-year-olds & up
$100,000 Guaranteed
1 3/8 Miles (T)
Sat. Aug 20
DEL MAR OAKS (Gr. I)
Fillies, Three-year-olds
$300,000 Guaranteed
1 1/8 Miles (T)
Sun. Aug 21
SOLANA BEACH STAKES
Fillies & Mares, Three-year-olds & up, Cal-Bred
$150,000 Guaranteed
1 Mile (T)
Sat. Aug 27
PAT O'BRIEN STAKES (Gr. II)
Three-year-olds & up
$250,000 Guaranteed
7 Furlongs
Sun. Aug 28
RANCHO BERNARDO HANDICAP (Gr. III)
Fillies & Mares, Three-year-olds & up
$150,000 Guaranteed
6 1/2 Furlongs
Sat. Sep 03
TVG PACIFIC CLASSIC (Gr. I)
Three-year-olds & up
$1,000,000 Guaranteed
1 1/4 Miles
Sat. Sep 03
DEL MAR HANDICAP (Gr. II)
Three-year-olds & up
$300,000 Guaranteed
1 3/8 Miles (T)
Sat. Sep 03
DEL MAR MILE (Gr. II)
Three-year-olds & up
$300,000 Guaranteed
1 Mile (T)
Sat. Sep 03
CAESARS SPORTSBOOK DEL MAR DERBY (Gr. II)
Three-year-olds
$300,000 Guaranteed
1 1/8 Miles (T)
Sat. Sep 03
SHARED BELIEF STAKES
Three-year-olds
$125,000 Guaranteed
1 Mile
Sun. Sep 04
TORREY PINES STAKES (Gr. III)
Fillies, Three-year-olds
$125,000 Guaranteed
1 Mile
Sun. Sep 04
GREEN FLASH HANDICAP (Gr. III)
Three-year-olds & up
$150,000 Guaranteed
5 Furlongs (T)
Mon. Sep 05
GENEROUS PORTION STAKES
Fillies, Two-year-olds, Cal-Bred
$125,000 Guaranteed
6 Furlongs
Mon. Sep 05
Tranquility Lake Stakes*
Fillies & Mares, Three-year-olds & up, N/W S/S $50,000 at 1 M o/o since February 1
$100,000 Guaranteed
1 Mile
Fri. Sep 09
I'M SMOKIN STAKES
Two-year-olds, Cal-Bred
$125,000 Guaranteed
6 Furlongs
Sat. Sep 10
JOHN C. MABEE STAKES (Gr. II)
Fillies & Mares, Three-year-olds & up
$250,000 Guaranteed
1 1/8 Miles (T)
Sat. Sep 10
TVG DEL MAR DEBUTANTE (Gr. I)
Fillies, Two-year-olds
$300,000 Guaranteed
7 Furlongs
Sat. Sep 10
DEL MAR JUVENILE FILLIES TURF
Fillies, Two-year-olds
$100,000 Guaranteed
1 Mile (T)
Sun. Sep 11
DEL MAR JUVENILE TURF (Gr. III)
Two-year-olds
$100,000 Guaranteed
1 Mile (T)
Sun. Sep 11
RUNHAPPY DEL MAR FUTURITY (Gr. I)
Two-year-olds
$300,000 Guaranteed
7 Furlongs
* Indicates Overnight Stakes