Friday, July 31st, 2015 ( 6 years ago )
Del Mar, Then And Now, Is Special To Trainer Mike Stidham

Michael Stidham and James Graham in the paddock at Del Mar on July 30, 2015.
By Hank Wesch
The first time around in the 1980s, Del Mar was, for Mike Stidham, a campus where he availed himself of lessons from training masters.
The second time around, meaning last year and this, Stidham has returned to the campus a well-credentialed and esteemed visiting professor welcomed for the experience and class he lends to it.
Stidham, 57, was in his early twenties when he started coming to Del Mar. The New Jersey-born son of trainer George Stidham, Mike gravitated naturally to the business and learned it at his father's stable from entry-level positions on up. After two years in college with the idea of becoming a veterinarian, he went back to training, first working for his father and then going out on his own in 1978.
In the beginning, his charges at Tampa Bay Downs were horses that his father sent when they didn't work out at Gulfstream Park. But starting with his first winner at Tampa Bay Downs in 1979, Mike gained recognition and in a matter of a couple years was hired to come to California and train for Elmendorf Farm when it was owned by Max Gluck.
"All through the 1980s I was here every summer," Stidham said recently, taking in the Del Mar panorama from the saddling paddock.
"It was a great time for me because I was just coming up in the business. I got to be around (Charlie) Whittingham, (Laz) Barrera, Richard Mandella, Gary Jones and on and on. All those guys are Hall of Famers.
"I learned a lot from my father. He was a jockey and then a trainer. But just being around those guys, watching them day in and day out do what they do helped me so much. And I was very lucky to come around in the 1980s here."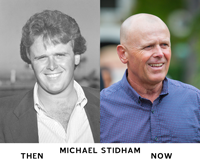 The masters weren't above advising and helping out an eager student.
"The one that I was closest with and who has been a big help to my career even today is Richard Mandella," Stidham said. "He's a class guy."
Knowing how and when to apply advice, even from a master, was important.
"I got some horses from Elmendorf and Max Gluck was still around at the time," Stidham recalled. "Mandella grabbed me one day and he said, 'Mike, I've been training for Mr. Gluck for a lot of years and you can't let him control you, he'll steamroll you if you let him. You've got to stand up to him.'
"I said 'Richard, that's great advice and I'm sure it's going to help me in the future. But right now, I'm a kid and I'm having a hard time standing up to anybody.' But Mandella gave me the best advice anybody could have given: 'Speak up to owners, tell them what you think and make them believe in you.'
"Over the years, Richard has sent me some clients and helped me out tremendously."
The Del Mar summering ended for Stidham in 1991. He spent 1992 and part of 1993 in Northern California, then moved to the Midwest.
"That's actually where my career took off," Stidham said. "I had an up-and-down career here, but when I went to the Midwest I was really able to dig my heels into the ground and build my reputation and have close to 100 horses."
Stidham's established major bases at Arlington Park in Chicago and Fair Grounds in New Orleans and his stable has ranked in the top 40 nationally in earnings three times since 2010 with a high of 41st in wins in 2013. In 2014 Stidham sent a string of 12 horses for the summer meeting at Del Mar –in part because it was the last summer of Polytrack, the same brand as the surface at Arlington Park – and his first venture here in over two decades produced his first two stakes wins at the track. They were both recorded by Istanford in the San Clemente and Sandy Blue handicaps.
This year, Istanford is one of 25 horses Stidham has brought west.
"It was a nice homecoming. Not only to race, but to do as well as we did last year," Stidham said.
The return in 2015 wasn't based on nostalgia. Through Wednesday, Stidham was No. 63 in the national trainer rankings with 49 wins from 246 starters and earnings of more than $1.3 million.
"My numbers are up and hopefully we'll have as good a year, or better, than we had last year here," Stidham said. "On Friday, the second day of the meet, we ran two and won two, so it started out very well. Anybody will tell you it's hard to win here because everybody wants to win at Del Mar. We've had a couple since that haven't run so well, but we're happy with the success we've had and are hoping for more."
In addition to being a trainer, Stidham's father was at times the agent for Bill Hartack, one of racing's greatest riders and, from all reports, moodiest people of all time.
"I was around him since I was born and Bill was like an uncle to me," Stidham said. "I watched him throughout his career.
"He had a house in Miami and was riding at Hialeah and Gulfstream and Mom would always cook and he would come over to eat. He was like part of our family.
"He came over one time after the races and you could just see he was agitated and angry. I'm just a kid and I asked my Dad, 'What's wrong with Bill?'
"Dad said, 'He rode six today and he only won five.' I was raised around that mentality and I have a hard time losing. I know everybody does, but my assistant will say 'ran second but ran well,' and I'll say 'Look, there's winning and there's second. Big difference.'
"I kind of learned that mentality from Bill. He was such an intense competitor. That's what I like to do in my business. I'm intense, I like to win and I leave no stone unturned trying to do that. I learned it from my Dad and Hartack."
Stidham divided his time between Chicago and Del Mar last summer. He's doing the same again, but spending more time on-site here. What are his impressions of Del Mar, past and present?
"It's pretty similar actually. I don't see a big difference," Stidham said. "People loving the beach and the track. The racing out here has always been pretty classy and there were good horses running here in the '80s, just the same as today."