Friday, October 30th, 2020 ( 10 months ago )
Del Mar Modifies Some Starting Gate, Turf Rail Positions for More Accurate Distance and Timing Data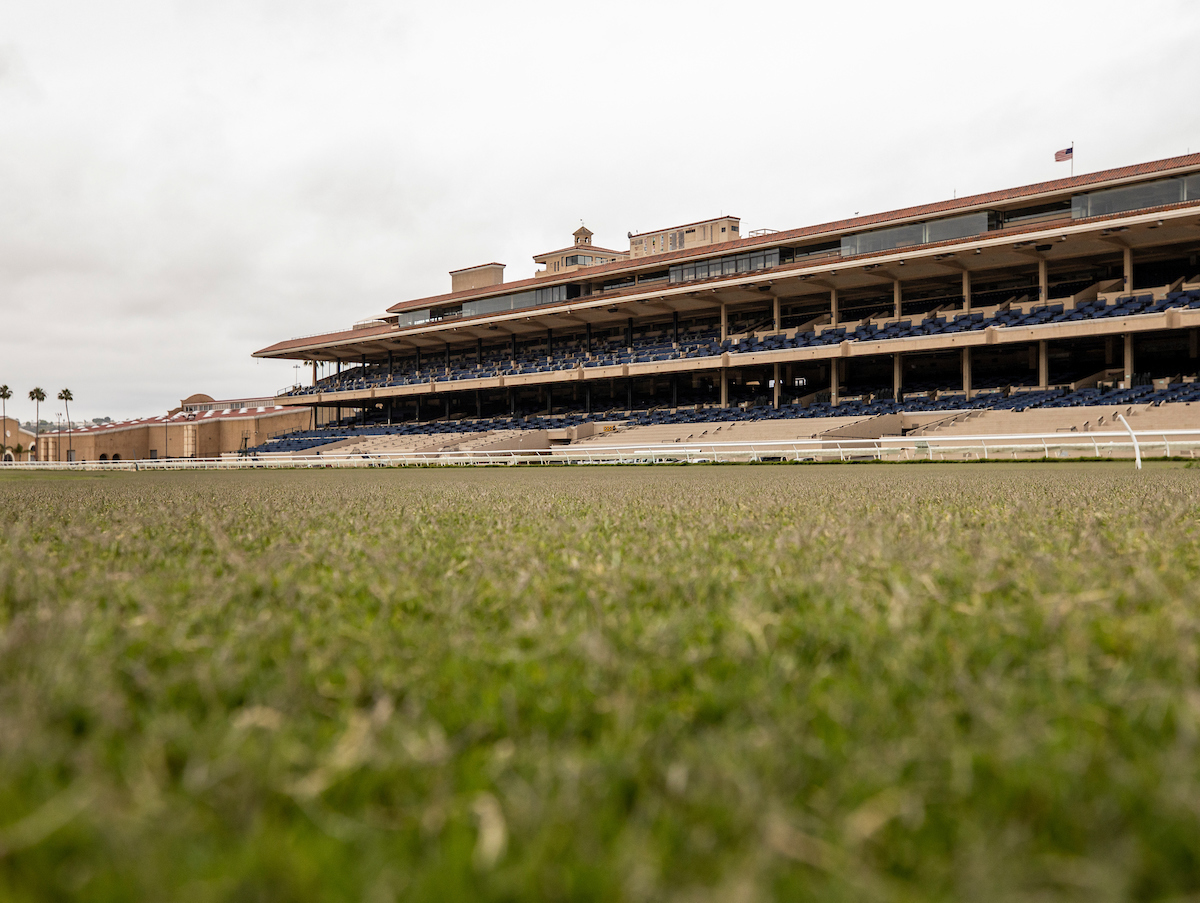 Del Mar has re-surveyed its turf course to enhance timing and tracking accuracy with a state-of-the-art GPS system that will be in use for the start of the Bing Crosby Season this Saturday.
Following its recent summer meet -- in conjunction with its racing data partner Equibase and its partner GMAX, a global positioning satellite information platform — Del Mar re-surveyed its seven-eighths mile grass oval for the different race distances run on it. The survey included both the race distances and the run-up distances from where the starting gate is positioned for each race to the point where the timing mechanism is triggered.
As a result of the survey, Del Mar has modified several starting gate and turf rail positions. Additionally, the survey results helped the track correct some historic variations in how distances (back from the finish line) were calculated. As a result of the study, adjustments were made to the pole locations along the turf course.
"The integrity of timing data is critical and we know we have to get this right. We believe the adjustments made as a result of the survey, while relatively minor, combined with GMAX's GPS technology, will provide for more accurate and consistent timing," said Del Mar's president and COO, Josh Rubinstein.
Del Mar officials noted that in some cases, due to the gate positions, the run-up to where the timing begins may be slightly longer than it was in the past, which could result in slightly faster times.
Del Mar's six turf races are run at 5 furlongs, 1-mile, 1-1/16th miles, 1-1/8th miles, 1-3/8ths miles and 1-1/2 miles. Its turf course has five rail adjustments for its races – zero, 12 feet, 18 feet, 24 feet and 30 feet. Approximately 40% of the track's races are run on its turf course. Rail adjustments and run-ups are necessary for both safety and fairness, helping to preserve the consistency of the turf course.
Del Mar's 15-day season will run through to Sunday, November 29. First post daily will be at 12:30 p.m. for all days with the exception of Thanksgiving Thursday (November 26) when there will be an early 11 a.m. post.
---
The Del Mar Thoroughbred Club is committed to ensuring the safety and welfare of our human and equine athletes. Due to the proactive implementation of industry-leading reforms and the vigilance of the Del Mar team, the track has been recognized as the safest major horse racing venue in North America since 2018 per The Jockey Club's Equine Injury Database. For more on Del Mar's commitment to safety, please visit https://www.dmtc.com/media/safety.