Friday, July 21st, 2017 ( 1 year ago )
Del Mar Intern Class of 2017 has Distinct Local Flavor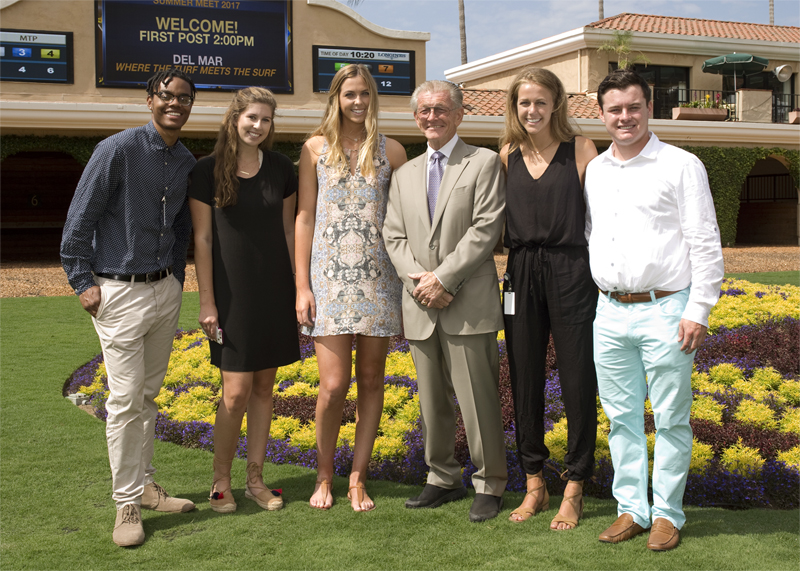 That's DMTC president and CEO Joe Harper in the middle with Del Mar's 2017 intern crew (from left): Sean White, Reyna Haile, Hannah Mathiesen, Jessica Schulz and Tyler Stephens.
Through 2016, the Del Mar Thoroughbred Club summer intern program, started in 1977, had encompassed 94 individuals hailing from 13 different states and seven counties in Ireland.
The five interns in the Class of 2017, however, are all San Diego homebreds, familiar with the track from visits with parents and friends over many years. They're 20 or 21-year-olds, college upper classmen, bringing youth and enthusiasm to a place which celebrates those attributes and a sport that treasures them.
In alphabetical order, here is Del Mar's Fab Five of fresh faces.
Reyna Haile, 21, from Del Mar and a graduate of Bishop's School in La Jolla, is a senior-to-be at the University of Denver where she is majoring in accounting after recently switching from marketing. Her mother, Lisa, has been a longtime racing fan and has ownership experience as part of syndicates.
"I've been coming to Del Mar since I was around six," Reyna said. "I had an internship in New York last year, so I'm glad to be back home. I hope to learn about how things work behind the scenes at the races and especially the business side of it; the things that you don't see when you just attend the races. I haven't seen any of that yet."
Hannah Mathiesen, 20, from Rancho Santa Fe, is a Santa Fe Christian graduate entering her senior year at Cal Poly San Luis Obispo. Using her 6-0 height to good advantage, Mathiesen was a high school standout in volleyball and played one year in college before a foot injury derailed her progress in that sport and rerouted her to racing.
"I actually got into horse racing in college after I stopped playing volleyball," Mathiesen said. "My dad (Mark) bought into a few horses with West Point Thoroughbreds and I interned with them last summer. I also got into the Thoroughbred Enterprise program at my college. They have horses there that we raise and train."
In addition to learning about the business side of the racetrack this summer, Mathiesen will be able to keep close tabs on Spooky Woods, a 3-year-old filly that's the best in the family stable and was stakes-placed behind Unique Bella and Abel Tasman in the Santa Ysabel at Santa Anita in March.
Jessica Schulz, 21, from San Diego, is a La Costa Canyon graduate and a senior-to-be at San Diego State where she is majoring in marketing.
Schulz's affinity for Del Mar was nourished by a trip or two to the winner's circle in the company of her father, who is not involved in racing, for photos of horses owned by his business partner. She worked Opening Day a few years ago, assisting family friend and DMTC Vice President, Human Resources & Administration Ann Hall and has worked in the track's Customer Service department for two of the last three summer meetings.
"I'm glad to be working here again doing something closer to my major," Schulz said. "I'm looking forward to getting some real-world experience in marketing and see if that's really what I want to do."
Schulz is only about two weeks removed from a half-year abroad studying and travelling in what she describes as the "trip of a lifetime." From a base in Prague, Czech Republic, she visited 16 different countries.
Tyler Stephens, 20, is a Santa Fe Christian High graduate who recently finished his sophomore year at Point Loma Nazarene University majoring in accounting. An outfielder/pitcher in baseball, Stephens played as a freshman at Rensselaer Polytechnic Institute in Troy, N.Y., before transferring to Point Loma Nazarene and may return to it in the fall.
"I love the game, but my future's definitely not in baseball," Stephens said.
This summer, he expects to be fully immersed in a sport he's been around, at Del Mar, since the age of 11 – through family ownership of Thoroughbreds and internships with the trainers/organizations handling them.
"It's kind of been a big part of my life overall," Stephens said. "I really like the intellectual aspect of it. If you can digest the information in the (Daily Racing) Form and then figure how to use it to your advantage, I find that intriguing and it's also a lot of fun."
Sean White, 21, is a Helix High graduate poised to enter his senior year at UC Santa Barbara where he is a communications major and is additionally pursuing a certificate in sports management.
At UCSB, White has been the sports editor of the school newspaper and also gained experience doing live online broadcasts of a variety of campus events. His interests have evolved toward the public relations or media relations of sports industries, but White says "I'm still trying to figure out what route I want to go down."
The summer will give him an opportunity for exploration in the "niche" sport of racing. He's worked at Del Mar the last three summers in the gift shop and janitorial services and is looking forward to observing and learning about the other aspects of the track.
"I want to work on meeting people, networking and establishing relationships," White said. "I don't really know the ins-and-outs of horse racing. I know there's a lot for me to soak up. And for me, that's really exciting."