Tuesday, July 11th, 2017 ( 1 year ago )
Del Mar "Discounts" Available Once Again for 2017 Meet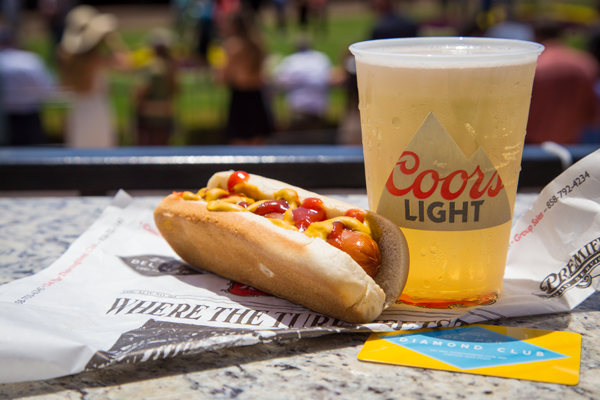 Del Mar offered a series of discounts, notably for food and beverage, during its 2016 meeting and they proved to be the one thing that racetrack folks like best of all – a winner.
So Del Mar is going to do what you should always do when it comes to winners – stick with them.
Topping the list of discounts again for the 2017 season is the "50% Bonus" program that allows fans to purchase $30 worth of scrip for $20 each day they come to the races. The scrip, which is distributed in $10 chits, is good for both food and beverage anywhere at the track.
One scrip purchase per visit is allowed, but it can be stockpiled and used collectively at any point during the season. There are only two easy rules that go with the program: First, you need to be a Diamond Club member to buy the scrip (membership is free and requires only an easy two-minute signup at the track or online), and secondly, the offer is not valid in the hubbub and wall-to-wall atmosphere of Opening Day, July 19.
Yet another notable discount is the track's "Happy Hour Friday," good on all Fridays of the meet. From 2 p.m. to 6 p.m. on those days, Del Mar's signature cocktails, including its very popular Del Margaritas, will be on sale at half price. The discount applies to all bars on Levels 1 through 5 at the track.
Still another discount is the "Bucket of Beer" available at any of the track's restaurants. A group can order a "bucket," which means six bottles of beer (on ice in a sliver bucket) for the price of five. The featured beers are Coors Light or Dos Equis.
Other bargains on drinks will be offered throughout the season at bars throughout the plant. An example is when you buy two cans of either Coors Light or Tecate, which can be had for the discounted price of $14.
Additionally, Del Mar will present weekly pre-concert parties – the "Party in the Plaza" -- each Friday in the Plaza de Mexico. Radio station 91X will be broadcasting live in the area and a lively band will provide entertainment. All signature drinks will be offered at half price and two cans of Coors Light or Tecate will sell for a further-reduced price of $12.
The track also will continue with its most popular promotion ever – "Free & Easy Wednesdays" – throughout the meet. On all Wednesdays (other than Opening Day), Diamond Club members receive free admission to the track, a free program and a free seat. Additionally on those days fans can buy hot dogs, sodas and 12-oz. Coors Light beers at half price. A nifty new wrinkle in the "Free & Easy" package this year is the addition of half-price tacos and $5 margaritas in the popular 17 Hands brew pub.
Continuing on with the "discount" theme, the track will once more provide reduced prices on admissions and parking.
Standard admission prices at the track are $6 for Stretch Run and $10 for Clubhouse. But those prices are automatically halved to $3 and $5 by joining the track's Diamond Club and showing your card at the admission gates. The Diamond Club advantage is especially notable on Opening Day when members get their usual discount down to $3 and $5 despite Opening Day prices of $15 in the Stretch Run and $30 for Clubhouse. Further, fans can purchase in advance any of several admission booklets or passes that can cut prices even more.
A Clubhouse Season Pass – good for all 36 days of the meet – is available through the Ticket Office (858-792-4242), but only through this Thursday, July 13. The cost is just $50, a husky savings of $310 off the regular full price. Another admission bonus can be had through the purchase of a Clubhouse Advance Sale Discount Book of 10 daily tickets for $70. That offer is season-long. Over on the Stretch Run side, a full season pass (also available only through this Thursday) sells for $25, a savings of $191 off the regular total price. Available for season-long purchase are Stretch Run Advance Sale Discount Books with 10 daily admissions for $40.
Regular parking at the track is $10 per day, but a book of 10 parking tickets can be purchased in advance for half the full price at $50. This offer is good throughout the summer and the books can be obtained through the Ticket Office.
Lastly – but certainly not least of all – Del Mar offers its seniors (aged 62 and up) free Stretch Run admission to the track every Thursday simply by showing their Diamond Club card.
Besides the simple Diamond Club signups for all at any of the several locations at the track, they also are available by using the Del Mar Mobile APP (
https://www.dmtc.com/app
). A Diamond Club card guarantees access to all of the many discounted perks available throughout the season, as well as several exclusive special offers that will be presented as the summer rolls along.