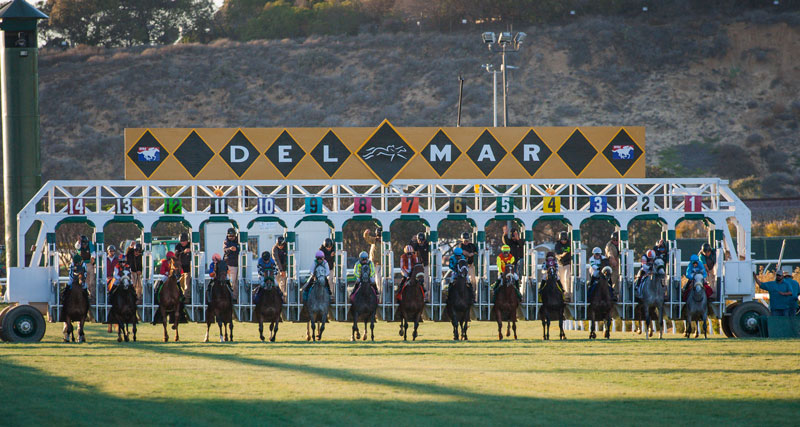 Del Mar Starting Gate © Zoe Metz Photography
Del Mar raced to a handy conclusion to its 20-day fall race meet – its second "Bing Crosby Season"-- Sunday afternoon, buoyed by a high-class racing product, positive results on its racing surfaces and a strong feeling that the fledgling racing session has found a home on both the local and national scene.
Total handle for the five-week stand when compared to last fall's four-week, 15-day numbers showed notable gains in most categories.
The total handle for the meet was $195,737,812, a boost of 26.4% over 2014's final number of $154,914,430. The leader in the handle department was the track's ADW betting, which jumped up 36.1% for a total of $56,629,676 (as opposed to 2014's $42,348,298). Average daily handle for the 20 days was $9,786,891. The 15-day average in 2014 was $10,327,629.
The track's overall attendance was 123,608 for a daily average of 6,180. The total in 2014 was 135,829 for an average of 9,055. The track's attendance was negatively impacted on its opening weekend when it played host to the two Breeders' Cup days held at Keeneland in Kentucky, which proved to be primarily a simulcast event.
The fall session, blessed again by another run of delightful San Diego weather, managed to finish with a special flourish with full turf fields – including the first 14-horse grass fields on the expanded course in track history -- adding special spice to the closing-week cards.
"We are very happy with the support our local horsemen have shown toward this meeting," said Del Mar racing secretary David Jerkens, "and encouraged by the solid participation by out-of-town horsemen, especially for our stakes races. I think everyone knows now that Del Mar has something special to offer in the fall and I only see the meet growing and becoming better."
The track presented 171 races during its five-week run, drawing 1,390 starters for an average field size of 8.13. Last year's 15-day meet saw 129 races lure 1,077 starters for an average of 8.35 per offering. The track's turf course, now in its second full season, had 66 races run on it with 591 starters for an average field size of 8.95. In 2014, the track presented 47 turf races that drew 428 starters for an average field size of 9.11.
Hall of Fame rider Kent Desormeaux had high praise for the turf and Del Mar's track superintendent, Leif Dickinson. "I think it's the best turf course in the country," he said. "Best one we've had in California in 20 years. Leif has done an exceptional job with it."
Del Mar's dirt track, newly installed over the previous winter and raced on for the first time this past summer, also drew near universal support from horsemen. Track biases were basically nonexistent and the racing on the 31,000 tons of "El Segundo
sand" installed between December and May was virtually injury free.
Del Mar's riding champion – once more – was Rafael Bejarano with 20 winners in 20 days, besting Santiago Gonzalez's 18 firsts. This was Bejarano's sixth Del Mar title (the others all won during the summer meet) and his 22nd overall riding crown in Southern California. Top trainer for the session was Doug O'Neill, who had 15 firsts. Both Peter Miller and Phil D'Amato dead-heated for second with 13 winners. This is O'Neill's fifth Del Mar championship (the other four were during summer meets) and his 30th overall in Southern California.