Sunday, November 13th, 2016 ( 2 years ago )
Del Mar Breaks Sharply from the Gate for its Fall 2016 Racing Season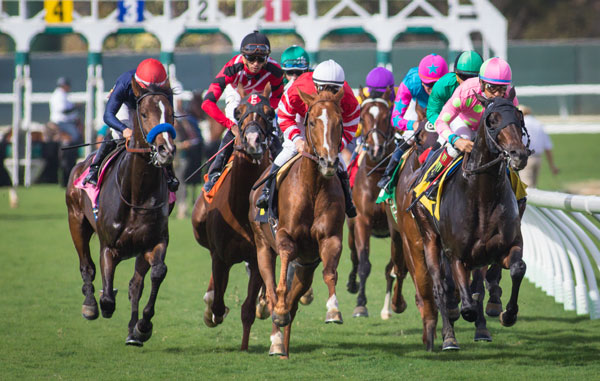 Del Mar began its 2016 Fall racing season in a very positive fashion with robust increases in its on-track and overall handle, a massive $1-million Pick Six winner and three days of highly competitive racing that unfolded in weather that even went beyond the normal San Diego autumn delight.
The Friday-Saturday-Sunday kickoff -- that included a Veterans Day opening that threw a large salute to the area's many military veterans -- saw the seaside track's betting numbers jump from last year's three-day comparables of $26,840,283 to $33,349,045, a 24.2% rise. The daily average rose from $8,946,761 to $11,116,348.
On-track handle went up even more, from $2,316,377 to $2,961,258 – a jump of 27.4%. The daily average climbed from $772,126 to $983,753.
For comparison purposes the Breeders' Cup results from the prior year were eliminated in order to present a more representative measure of Del Mar's typical racing results.
The betting highlight of the weekend was a whopping Pick Six score of $1,041,696 registered by one lucky bettor on Sunday afternoon. A two-day carryover of $203,128 into the card had lured "chase" money of $1,225,589 and it was further supplemented by the track's new Single Ticket Jackpot pool which has bulged to $183,828 with the close of betting. The lone winner – whose ticket was purchased through Racing Gaming services, an entity based on St. Kitts in the West Indies – was aided by four double-digit winners in the six-race sequence, as well as the 1-9 Enola Gray being beaten in the featured Betty Grable Stakes.
The track's three-day attendance tally was up by 6.9%, increasing from 22,170 to 23,709. The daily average rose from 7,390 to 7,903.
On the racing side, field size proved solid with an average of 8.4 horses per race through the initial three afternoons. Last year the track averaged 8.1 horses per race through its 20-day, five-week meeting. This year the session will last 15 days over four weeks.
The track's racing officials are enthused by the additional horses and horsemen coming on board to stable at the track for the meet. This year the estimate is that there are 425 horses on the grounds, an approximate 30% increase from 2015.
"We could not be more pleased with the opening week of our Fall season," said Del Mar's president Joe Harper. "Like any race meet, success is largely dependent on the support of our horsemen and the participation of our players. We are fortunate that the entry box has been humming and the customers from across the country are enthusiastically playing our pools. The enhancement to the Pick Six with the Single Ticket Jackpot bonus has given us a healthy boost, as can be seen by the robust pool we amassed and gave away today."