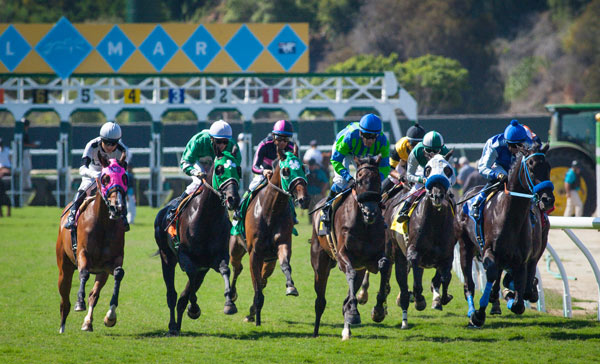 Del Mar will provide its same full range of betting opportunities again this season when the seaside track is off and running on its 76th summer of racing beginning Thursday, July 16.
The 40-day meeting will have 14 different types of wagers presented, starting with the traditional win, place and show bets and expanding out to several five- and six-horse combination wagers. The menu also includes several notable "guarantees" among its exotic offerings, including the nation's top Pick 4 promise of a minimum $600,000 pool on all weekends.
The eight-week session, which runs primarily on a Wednesday through Sunday schedule, traditionally provides betting pools that are among the largest and best in the country. Last year's daily betting average was more than $12.2 million each day, while its field size was 8.8 horses per race, placing Del Mar among the elite nationally and providing strong encouragement to players shopping for good wagering opportunities.
The Pick 4 – offered on the final four races on the card – is a .50¢ minimum bet. Its $600,000 guaranteed pool on all weekend cards (up from $500,000 last season) is the highest guarantee of its kind in the U.S. The bet also will have a $300,000 (up from $250,000) guarantee on weekdays. Additionally, for the track's signature race day – the 25th running of the $1,000,000 TVG Pacific Classic on Saturday, August 22 – the Pick 4 guarantee will be boosted to $1,000,000. There also will be a guaranteed Pick 6 pool of $250,000 that afternoon.
The Pick 6, presented on the last six events on each racing day, remains a $2 betting proposition. Del Mar had considered a revision in its presentation of the bet, but has chosen to stay with the same format as in the past, allowing for both payouts to those with the most winning tickets and consolations.
Another multiple-race wager on the agenda is the popular .50¢ Players' Pick 5, up for grabs on the day's first five races and available at a reduced takeout rate of 14%.
The full array of Del Mar bets is as follows: $2 win, place and show; $1 Exacta; $2 Quinella; $1 Trifecta; $2 rolling Doubles; $1 rolling Pick 3s; $1 Superfecta (10¢ minimum); $1 Place Pick All; $1 Super High 5; $2 Pick 6; .50¢ Players' Pick 5, and .50¢ Pick 4.
Last year Del Mar dropped its takeout on rolling Daily Doubles (they are offered on every race except the last) to 20% from the previous 22.68%. That arrangement will stay in place for the 2015 season.
First post daily will be at 2 p.m. with the exceptions of "Four O'Clock Fridays" when starting time shifts to 4 p.m., which enables racing up to sunset and the presentation of highly popular rock concerts following the races. Del Mar's final day of racing will be Labor Day Monday, September 7.