Friday, September 23rd, 2016 ( 2 years ago )
Del Mar, American Legion Post Host "Veterans Day Salute"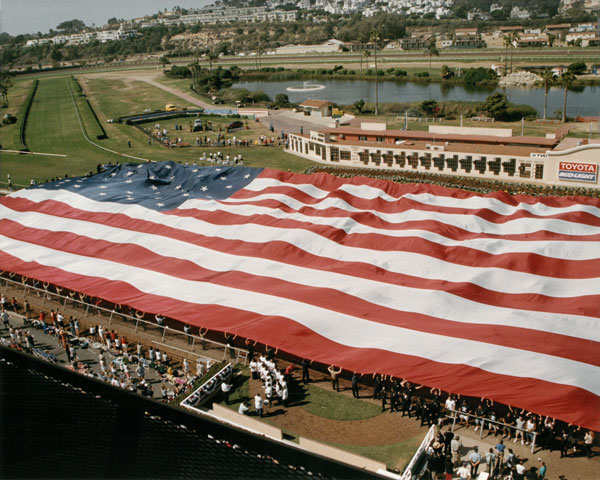 The famous Holiday Bowl flag will be at Del Mar for opening day © Benoit
Del Mar will partner with a nearby American Legion Post for a "
Veterans Day Salute
" on its opening day of the Bing Crosby Season Friday, November 11, which, naturally enough, is Veterans Day.
As a special kickoff to its third Fall racing season, the seaside track will team up with Encinitas'
American Legion San Dieguito Post 416
in a fundraising event that will have stars and stripes written all over it on our nation's day to hail those who have served in its military branches.
Among the patriotic activities planned for the afternoon are the unfurling of the huge Holiday Bowl U.S. Flag, at 100-yards by 50-yards one of the largest in the country; parachute jumpers dropping in from up high; a Pinups for Patriots contest and calendar event; a ride-in by a several veteran motorcycle clubs; military bands, and an award winning Cali Comfort Bar-B-Q. There also will be a special post-race concert by rising country star Coffey Anderson, along with other musical guests.
In support of this special event, Del Mar has generously offered its admission costs for the day to the veterans group and will let them keep all proceeds from ticket sales. Post 416 and other select veteran organizations are selling admission to the races and all the other activities that go with it for $25, which includes the delicious Bar-B-Q. For a more robust experience with added benefits, a VIP level ticket also is available for $50.
Veterans Day Salute organizers have said that all proceeds from ticket sales will benefit military charities. Event sponsorships are available and will benefit Post 416's "Save Our Legion" campaign.
Del Mar has a rich history with the military, so it only seems natural for the shore oval to lead off its third Fall season with its service "Salute." The 15-day race meet will start with a three-day weekend through Sunday, then be offered on a Thursday-through-Sunday basis for the remainder of the session through to Sunday, December 4. First post daily will be at 12:30 p.m. on all days with the exception of Thanksgiving Day (Thursday, November 24) when a get-you-home-in-time-for-turkey card will begin at 11 a.m.
The opening-day feature for the nine-race card will be the $75,000 Kathryn Crosby Stakes for older fillies and mares at a mile and one-sixteenth on the turf course.
Gates will open at 11 a.m. throughout the season.
The San Dieguito American Legion – located approximately seven miles north of the track -- was established in 1931 by World War I veterans as a sanctuary and meeting place to help them deal with the horrors of that war. The San Dieguito (little San Diego) area spans North County San Diego from Carmel Valley through most of Carlsbad and inland to Black Mountain. For the last 85 years this facility has served veterans, family members and the community as a whole through charitable donations and volunteer efforts.
Today the building and attached structures are in dire need of repair; in fact, replacement is the best alternative. Hence, the Legion formed a "Save Our Legion" committee. This committee is charged with raising the funds to rebuild the Legion into a state of the art meeting/community center to allow the Legion to continue the legacy of serving veterans and their families as well as active duty personnel in the area.
The majority of the proceeds from this year's inaugural "Veterans Day Salute" will benefit the Save Our Legion Campaign and the rebuilding of the post. Additional information about the event and San Dieguito Post 416 can be obtained at the following two locations:
delmarracing.com/vetsalute
and
calegionpost416.org
.