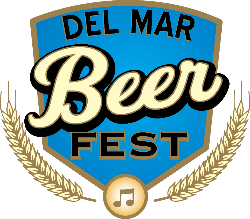 It'll be twice as nice once more at Del Mar for those who like to quaff special beers. For the second straight summer, the track will conduct a double dose of cool delight with Craft Beer Festival dates scheduled for a couple of Saturdays – July 25 and August 29.
The beer "fests" will be held from 1 to 6 p.m. at the western end of the facility near the Seaside Stage. They will feature some of the best brews available, both locally and internationally.
Both events will have a hometown feel with more than 40 San Diego specials offered. Breweries confirmed for the sessions include AleSmith, Ballast Point, Coronado, Duck Foot Brewing, Green Flash, Mike Hess Brewing, Pizza Port and Stone. Several of those breweries were awarded medals for their craft during the San Diego International Beer Competition held in June.
San Diego has been a hot spot for award-winning craft beers over the past decade. It's become known as one of America's premier locations for crafters and brewery tours are available throughout the city for serious beer enthusiasts. Best estimates say there are now more than 100 breweries in "America's Finest City."
"The past few years we've gotten into a fine groove with our beer festivals," noted Chris Bahr, Del Mar Thoroughbred Club's director of events and promotions. "It's looking like more of the same this summer. And at each of our festivals we'll have more than 100 different craft beers available for sampling."
Festival goers will be able to purchase five 7-oz. samples of the various brews for $20. Full-sized beers also can be bought. Admission into the "fest" locations either day is free with regular general racetrack admission of $6. Pre-sale packages – consisting of Stretch Run admission ($6) and a "beer fest" wristband good for five 7-oz. samples ($20) – are available for $22, a $4 savings.
The July 25 festival package is available from now through July 19 at the dmtc.com/tickets online ticket office.
The July 25 "fest" comes on a day when the track also will offer a special concert following the races featuring the Southern California punk rock legends The Offspring. The August 29 "fest" is on a day when they track will be giving away classy blue beach bags with paid admissions.
Del Mar's 40-day season begins this Thursday (July 16) and runs through Monday, September 7, which is Labor Day. Racing for the most part is conducted on a Wednesday through Sunday basis.