Thursday, September 1st, 2016 ( 2 years ago )
Debutante-Futurity Double Takes Some Doing But Can Be Done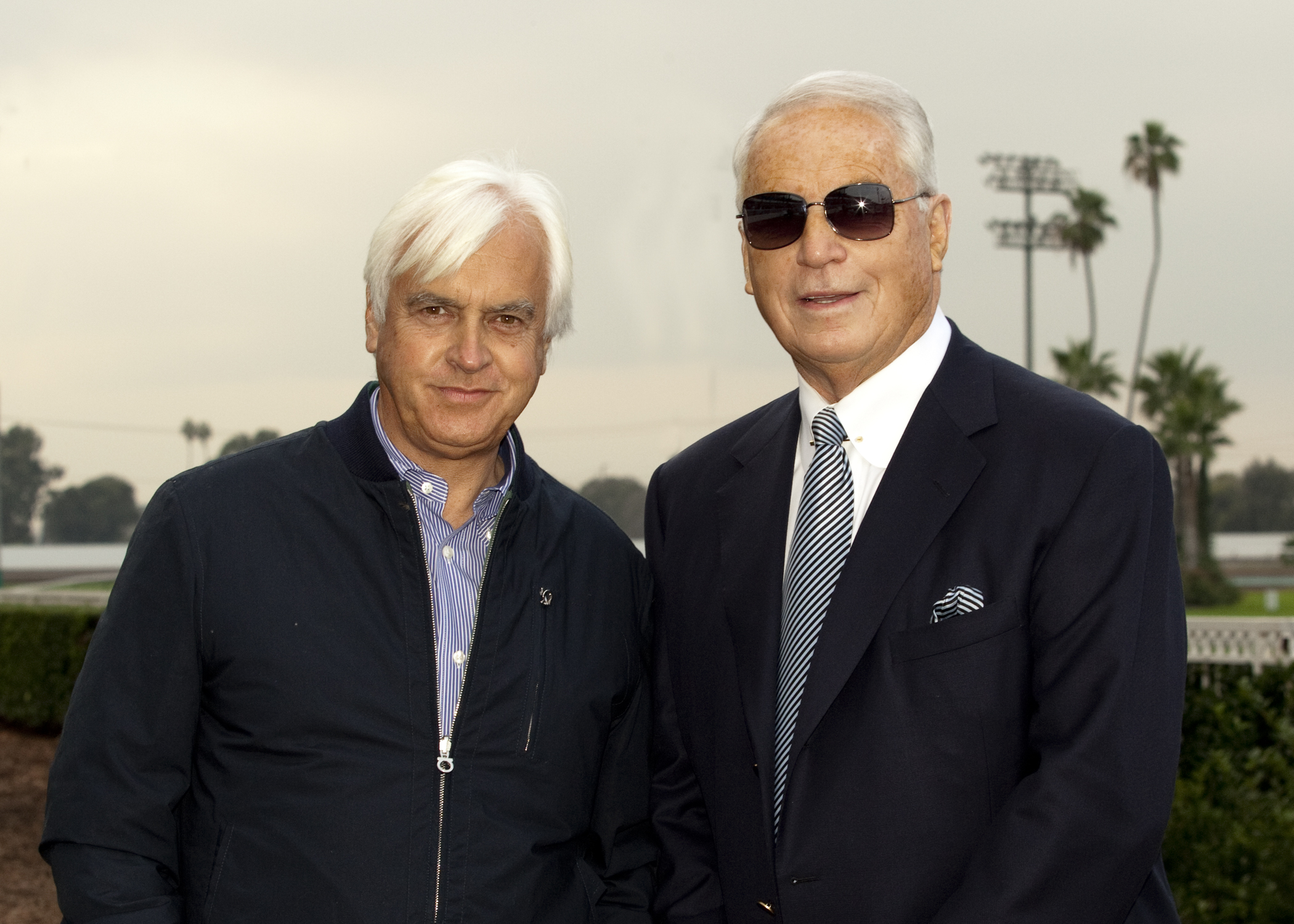 Bob Baffert (left) and D. Wayne Lukas © Benoit
By Hank Wesch
The inaugural running of the Del Mar Futurity was in 1948. The Del Mar Debutante came into being three years later.
So when the meeting's championship events for 2-year-olds, both with Grade I status and $300,000 purses, are contested in the final three days of this 77th summer season – the Debutante on Saturday, September 3 and the Futurity on Labor Day Monday – there will have been 65 chances for a trainer to saddle the winners of both in the same season.
Call it the Debutante-Futurity Double.
It's something that has been done 11 times in the past 64 years by six different trainers. Hall of Famer D. Wayne Lukas was a repeat-accomplisher in the 1980s (1983-'84 and 1987). Hall of Famer Bob Baffert, Lukas' successor as a Del Mar Dominator, did it five times from the late 1990s to the early 2000s.
Let's go to the chart:
| Year | Debutante | Futurity | Trainer |
| --- | --- | --- | --- |
| 1956 | Blue Vic | Swirling Abbey | Reggie Cornell |
| 1979 | Table Hands | The Carpenter | Willard Proctor |
| 1983 | Althea | Althea | D. Wayne Lukas |
| 1984 | Fiesta Lady | Saratoga Six | D. Wayne Lukas |
| 1987 | Lost Kitty | Lost Kitty | D. Wayne Lukas |
| 1994 | Call Now | On Target | Ron McAnally |
| 1997 | Vivid Angel | Souvenir Copy | Bob Baffert |
| 1998 | Excellent Meeting | Worldly Manner | Bob Baffert |
| 1999 | Chilukki | Forest Camp | Bob Baffert |
| 2001 | Habibti | Officer | Bob Baffert |
| 2003 | Halfbridled | Siphonizer | Richard Mandella |
| 2012 | Executiveprivilege | Rolling Fog | Bob Baffert |
What does it take to pull off the Debutante-Futurity Double?
Ask that, uh, obvious question and you get an answer like that provided by dry-wit master Richard Mandella. "It takes some pretty fast horses," Mandella said.
But looking a little deeper into the history raises the possibility there are a few other contributing factors.
It helps to have a Hall of Fame trainer. Four of the Del Mar Six are: Lukas, McAnally, Baffert and Mandella.
It helps to have an owner with a bent for purchasing, or breeding, quality young horses. Four of the six doubles were for the same owner.
Helen C. Alexander, Helen K. Groves and David Aykroyd owned Althea. Former San Diego Chargers owner Eugene Klein and Lukas owned Lost Kitty, the only two fillies to win both the Debutante and Futurity.
Althea won the 1983 Debutante by 15 lengths and came back to beat the boys in the Futurity by 6 ½. Four years later, Lost Kitty crossed under the wire five lengths the best in the Debutante and came back to win by a nose in the Futurity.
In the 1980s, there was a 10-day gap between the Debutante and Futurity. So, in those two instances, it paid to have a Hall of Fame trainer who was willing to go against the theory that fillies shouldn't run against colts.
In 1994, Ron McAnally hit the double with two horses bred and owned by Verne Winchell, the Winchell's Donuts magnate. Call Now prevailed by 4 ½ lengths in the Debutante and On Target was a half-length winner in the Futurity.
McAnally thus duplicated a feat that was first accomplished by his uncle, trainer Reggie Cornell in 1956. McAnally, now 86, was already in his 10th summer at Del Mar and working for his uncle when Blue Vic won the Debutante for owner J.J. Elmore and Swirling Abbey was advanced to first in the Futurity by the disqualification of Prince Khaled.
In 1998, Baffert swept the stakes with horses owned by the Golden Eagle Farm in Ramona of John and Betty Mabee, which was in the midst of a golden era of good horses and big stakes wins. It was the second double in succession for Baffert, who would win the Futurity seven straight years from 1996-2002 and the Debutante as well four times in that span.
Baffert's first double came in 1997 with Vivid Angel, for Ed Friendly, and Souvenir Copy for Golden Eagle.
"I was going to go back and watch Real Quiet in the Futurity at Santa Fe (New Mexico), but I stayed here and watched Vivid Angel," Baffert recalled. "She won and Ed Friendly came to the winner's circle wearing red pants. I'll never forget that."
Baffert is also the most recent to do it, saddling Executiveprivilege, a 4-5 favorite, to a nose victory over 8-1 Beholder in the Debutante and Rolling Fog to a 7-1 upset in the Futurity.
"Our whole operation is based on young horses," Baffert said. "That's the program. I'm like a college coach."
It would also appear to help to have the services of a jockey performing at a high level. In seven of the 12 cases, the jockey on the Debutante winner also piloted the Futurity champ.
Laffit Pincay, Jr. was the first to double, with Althea in 1983. The others in order were Alex Solis (1994), Kent Desormeaux (1998), David Flores (1999), Victor Espinoza (2001), Julie Krone (2003) and Rafael Bejarano (2012). The Futurity wins capped off meet riding championship seasons for Flores and Bejarano. For Bejarano, 2012 was the first of four straight championships entering this season.
If there's a Debutante-Futurity double in the offing in 2016, the top trainer candidates are Baffert and Keith Desormeaux.
Baffert, with his usual powerful contingent of two-year olds, plans to run the duo of American Cleopatra, a full sister to Triple Crown winner American Pharoah, plus Noted and Quoted in the Debutante and Best Pal Stakes winner Klimt in the Futurity.
Desormeaux has Miss Southern Miss in the Debutante and Straight Fire in the Futurity.
Miss Southern Miss was second, beaten only 1 ¼-lengths by Champagne Room after a troubled start in the Sorrento Stakes, the major Debutante prep. Straight Fire set the early pace for a track-record breaking performance at five furlongs by Chasing Aces in July, then came back to post a 10 ½-length romp at 6 ½ furlongs 20 days later.
Joasin Dias is Desormeaux's assistant and exercise rider of Straight Fire.
"He has the bones of a buffalo and he's not afraid of anything," Dias said of Straight Fire, a $250,000 yearling purchase and Kentucky-bred son of Dominus, owned in part by the Jungle Racing LLC of syndicated sports talk radio host Jim Rome.
"He can be better than (Breeders' Cup Juvenile winner) Texas Red and (2016 Preakness winner) Exaggerator."
Now that has the sound of a Futurity winner. And if Miss Southern Miss is near as good…..