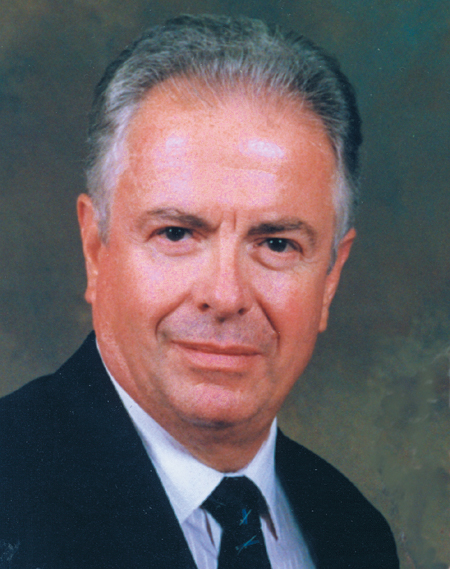 Dan Smith
By Mac McBride
Dan Smith has left the building. Quietly.
In a way, that's not surprising. He spent a career – at the racetrack and at Del Mar – doing what a good turf publicist does, which is not calling attention to himself but rather helping others do their jobs.
But in another way, the man had done such a marvelous job for so long both at Del Mar and in the industry that there probably should have been a parade, along with an all-night party and an armful of gold watches at the end of 2019. You'd be hard pressed to come up with a more sparkling resume than the one Dan Smith compiled.
True enough, he's 83 years of age, which is retirement territory and then some for most folks. But don't be fooled: he comes from a family of long genes and there are no walkers or canes in his future. And that mind of his – that unbelievably sharp tool that can recall instantly everything from a 50-year-old bloodline to the name of the third lead in a 1940s noir film – is still clicking along double fast. You've heard about people with photographic memories? Hello Dan Smith.
Dan has spent more than 60 years in the Thoroughbred world and a full 56 of them at Del Mar. His first season at the seaside oval was 1964; let that long-range thought marinate in your brain a bit.
He was born in Chicago (South Side) in 1936, but his Mom and Dad loaded up the family in a car in 1948 when he was 11 and motored to the West Coast in search of better opportunities for their business, which was making music. They settled in Alhambra – a midway point between downtown L.A. and, more importantly, Arcadia and Santa Anita – and young Smith went about the business of becoming a Californian.
Like his folks, he had an affinity for music and learned to play a pretty fair trumpet during his high school years, which would prove handy when – after a taste of college – he instead listened to Uncle Sam's call and did a couple of years in the U.S. Army.
Reveille finished, Smith returned to L.A. in 1957 and landed a gig as a copy boy in the sports department of the L.A. Times. He worked his way up to the role of writing features and spun several about a passion he'd realized as a youngster in the Windy City – Thoroughbred horse racing. Bob Benoit, the long-time racing publicist/photographer/executive, was then the assistant publicity director at Hollywood Park and saw promise in young Smith and his writings. He encouraged him to join in the fun and, in 1963, Smith did, signing on for what then was "the circuit" for a publicity type – Hollywood Park, Santa Anita, Del Mar and Pomona.
He found he loved it, long hours and short pay notwithstanding. He learned the biz from the bottom up and got real good at it real fast. By 1972 he was considered sharp enough to be offered the job of publicity director at Santa Anita. He took it, of course, and settled in nicely as he and his wife, Erin, went about the business of raising their two sons, David and Marty.
Though Santa Anita was his main gig, he continued to work summers at Del Mar and in 1973 came up with a fun seaside event. He created racing's answer to baseball's "Old Timers' Game" by luring eight retired riders, including the legendary John Longden, to compete in a betless exhibition race called the "Rocking Chair Derby." The race winner actually got to sit in an antique rocking chair in the winner's circle and it proved to be such a rousing success that it went on for several years, then was renewed again in the 1990s with a fresh crop of retirees.
So between Santa Anita and Del Mar, Smith was in a good groove. But circumstances and longings would change things for him and his family when Del Mar's longtime publicity director Eddie Read died. Liking the more leisurely pace of the growing San Diego area, Dan called then Del Mar president Don Smith (no relation) and told him he knew of a good replacement for Read. Don said "Who?" Dan said "Me." And Don said "You've got it."
So in 1975 Smith moved the family south and took over the publicity reins at the shore oval. And in the process, Del Mar got themselves a good thing – a hard-working, clear-minded, clever and resourceful thinker who'd help to shape the track's rise from the red-headed stepchild of the two big L.A. tracks to an entity that evolved into one of the sport's major players.
When things got really popping at Del Mar in the late '80s and early '90s, Smith added another title to his resume, that of director of marketing. He helped the blooming horse heaven to add some pizazz to its menu. He was there for the birth of "Four O'Clock Fridays" and the popular weekend concerts that drew the young troops to the track in droves. He ran a saluted jazz series (his other great passion) that drew many of the top names in the field and had a hard-core following of hip racetrackers. He took a popular day – Del Mar's opening day – and made it into a monster, with its "Hats Contest" and dress-up theme reshaping it into the biggest summer party in San Diego. He even had input in the building of the $80-million grandstand between '91 and '93 that replaced the track's original structure from 1937. Further, he was there in 1991 for the realization of Del Mar's signature race – the Pacific Classic. Guess who named it? Uh, huh.
And while he was doing all this and raising a family (David is now an L.A.-based musician and photographer; Marty is a professor at Duke), he was finding time to put his supple mind and extensive skills into other racing projects that he both relished and enhanced.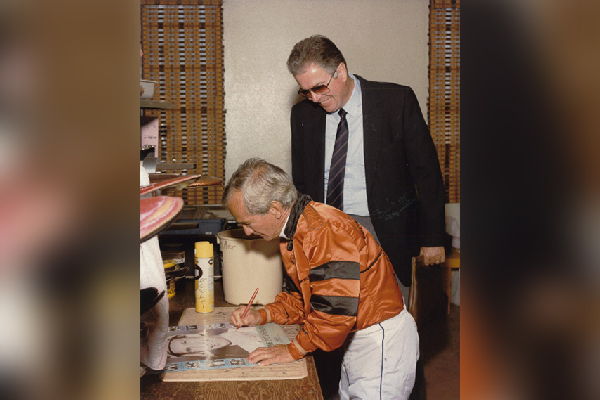 Bill Shoemaker and Dan Smith
He formed a close relationship with champion rider Bill Shoemaker and together they crafted the definitive autobiography about his Hall of Fame career called "The Shoe." Starting in 1971, he began an annual trip to Kentucky each year at Derby time to chronicle the horses and people seeking America's greatest race as a member of Churchill Downs' Derby Notes Team, an assignment he continued for 36 years. Then in 1984 when the Breeders' Cup was born and the NBC network dressed it up royally by bringing in the already legendary Dick Enberg as its lead announcer, Smith's value and expertise took another step forward.
Enberg, who had dabbled in horse racing and knew Smith from earlier in their careers, recognized his Breeders' Cup role might put him in over his head in an esoteric sport and told the network the only way he'd do it is if they also hired Smith to be his behind-the-scenes guru. They did and Smith was the man behind Enberg's wise and pithy commentary for the next six years.
Smith would stay up many a long night during Breeders' Cup week and write up 3 X 5 cards on every horse, owner, trainer, jockey and potential scenario involved in the races. When something would happen on the racetrack, Smith would slide Enberg a card and the announcer would smoothly tell his national audience all about it. When something was about to happen on the racetrack, Smith had a card for that, too. Pre-race, race time, post-race – there were cards for them all. Enberg did "We'll be right back" all on his own. Otherwise, there was a Smith card in his hand and some truth to be told.
When Enberg moved on to other assignments, NBC brought in a more knowledgeable announcer in Tom Hammond but – in a further tribute to Smith – they kept him and his many 3 X 5 cards on board. NBC additionally was covering the Kentucky Derby and then the complete Triple Crown at that time and once again Smith was the man – from Kentucky to Maryland to New York – in what was a case of "Have Racing Knowledge, Will Travel."
Smith also birthed various racing careers when he used his discerning eye to give employment to a number of young racing enthusiasts, among them Jeff Tufts, Jay Hovdey, Bill Kolberg, John DeSantis, Julie Sarno, Josh Rubinstein and Matt Dinerman. The writer of this piece considers himself lucky that he answered Smith's call and joined the Del Mar team back in 1981.
Perhaps his greatest ability, one you can't teach, is his ability to be friendly. He just has a way about him that lets people know he'd like to be your friend. From coast to coast – and especially in and around Del Mar – Dan Smith has friends – many, many friends. You can probably count on one finger the number of people in the highly competitive and far-flung world of horse racing who have met him and aren't his friend. He's just that kind of guy.
In the last decade or so, Smith has cut back on his travels and was only working Del Mar seasonally as its senior media coordinator, mostly writing and working out of the Press Box. Even there, though, he was making it a point to mentor future racing folks, notably the four to six college interns each year who would spend a summer at Del Mar seeing how it worked. Smith would make sure they got a view of the show from all different angles, going out of his way to open doors for them that they might not have gone through otherwise.
To not see Smith in the Press Box this year has left a void. Del Mar is aiming to lure him back next year, though, when things – hopefully – return to some sort of normalcy. We'd just want him to come and hang out regularly, bet his case deuce on each race and serve as our on-call racing encyclopedia (you never have to look it up when he's around). We'd also like to see him delight in a well-earned reward for all the very special dedication and effort he put into the place "where the turf meets the surf."
Next year the Press Box – the one he helped design for the rebuild – will be named The Dan Smith Press Box. There will be appropriate signage, photos and maybe even a proper ceremony. There will be many Media cheers, you can count on that.
And then we'll want Dan Smith – The Dan Smith – to take a bow and throw out the first press release.