Saturday, November 25th, 2017 ( 1 year ago )
Daddy Is a Legend Tallies in Jimmy Durante Stakes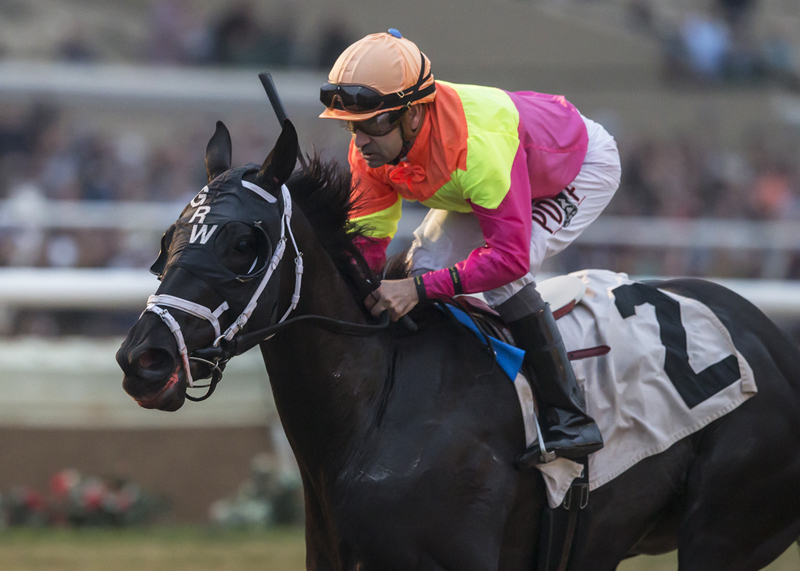 Daddy Is a Legend © Benoit Photo
With an impressive burst of speed in the stretch, Daddy Is a Legend, the 5-2 favorite under jockey Joe Bravo, won the Grade III $100,000 Jimmy Durante Stakes for two-year-old fillies Saturday.
Outrun for most of the one-mile grass journey, Daddy Is a Legend was taken to the far outside by Bravo turning into the stretch, overhauled the leaders in the final sixteenth and won by a length in 1:36.06. Data Dependent, piloted by Javier Castellano, was second, three-quarters of a length in front of Raucous, with Lexington Grace fourth in the field of a dozen fillies. Withdrawn was One Fast Broad.
Daddy Is a Legend, a daughter of Scat Daddy owned by Jim and Susan Hill and trained by George Weaver, returned $7.40, $4.60 and $3.20 after her second success in four starts. She came into the Durante Stakes from an easy maiden win at Keeneland October 27. First prize of $60,000 increased her earnings to $107,910.
Runner-up Data Dependent, who ran well in defeat, paid $6.20 and $4.20, while Raucous returned $5 to show.
There were four perfect tickets in the Pick Six and each paid $128,201. With a two-day carryover of $148,562 and $631,444 bet into the pool Saturday, the total Pick Six pool was $780,006.
---
JOE BRAVO (Daddy Is a Legend, winner) – "She's a big filly. She's a special one, too. I was following Chad Brown's horse (Data Dependent) around there and when she went I went right behind her. When we hit the stretch, I tipped her (Daddy Is a Legend) out and it was bye-bye. It was her race from there. She's special."
JAVIER CASTELLANO (Data Dependent, second) – "We had a good trip and she ran well. The winner was just much the best today."
FLAVIEN PRAT (Raucous, third) – "She ran well. She just seemed to lose focus for a bit in the stretch when she was in front, but that really wasn't going to affect her finish."
AUSTIN TRITES, assistant to George Weaver (Daddy Is a Legend, winner) – "She gave us a couple of scares, but we'll take it. For a split second, around the turn, I was very worried. But when he (Joe Bravo) tipped her out and she got in the clear, she came home very well."
---
FRACTIONS: :23.80 :48.04 1:12.02 1:24.23 1:36.06
The stakes win was the first ever for rider Bravo at Del Mar.
The stakes win was the first ever for trainer Weaver at Del Mar.
The owners are Jim and Susan Hill of Calgary, Alberta, Canada.