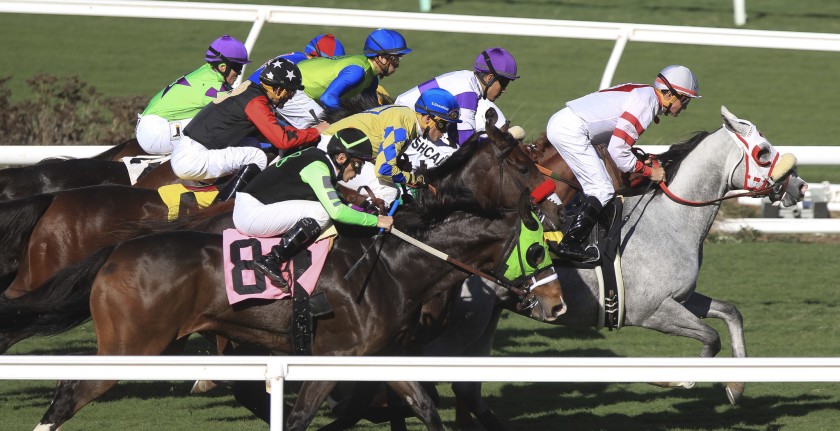 Thoroughbred racing at Del Mar this year will see the introduction of new safety initiatives. (San Diego Union-Tribune file photo)
Local racetrack adopting stringent standards
JULY 12, 2019
In April, Tiger Woods completed an amazing comeback to win the Masters. According to the Nielsen television ratings, 18.3 million people watched the final holes and Tiger get another green jacket. A few weeks later, when Country House was made the winner of the Kentucky Derby after first-place finisher Maximum Security was disqualified, 18.5 million viewers watched, making the Derby the highest-rated sports event in the U.S. since the Super Bowl. Both the Derby and the Preakness set wagering records this year and wagering on the Belmont Stakes was the highest ever for the race in which a horse was not contending to wrap up the Triple Crown.
In the wake of the tragic spate of fatal injuries at Santa Anita this year, as we head to our 80th season of thoroughbred racing at Del Mar, The San Diego Union-Tribune invited me to talk about the future of horse racing, a sport I have loved all my life. High interest in this year's Triple Crown races is one sign that the audience for our game is still strong. I believe Californians share my love of horses and horse racing — but they rightfully want to know that we're doing all we can to keep horse and rider safe.
This summer we are introducing a series of new safety and welfare initiatives, building on the industry-leading programs that have made Del Mar one of the safest tracks in the country.
A new five-member panel of veterinarians and equine safety experts employed by the California Horse Racing Board will review medical, training and racing history of every horse entered to race here with the authority to scratch any horse for which they have questions or concerns. We are adopting international standards — the most stringent in the industry — on the use of permitted therapeutic medications. We are allocating more vets to oversee morning training, staffing additional trained security in our stable and increasing random medication testing for any horses stabled on the grounds.
More than 35 million visitors a year come to San Diego and its neighboring communities for our great weather, beaches, vibrant arts culture and other attractions. Thoroughbred racing at Del Mar is one of those draws, luring visitors from the region, from other parts of the state, from the rest of the U.S. and from all over the world. We will welcome more than 500,000 guests this year and millions more will watch our races on television.
Del Mar was the proud host of the prestigious Breeders' Cup World Championships in 2017 and has been awarded the event again in 2021. According to a study by Sports Management Research Institute, the 2017 Breeders' Cup provided an economic impact of $96 million to San Diego County with $57 million in visitor spending.
Racing at Del Mar is an economic engine for the local community, as hundreds of small local businesses and family farms rely on our summer and fall seasons. Racing at Del Mar creates 5,150 jobs each year, many for workers whose skill sets don't necessarily fit in the high tech, innovation economy.
We are not suggesting that any of this relieves Del Mar and our horsemen and women from our shared responsibility to provide the safest environment possible for our athletes. Far from it. At Del Mar, we work to live up to our responsibilities to implement the best practices for safety and welfare, as well as to educate the public about these practices and the extraordinary levels of care provided to our equine athletes every day at our facility.
The people who work with thoroughbreds are the most decent, dedicated people I have ever met. For them, caring for horses is not just a job, it is a way of life. I invite you to visit Del Mar during morning training to see for yourself.
We understand some fringe animal rights activists have called for the abolition of thoroughbred racing in California. For those who suggest pursuit of profit drives us, I would point out that 100% of our earnings are paid/reinvested to the Fairgrounds, which holds more than 300 community-based events per year. Regardless of Del Mar's corporate structure, it is good policy and good business to put the safety and interest of the horses first.
We believe people's enjoyment of horse racing — its beauty and pageantry — and our commitment to stay vigilant and work toward providing the safest possible environment for horse and rider will help to ensure the future of racing here.
Harper is CEO of the Del Mar Thoroughbred Club.
JOE HARPER