Friday, August 5th, 2016 ( 2 years ago )
Chris McCarron Named Pincay Award Recipient for 2016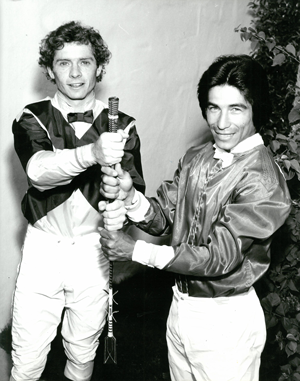 Chris McCarron (left) and Laffit Pincay, Jr. at Del Mar in 1984.
Hall of Fame jockey Chris McCarron, one of racing's great riders as well as one of its best-liked individuals, has been named the 2016 recipient of the Laffit Pincay, Jr. Award and will receive the honor in ceremonies at Del Mar on Sunday, August 21.
McCarron, 61, becomes the 13th winner of the Pincay Award, given to those who have served the sport "with integrity, extraordinary dedication, determination and distinction." The honor and its handsome trophy will be presented to McCarron by his fellow Hall of Fame rider Pincay, who rode against him for more than two decades in California and called him "as tough a competitor as there was.
"Chris was a warrior on the racetrack," Pincay said in making the announcement. "He was so smart and so competitive and when you rode against him you knew you had to be at your very best. He made me and all the other jockeys he rode against better riders.
"But away from the track he was – and still is – a special friend; someone you could count on every day of the week."
For the first time, the Pincay Award will be part of a special relationship with one of racing's most important charities – the Winners Foundation, which for more than 30 years has aided those in racing adversely affected by substance abuse and/or mental health issues. Already in 2016 the foundation has worked with more than 175 clients throughout the state.
Fans who wish may purchase tickets that offer lunch, an afternoon with Pincay and McCarron in Del Mar's exclusive Director's Room and participation in the award ceremony. Tickets are limited and information can be obtained at the Winners' Foundation website (winnersfoundation.org), or by calling them at (626) 574-6498.
As part of the day's activities, Pincay and McCarron will participate in an autograph session from noon to 1 p.m. around the large fountain in the Plaza de Mexico inside the main gates where they will be signing Laffit Pincay, Jr. Award programs.
McCarron's remarkable riding career began on the east coast in 1974 and flourished in California starting in 1977. Though he has been retired since 2002, his career marks of 7,141 victories and $263,985,905 in purses still rank in the Top 10 all-time among riders.
Among his many honors are a pair of Eclipse Awards (as an apprentice in 1974 and as the nation's outstanding rider in 1980); two Kentucky Derby wins and four other Triple Crown tallies; nine Breeders' Cup triumphs, including five in the Breeders' Cup Classic; top jockey nationally by earnings four different years and by wins three times; the George Woolf Memorial Jockey Award and the Mike Venezia Memorial Award.
McCarron, who was inducted into racing's Hall of Fame in 1989, was co-founder of the Don MacBeth Memorial Jockey Fund, served as vice president and general manager of Santa Anita Park for two years and founded the United States' only formal jockey school – the North American Racing Academy in Kentucky in 2005, a program in which he continues to teach and serve as a mentor.
Pincay, who at one point was the world's winningest rider, finished his storied career with 9,530 victories during 39 years in the saddle. He was voted five Eclipse Awards as the nation's foremost rider and led the country in earnings seven times. Now 69 years old, the Panamanian native competed for 27 summers at Del Mar and is its all-time leading rider with 1,011 triumphs.
The list of previous Laffit Pincay, Jr. Award winners follows:
2015 – Victor Espinoza
2014 – Art Sherman
2013 – Eddie Delahoussaye
2012 – John Harris
2011 – Jerry and Ann Moss
2010 – Oak Tree Racing Association
2009 – Merlin Volzke
2008 – Pete Pedersen
2007 – Elwood W. (Bud) Johnston
2006 – Mel and Warren Stute
2005 – Noble Threewitt
2004 – Bob Benoit