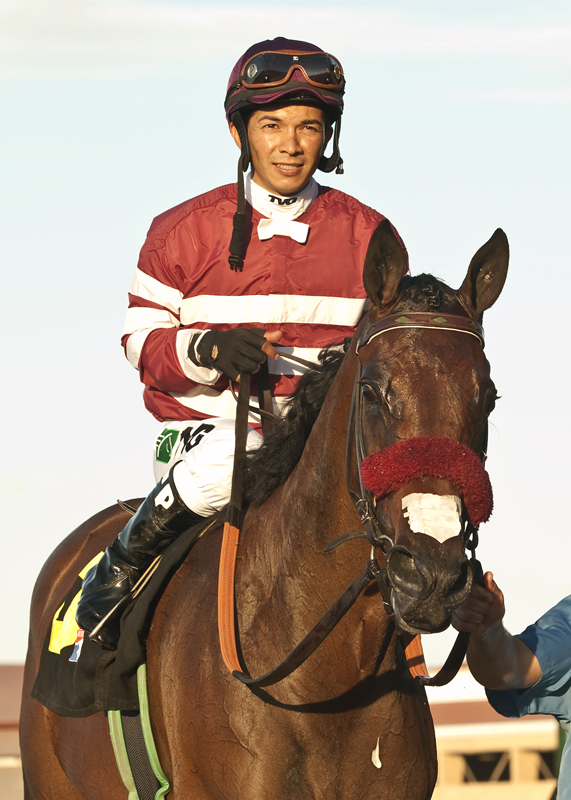 FERNANDO PEREZ (My Fiona, winner) – "Yes, she was a little green. When she got bumped, she didn't quite know what to do. But by the end of the race she was running very well. She responded better when I hand rode her. She liked that better than the whip. This is my first stakes win at Del Mar. In fact, it is my first win at Del Mar. I am so happy. This is so good."
VICTOR ESPINOZA (Lost Bus, second) – "I was in a good spot. But she didn't feel quite right today. It was like she wasn't 100%. She got really tired at the end. I think she'll do better next time."
MARIO GUTIERREZ (Take Back Spring, third) – "She broke good and we had a good trip. She was a little green today. If she runs farther, I think she'll do better."
WALTHER SOLIS (My Fiona, winner) – "I'm really excited to win my first stakes here at Del Mar. I've been coming here for many years. I have always thought this filly was something special. She won her first race then was third in the Landaluce in open company. I've been training her real good and I thought she'd win good today. I didn't think it would be that close."
"TERRY LOVINGIER (My Fiona co-owner and breeder) – "I bought the mare in foal [to Ghostzapper] at the Keeneland November sale before Ghostzapper was a hot sire. I don't remember how much I paid for her." Lovingier is the owner of Love Acres in Warner Springs.
BLAKE HEAP (Lost Bus, second as odds-on favorite) – "She ran real hard. I had just put a couple of light works into her coming up to the race. I thought she could win on talent. Now we'll look at the Generous Portion (August 27)."
---
FRACTIONS: :22.33 :46.44 :58.55 1:04.90
This is the first win ever at Del Mar for Fernando Perez. This is his first stakes win in California, but he has won stakes in Canada.
This is the first stakes win at Del Mar for Walther Solis.
My Fiona's owners are Terry Lovingier (who is also the breeder), Tom Beckerle and Amanda Navarro.
7/18/14 ###