Monday, September 5th, 2016 ( 2 years ago )
California Chrome, Rockingham Ranch Top Del Mar Owners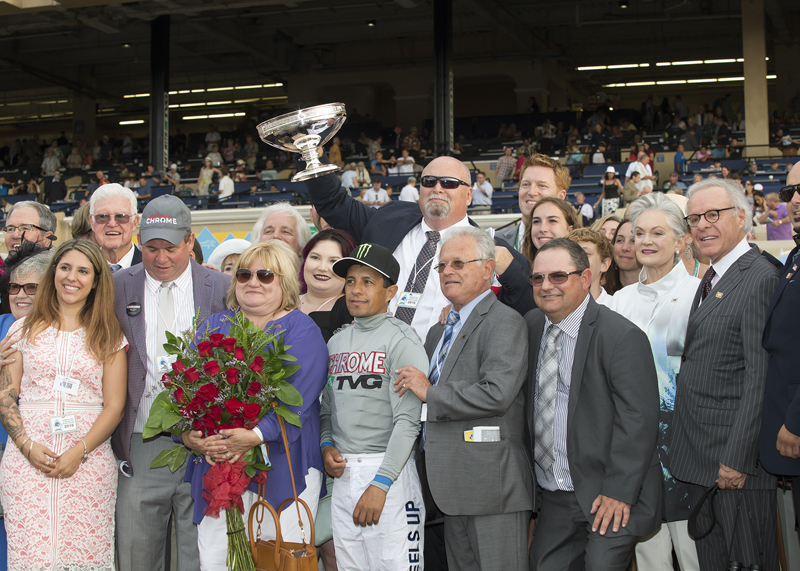 The California Chrome Connections © Benoit
Del Mar raced to the finish of its 77th summer season Monday and the California Chrome connections shared top honors with Rockingham Ranch in the owners' department for the 39-day meet.
The California Chrome people – Perry Martin of Yuba City, CA, and Benjamin Taylor of Nicholasville, KY (and the Taylor Made Farm) – swept away the prize for most purse money won with $720,000 banked, off a pair of victories by their superstar California Chrome, trained by Art Sherman. The 2014 Horse of the Year and the current No. 1 horse in the world captured both the San Diego Handicap and the TVG Pacific Classic during the meet to amass his total winnings.
The Rockingham Ranch flag flies for owner Gary Hartunian of Sherman Oaks, CA, and his horses, trained by Peter Miller, won 11 races at the session, the most of any owner. He also had 10 seconds and two thirds from 45 starts for total earnings of $485,805.
Second on the money list went to Hronis Racing of Pete and Kosta Hronis of Delano, CA, with $687,025 in winnings. They had been Del Mar's leading owners in 2014 and 2013. Hronis Racing was also second by number of wins this year with nine firsts to go with six seconds and eight thirds from 46 starters.
| | | | | | | | |
| --- | --- | --- | --- | --- | --- | --- | --- |
| Owner | Sts | 1st | 2nd | 3rd | Win % | In-money % | Money Won |
| California Chrome, LLC | 2 | 2 | 0 | 0 | 100% | 100% | $720,000 |
| Hronis Racing LLC | 47 | 9 | 6 | 8 | 19% | 49% | $687,370 |
| Kaleem Shah, Inc. | 18 | 6 | 4 | 2 | 33% | 67% | $685,900 |
| Reddam Racing LLC | 45 | 7 | 10 | 7 | 16% | 53% | $621,347 |
| Spendthrift Farm LLC | 9 | 2 | 3 | 2 | 22% | 78% | $505,485 |
| Rockingham Ranch | 45 | 11 | 10 | 2 | 24% | 51% | $485,805 |
| DP Racing, LLC | 40 | 8 | 4 | 4 | 20% | 40% | $388,907 |
| Nicholas B. Alexander | 14 | 4 | 2 | 3 | 29% | 64% | $292,204 |
| A Venneri Racing, Inc. and Little Red Feather Racing | 2 | 2 | 0 | 0 | 100% | 100% | $270,000 |
| Ruis Racing LLC | 3 | 2 | 0 | 0 | 67% | 67% | $216,960 |
| Alesia, Sharon, Bran Jam Stable and Ciaglia Racing LLC | 5 | 1 | 2 | 0 | 20% | 60% | $207,890 |
| Watson, Karl, Pegram, Michael E. and Weitman, Paul | 18 | 2 | 5 | 2 | 11% | 50% | $207,745 |
| Ramona S. Bass | 4 | 3 | 0 | 0 | 75% | 75% | $201,040 |
| Larkin Armstrong | 1 | 1 | 0 | 0 | 100% | 100% | $180,000 |
| J K Racing Stable | 7 | 2 | 1 | 1 | 29% | 57% | $174,490 |
| Zayat Stables, LLC | 6 | 3 | 1 | 0 | 50% | 67% | $173,490 |
| Ciaglia, Exline-Border, Gulliver Racing, et al | 3 | 1 | 1 | 1 | 33% | 100% | $168,600 |
| Driver, Ywachetta H. and James Travis | 22 | 6 | 4 | 1 | 27% | 50% | $163,475 |
| Eclipse Thoroughbred Partners | 11 | 2 | 4 | 2 | 18% | 73% | $156,875 |
| Williams, Mr. and Mrs. Larry D. | 13 | 3 | 3 | 0 | 23% | 46% | $154,072 |