Friday, November 27th, 2020 ( 9 months ago )
Brown Trio Head Grade I Matriarch; 11 in DeMille in Del Mar Finale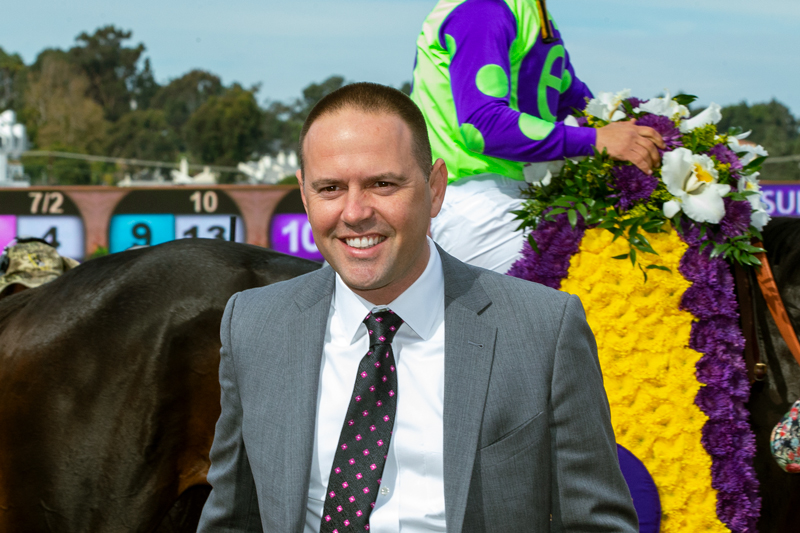 Chad Brown © Benoit Photo
Chad Brown went to the Bobby Frankel School of Thoroughbred Training. The late Hall of Famer, who left us in 2009, was a demanding teacher – tough taskmaster might be the phrase – and insisted on the very best from his students.
By now it is obvious to all that Brown, the 41-year-old who grew up in a little town in upstate New York that is just a hop and a skip from Saratoga, graduated with honors from BFSTT and has gone on to several advanced degrees. There are more-than –a-few who'd argue that he's currently the best horse conditioner in the country. (His four straight Eclipse Awards – '16, '17, '18, '19– for training speak to that.) And when it comes to training horses to run well on the turf, those more-than-a-few become a-landslide-more-than-a-few.
Del Mar fans can testify to Mr. Brown's abilities, too. In recent years at the shore oval he's won nine stakes (seven of them Grade Is), most recently in Thursday's grassy Red Carpet with Orglandes. For Sunday's big finale card of the 15-day Bing Crosby Season, Brown has shipped in not one, or two, but three high-caliber fillies to test their mettle in the $300,000, Grade I Matriarch Stakes at one mile on the Jimmy Durante Turf Course that headlines the 10-race program.
The Brown trio consist of Swift Thoroughbreds, Madaket Stables or Wonder Stables' Tamahere, Juddmonte Farms' Viadera and Peter Brant's Blowout. They've been assigned three of the best riders in the country in Irad Ortiz, Jr. (Tamahere), Joel Rosario (Viadera) and Flavien Prat (Blowout).
Additionally, it is noted that Brown is no stranger to the Matriarch. He won it in 2017 with Off Limits and again in 2018 with Uni.
The Brown threesome make up a third of the Matriarch lineup which is listed below from the rail out with riders and morning line odds:
George Krikorian's Mucho Unusual (Abel Cedillo, 10-1); Slam Dunk Racing or Branham's Maxim Rate (Umberto Rispoli, 8-1); Eclipse Thoroughbred Partners or Gainsway Stable's Sharing (Manuel Franco, 5-1); Blowout (4-1); Juddmont Farms' Juliet Foxtrot (Mike Smith, 4-1); Viadera (7/2); Deborah McAnally Trust's She's Our Charm (Juan Hernandez, 30-1); Calvin Nguyen's Bodhicitta (Ricky Gonzalez, 12-1), and Tamahere (4-1).
Eight of the nine Matriarch runners are stakes winners already; six of them come in off stakes victories in their most recent start; a pair of them are Grade I winners already, while three others are Grade I placed; together they've earned more than $3.3 million in purses. It is, most certainly, a stellar field.
Besides Brown's crew, both Juliet Foxtrot and Sharing deserve serious consideration in what will be the seventh local running of the stakes, though the 39th edition overall (the other runnings were held at the late, great Hollywood Park).
Juliet Foxtrot, a 5-year-old by Dansili and the only mare in the field, finished third in last year's Matriarch behind Got Stormy. The British-bred bay comes into the mile off a tally in the Gallorette Stakes at Pimlico on October 3. She trains out of the barn of Brad Cox.
Sharing came home first in the Edgewood Stakes on grass at Churchill Down on September 4 in her most recent effort. She's a 3-year-old filly by Speightstown who has won five of her seven starts for trainer Graham Motion.
In the day's co-feature, 11 2-year-olds will run a mile on the turf in the seventh edition of the $100,000 Cecil B. DeMille Stakes. The race goes as the seventh event on the program.
The Grade III appears to be a highly contentious affair with no standouts in the lineup. Those likely to draw mutuel support include Altamira Racing Stable, Lantzman or Nentwig, et al's Ebeko, Legacy Ranch's Big Fish, Steve Landers Racing's Royal Prince and Madaket Stables' Wootton Asset.
Here's the full field for the DeMille from the rail out with riders and morning lien odds:
Ebeko (Ricky Gonzalez, 6-1); ERJ Racing, Madaket Stables or Exline-Border Racing's Harlan Estate (Abel Cedillo, 20-1); Red Baron's Barn or Rancho Temescal's Cotopaxi (Tyler Baze, 15-1); Little Red Feather Racing or Sterling Stables' Beer Can Man (Juan Hernandez, 8-1); Nguyen or Tran's Commander Khai (Mario Gutierrez, 15-1); Red Baron's Barn or Rancho Temescal's Party Game (Irad Ortiz, Jr., 6-1); Big Fish (Umberto Respoli, 5-1); Saratoga West's Coastal Kid (Geovanni Franco, 30-1); Sarah Kelly's Caisson (Flavien Prat, 6-1); Royal Prince (Joel Rosario, 7/2), and Wootton Asset (Manuel Franco, 9/2).
The Sunday card brings to a close the seventh Bing Crosby Season. Racing is tentatively scheduled to return to the seaside oval next on Saturday, July 17, 2021.