Tuesday, February 28th, 2017 ( 1 year ago )
Breeders' Cup Releases Ticketing Information for 2017 World Championships at Del Mar
Tickets to go on sale on Monday, March 6 at Noon EST / 9:00 A.M. PST
Breeders' Cup and Del Mar investing more than $4.5 million and capping attendance to enhance fan experience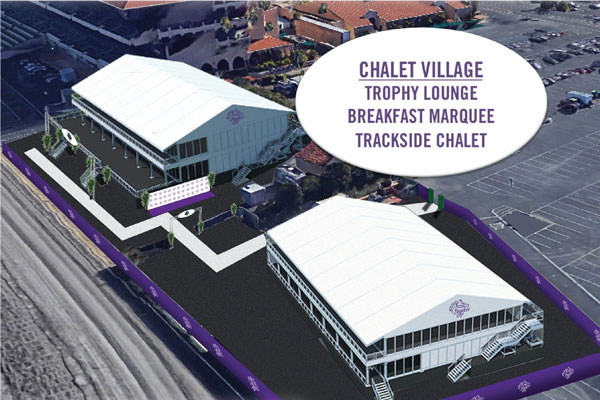 The Breeders' Cup has today released detailed ticketing information for the 2017 Breeders' Cup World Championships, taking place at Del Mar racetrack on November 3 and 4. The 2017 Breeders' Cup will mark the first time that the World Championships will be held at Del Mar, the historic track located in northern San Diego.
Beginning March 6 at Noon EST / 9:00 a.m. PST, fans will be able to purchase tickets online at www.BreedersCup.com/Tickets or by calling the ticketing office at 877-849-4287. A special ticket pre-sale will be conducted in the days prior to the March 6 on-sale date. Fans are encouraged to sign up now at dmtc.com/season/breeders-cup for pre-sale access as demand for tickets to the 2017 World Championships is expected to be high and reserved seating is likely to sell out quickly.
To ensure a positive experience for all participants and fans, Breeders' Cup and Del Mar will cap the number of attendees at 37,500 per day. Detailed information on all available seating options can be viewed online now at www.BreedersCup.com/Tickets.
Breeders' Cup and Del Mar are investing approximately $4.5 million to create more premium seating options and enhance the on-site experience for fans and participants. A total of 2,700 new, premium hospitality seating options will be added to Del Mar, including two temporary Trackside Luxury Chalets and temporary box seats. The temporary structures will be situated in a newly created "Chalet Village" at the west end of the Stretch Run and will accommodate 1,800 guests in two double decker structures, each with its own catering, wagering, and restroom services. Additionally, 900 box seats are being added to the Clubhouse and Stretch Run sides of the facility. Strategically situated around the Del Mar venue, the new seating areas will minimize congestion and further elevate the fan experience.
The Infield will be fully utilized and enhanced with a new area, 'The Beach.' The sanded area will provide a fun atmosphere for up to 250 people on the inside rail with casual seating, umbrellas, a video screen, and private bar. The Pacific Pavilion will also offer table seating for up to 1,300 people. In keeping with Breeders' Cup's commitment to partnering with the local community to curate unique, locally-inspired experiences, a Taco & Tequila Festival is also being planned for the main Infield area.
"We are thrilled to bring Breeders' Cup to Del Mar for the first time this fall," said Craig Fravel, Breeders' Cup President and CEO. "Together with Del Mar Thoroughbred Club and the local Del Mar, Solana Beach, and San Diego communities, we have been working tirelessly to enhance every element of the fan experience and ensure that fans enjoy the best that the sport and the local area have to offer."
The 34th running of the Breeders' Cup will make history as it debuts at the iconic Del Mar racetrack – the place "Where the Turf Meets the Surf" – on November 3 and 4. San Diego's vibrant nightlife, beautiful beaches and sunny days offer an exciting backdrop for the 2017 event.
Single-day ticket prices range from $35 to $375 on Friday and $50 to $500 on Saturday. Twoday packages ranges from $85 to $1,875. All tickets will be sold in advance of the event – there will be no walk up sales available for either day of the Breeders' Cup.
"We are excited and honored to host our first Breeders' Cup this November," said Joe Harper, Del Mar Thoroughbred Club President and CEO. "By capping the attendance number and adding 2,700 premium seats, the Breeders' Cup will be an amazing experience for all guests and we can't wait to welcome fans from around the world to our venue and city."
In order to provide the best possible transportation experience at Del Mar, the Breeders' Cup will offer complimentary shuttle service to the track from three to four offsite parking areas. Parking on-site at Del Mar will be limited and only available to those with official parking credentials. All on-site parking will be sold in advance. Designated taxi and Uber drop-off and pick-up locations will also be provided. More information on transportation to and from Del Mar for the 2017 Breeders' Cup World Championships will be announced at a later date.
---
About Breeders' Cup
The Breeders' Cup administers the Breeders' Cup World Championships, Thoroughbred racing's year-end Championships. The Breeders' Cup also administers the Breeders' Cup Challenge qualifying series, which provides automatic starting positions into the Championships races. The 2017 Breeders' Cup World Championships, consisting of 13 Grade I races with purses and awards totaling more than $28 million, will be held November 3-4 at the Del Mar Thoroughbred Club in Del Mar, Calif., and will be televised live by the NBC Sports Group. The Breeders' Cup culminates with the $6 million Breeders' Cup Classic, which in 2016 was rated the World's Best Horse Race in the Longines International Federation of Horse Racing Authorities (IFHA) final rankings. Breeders' Cup press releases appear on the Breeders' Cup Web site, www.breederscup.com. You can also follow the Breeders' Cup on social media platforms Facebook, Twitter, Instagram, Snapchat and YouTube.
About Del Mar
Del Mar, just a few furlongs from the Pacific Ocean, has been a racing destination since its founding in 1937 by entertainment icon Bing Crosby and a crew of his Hollywood pals. Owner-breeder Crosby, known as the original laid-back Californian, put his special stamp on the place "where nobody's in a hurry but the horses." Bing penned and sang a ditty called "Where the Turf Meets the Surf" in 1938 and the song is still played today at the start and finish of every card. The seaside oval is one of America's racing stalwarts, a proving grounds for stars-in-the-making and stars-in-fact guided by first-rate horsemen and enjoyed by enthusiastic crowds all summer long. Del Mar also conducts a second racing meet – the Bing Crosby Season – during the month of November. In 2017 Del Mar will host its first Breeders' Cup on November 3 and 4. For more information, call 858-755-1141 or visit DelMarRacing.com. You can follow Del Mar on Facebook, Twitter, Instagram, Snapchat and YouTube.
---
Media Contact: Jim Gluckson, Breeders' Cup, 212-230-9512, jgluckson@breederscup.com
Hayley Karlan, Nike Communications, 646-654-3445, hkarlan@nikecomm.com
Mac McBride, Del Mar Thoroughbred Club, 858-742-4269, mac@dmtc.com