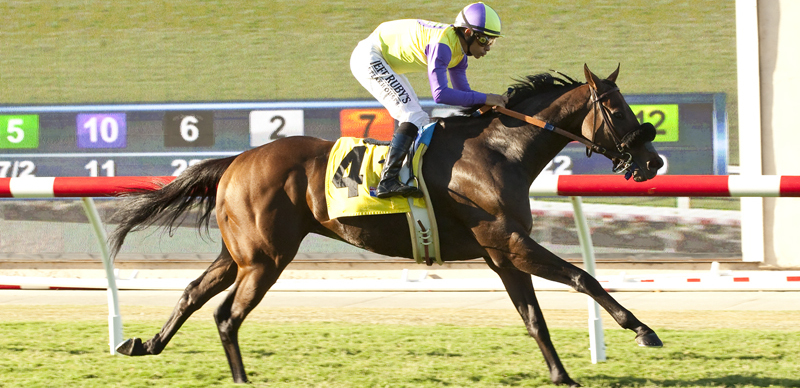 Under a masterfully timed ride by Hall of Fame jockey Mike Smith, favored Big John B swept to the lead in the upper stretch and cruised home to win the featured 75th running of the Grade II $200,000 Del Mar Handicap at the marathon distance of a mile and three-eighths on the infield grass course Saturday.
Big John B, a $50,000 claim for owner Michael House last spring at Keeneland, won by 5 ¼ lengths, with Bench Light getting up for second, a neck in front of Bright Thought. Starspangled Heat was fourth in the field of ten horses. Scratches from the line-up were Irish Surf, Quick Casablanca and Ice Cream Truck.
Big John B, sent to the gate at 8-5 on the basis of an impressive 7 ¼ length victory at the 11-furlong distance three weeks ago, was timed in 2:12 81 and earned $120,000 with his 11th career win in 28 starts. Phil D'Amato conditions the five-year-old gelded son of Hard Spun who was winning his third straight race since coming to California.
Michael Stidham was the trainer who haltered Big John B at Keeneland last April 11. After a second place finish in a $40,000 claiming race at Churchill Downs, the horse was sent West to D'Amato, former assistant to now-retired Mike Mitchell, Del Mar's all-time leader in number of wins.
Big John B returned $5.20, $3.80 and $2.80. Bench Light paid $8.40 and $5, while Bright Thought paid $3.80 to show.
The Del Mar Handicap is a Breeders' Cup "Win and You're In" race with the winner guaranteed an expenses-paid berth in the $3 million Breeders' Cup Turf at Santa Anita November 1.
There were 40 perfect tickets in the Pick Six and each paid $10,784.60.
With a carryover of $106,668 from Friday and $607,837 in "new" money, Saturday's Pick Six pool totaled $714,505.
Attendance Saturday was 16,565.
---
MIKE SMITH (Big John B, winner) – "He was just traveling easy out there. He's learned how to be a runner. There was some stuff happening in front of us and I was having to tap on the brakes. But he was fine with it. He'd pick it right back up. He's an impressive horse."
(The win makes Big John B eligible to take on some of the best turf horses in the world – including the European big guns – in the $3-million Breeders' Cup Turf. How does Smith think the horse might fit with that kind?)
"I think he can run with any of the horses in this country right now. Those Euros? We'll just have to see who they send."
KENT DESORMEAUX (Bench Light, second) – "He ran good; I just didn't have him in a good scene. From the half (mile pole) to the quarter (mile pole) I was stuck. I was sitting in the V and kept wanting someone to make a move so I could get out. But nobody did. When I finally got loose at the quarter (pole), he did some running. Nice horse; no doubt."
RAFAEL BEJARANO (Bright Thought, third) – "I had a lot of pressure. He ran good but I had to deal with that pressure. Maybe without that I'm second."
VICTOR ESPINOZA (Starspangled Heat, fourth) – "A good try for him; but the winner was long gone."
PHIL D'AMATO, (Big John B, winner) – "I think as of now, we're looking for the Breeders' Cup. That's the plan. This horse, every race he improves and his confidence is through the roof right now. Mike Smith said this horse was just a total professional and he gave him a big kick when he asked for it. This horse is just the consummate professional, he's run a bunch of times, he's a veteran and he's peaking."
---
FRACTIONS: :23.64 :47.69 1:11.49 1:35.67 2:00.46 2:12.81
The stakes win was the sixth of the meet for Smith, the most by any rider at the session. It was his first victory in the Del Mar Handicap. He now has 45 stakes wins at Del Mar.
The stakes win was the second of the meet and second ever for Phil D'Amato at Del Mar.
Owner Michael House is from nearby El Cajon, CA.
The Del Mar Handicap is the only Del Mar stakes races that has been run in all 75 summers that the track has raced.