Monday, September 5th, 2016 ( 2 years ago )
Bejarano, Prat Forge First Jockey Title Tie Since 1950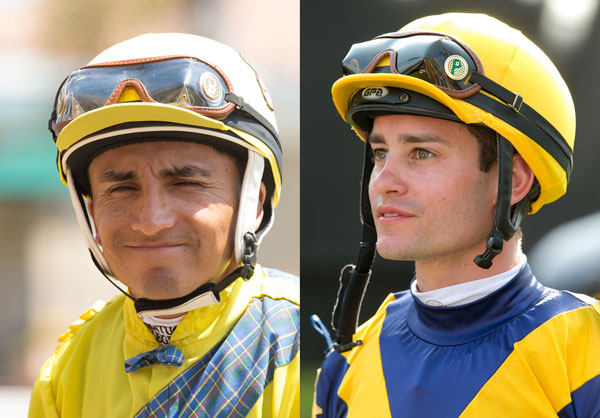 Bejarano (left) and Prat © Benoit
The only time Del Mar had a tie for the jockey championship was 1950, when riding legends John Longden and Bill Shoemaker deadlocked with 60 wins apiece.
Until the 77th Summer Meeting came to an end Monday when four-time defending champion Rafael Bejarano, 34, and 24-year-old rising star Flavien Prat tied with 38 wins after a dramatic final six races.
One behind Prat to start the day, Bejarano drew even by winning the Grade I $300,000 Del Mar Futurity, the fifth race of the day, for trainer Bob Baffert.
Prat countered with a win on 2-1 favorite With Honors in the $100,000 Del Mar Juvenile Fillies, the eighth race on the program and the final stakes of the meeting. Bejarano knotted things again with an easy victory aboard odds-on choice Big Gray Rocket in the penultimate race of the meeting.
Bejarano did not have a mount in the finale, and when Prat didn't win, the tie was final.
"What it was is two men fighting to win the title, and now they have to share it. They both win," said Derek Lawson, Prat's agent.
Phil D'Amato claimed his first Del Mar training title, and third straight on the Southern California circuit, with 23 wins during the 39-day meeting. Peter Miller's one victory on closing day moved him to second with 21, one ahead of Richard Baltas.
Baffert's 13th Del Mar Futurity victory was one of three on the day which boosted his meeting total to 19.
---
DEL MAR STATISTICS
Jockey Standings
(Current Through Monday, September 5, 2016 Inclusive)
| | | | | | | | |
| --- | --- | --- | --- | --- | --- | --- | --- |
| Jockey | Mts | 1st | 2nd | 3rd | Win% | In-money% | Money Won |
| Rafael Bejarano | 175 | 38 | 34 | 23 | 22% | 54% | $2,545,394 |
| Flavien Prat | 215 | 38 | 32 | 29 | 18% | 46% | $2,431,351 |
| Santiago Gonzalez | 221 | 31 | 34 | 21 | 14% | 39% | $1,508,387 |
| Kent Desormeaux | 145 | 25 | 28 | 21 | 17% | 51% | $1,702,510 |
| Tyler Baze | 195 | 23 | 25 | 35 | 12% | 43% | $1,442,848 |
| Norberto Arroyo, Jr. | 127 | 19 | 13 | 17 | 15% | 39% | $1,038,782 |
| Stewart Elliott | 109 | 17 | 10 | 9 | 16% | 33% | $652,590 |
| Victor Espinoza | 79 | 15 | 10 | 12 | 19% | 47% | $1,639,870 |
| Tiago Pereira | 104 | 13 | 12 | 10 | 13% | 34% | $664,490 |
| Mario Gutierrez | 113 | 11 | 14 | 19 | 10% | 39% | $1,000,287 |
| Joseph Talamo | 135 | 11 | 12 | 19 | 8% | 31% | $845,896 |
| Gary Stevens | 68 | 11 | 8 | 2 | 16% | 31% | $1,004,431 |
Trainer Standings
(Current Through Monday, September 5, 2016 Inclusive)
| | | | | | | | |
| --- | --- | --- | --- | --- | --- | --- | --- |
| Trainer | Sts | 1st | 2nd | 3rd | Win% | In-money% | Money Won |
| Philip D'Amato | 108 | 23 | 14 | 13 | 21% | 46% | $1,504,154 |
| Peter Miller | 115 | 21 | 16 | 16 | 18% | 46% | $1,067,166 |
| Richard Baltas | 94 | 20 | 18 | 11 | 21% | 52% | $1,223,188 |
| Bob Baffert | 77 | 19 | 17 | 8 | 25% | 57% | $1,691,775 |
| Doug F. O'Neill | 135 | 11 | 18 | 24 | 8% | 39% | $894,438 |
| Mark Glatt | 60 | 11 | 11 | 10 | 18% | 53% | $478,581 |
| John W. Sadler | 62 | 11 | 8 | 11 | 18% | 48% | $810,080 |
| James M. Cassidy | 53 | 10 | 4 | 8 | 19% | 42% | $525,319 |
| Michael Machowsky | 24 | 9 | 0 | 3 | 38% | 50% | $279,122 |
| Richard E. Mandella | 33 | 7 | 6 | 1 | 21% | 42% | $779,592 |
| Chris A. Hartman | 36 | 7 | 5 | 4 | 19% | 44% | $247,550 |
Winning Favorites Report
(Current Through Monday, September 5, 2016 Inclusive)
Winning favorites -- 117 out of 347 -- 33.72%
Winning favorites on dirt -- 84 out of 226 -- 37.17%
Winning favorites on turf -- 33 out of 121 -- 27.27%
Winning odds-on favorites -- 26 out of 53 -- 49.06%
In-the-Money favorites -- 244 out of 347 -- 70.32%
In-the-Money odds-on favorites -- 45 out of 53 -- 84.91%