Thursday, August 18th, 2016 ( 2 years ago )
Beholder Vs. 'Chrome': Battle of the Sexes for the Ages?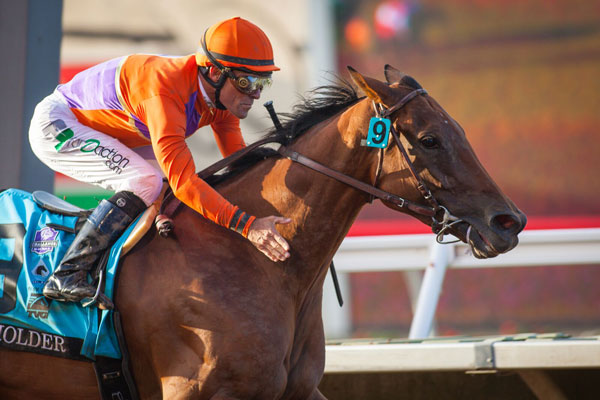 Beholder Winning 2015 TVG Pacific Classic © Zoe Metz for Del Mar Thoroughbred Club
By Hank Wesch
Worldwide, Thoroughbred races which match members of both sexes are not uncommon. In Europe especially, at all levels, it happens a lot.
However, such occurrences are comparatively rare in America, where the purses are larger and opportunities abound for owners and trainers of talented fillies and mares to build earnings totals and reputations while sticking to age and/or gender specific events.
Which explains why Hall of Fame trainer Richard Mandella's bold decision to send out champion mare Beholder to take on males last year in the $1 million TVG Pacific Classic was on the astounding side when he announced it. And then it went into the world of amazing when Beholder validated the decision with an 8 ¼ length victory, the second-largest in the 25-year history of the race. The icing on the cake? Her final time -- 1:59.77 -- was the fastest ever for a female at the 1 ¼-mile distance on dirt.
And it also helps explains why the prospect of Beholder defending her race title against California Chrome, Dortmund, and others, in Saturday's 26th running of the signature race of the Del Mar summer meeting is the stuff of dreams for racing fans.
The matchup between three-time Eclipse Award winner Beholder and California Chrome, North American racing's all-time leading money earner, winner of the 2014 Kentucky Derby, Preakness and Horse of the Year title, as well as the No. 1 rated active runner on the continent, has to be one of the best female vs. male confrontations in modern era America.
"To have two horses (of the opposite sex) that have such credentials, in the same race, on dirt in America -- I can't think of anything to equal it," said Tom Robbins, executive vice president, racing for the Del Mar Thoroughbred Club, and a racing official whose roots in the game go back decades.
What's it like for a trainer of a championship mare to go all-in against males in a $1 million race? Hall of Famer Ron McAnally did that in the second Pacific Classic, in 1992 with Paseana, the Older Female Eclipse Award winner in both 1992 and 1993.
"It was a lot of stress on me because I really didn't want to run her," McAnally said. The driving force in the decision was owner Sid Craig, a Del Mar resident and co-founder of the weight loss business with his wife Jenny. "Sid really wanted to win the Pacific Classic, which we did years later (2003) with Candy Ride."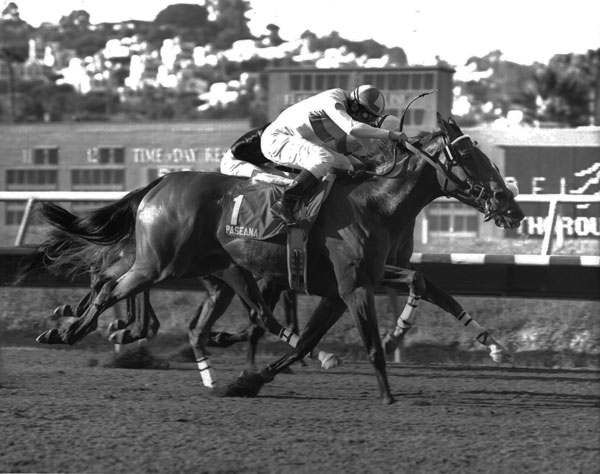 Paseana
Paseana was supplemented for a $30,000 fee. The betting public believed in Paseana, sending her off as the 17-10 favorite under Chris McCarron in a field of seven. Second behind wire-to-wire winner Missionary Ridge for the first six furlongs and third at the top of the stretch, Paseana wound up fifth, beaten six lengths.
"She wasn't a big, massive amazon of a mare like Zenyatta or Winning Colors; she was kind of feminine in her build," McAnally said. "I think unless you've got a mare that size, those big stallions can really knock you around."
McAnally, a good friend to Mandella, was "a little bit surprised" at the decision to run Beholder in the 2015 Pacific Classic. McAnally has seen Beholder up close and, while she measures 16 hands and 1,150 pounds, that's not "amazon stature."
"It makes a difference, though, if a filly is on or near the lead, and I know she's got speed," McAnally said. "And also, the (five-pound) weight advantage (119 to 124 in the Pacific Classic) is big at a mile and quarter."
Numerous examples can be cited of females stepping up to beat males in major American races. To name a few: Two Lea (1952) and Princessnesian (1968) in the Hollywood Gold Cup; Genuine Risk (1980 Kentucky Derby); Pebbles (1985 Breeders' Cup Turf); Estrapade (1986 Arlington Million and Oak Tree Invitational); Lady's Secret (1986 Whitney); Winning Colors (1988 Santa Anita and Kentucky Derby); Personal Ensign (1988 Whitney); Rachel Alexandra (2009 Preakness, Haskell and Woodward), and Rags to Riches (2011 Belmont). Then, of course, there was Zenyatta becoming the first female to win the Breeders' Cup Classic in 2009.
For a female to win back-to-back runnings of a major stakes against males, however, is a rare thing indeed. Multiple female champion Shuvee prevailed in the Jockey Club Gold Cup in New York in 1970 and 1971. But the best recent examples have come in Breeders' Cup grass races with champion femmes from Europe displaying a devastating turn of foot.
That was the way Miesque won the Breeders' Cup Mile in 1987 and '88 and Goldikova sent the boys home crying in the same event in 2008-'09-'10.
But can Beholder step into that rare territory this Saturday? There's a man who thinks so and he's got a lifetime of experience and Hall of Fame credentials to back him up. He's also possesses one of racing's great, dry wits.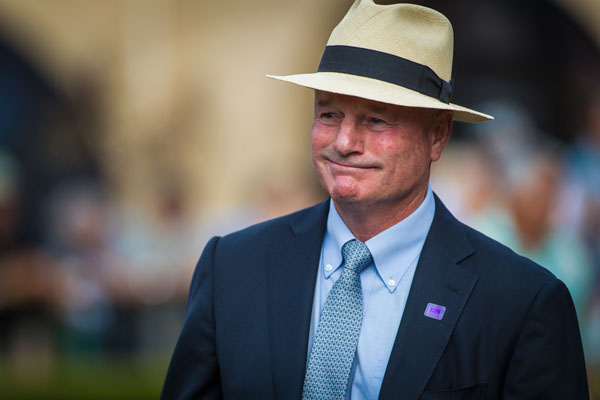 Richard Mandella © Zoe Metz for Del Mar Thoroughbred Club
Richard Mandella weaved his humor and wisdom into questions about his mare and the 2016 TVG Pacific Classic at his barn the other morning:
Q. Generally speaking, what is your philosophy of running females against males?
"I think you shouldn't do it unless they're faster.
"They just need to be better; that simple. In this game, 'better' is marginal. What you have to be thinking is that (your female) is in their (males) league. And I think she is in anybody's league."
Q. So you've basically taken the "sex" thing out of the equation?
"Yeah. We're not mating them.
"She's exceptional. As a 3-year-old, she beat (multiple champion) Royal Delta (in the Breeders' Cup Distaff). That's exceptional."
Q. Some people think that if you're going to beat colts, your mare has to be bigger and stronger.
"They just have to be faster. They ain't gonna wrestle."
Q. Do you think females get intimidated running against males?
"I would hope those males would be gentlemen and let her go first."
Q. How tough is this race for her Saturday?
"This is a world-class race shaping up. It's hard to imagine it getting any tougher. 'Chrome' is at the top of his game. Dortmund ran a great race against him and he's a very good horse. This is her toughest race ever."
Q. But you still feel she's ready?
"I think the race the other day (Clement L. Hirsch July 30 in which she finished second to last year's 3-year-old champion filly Stellar Wind) legged her up where I wanted her. I was shocked she ever got beat and it took me a week to get my courage up. But she's got hers (courage up), so I'm going to listen to her."