Thursday, July 28th, 2016 ( 2 years ago )
Beholder Carries on Tradition of Female Stars at Del Mar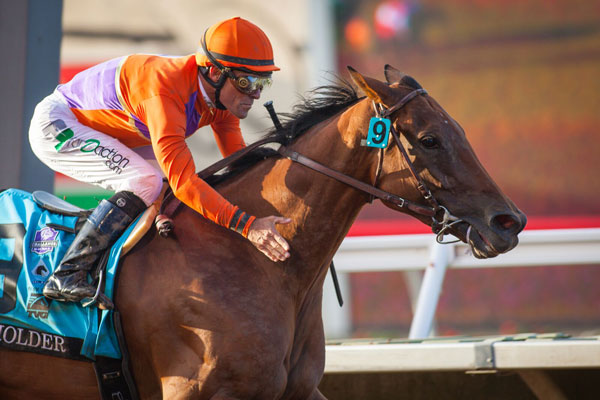 Beholder Winning the 2015 TVG Pacific Classic
By Hank Wesch
The victory by Beholder in the 2015 TVG Pacific Classic left the mare's connections, Hall of Fame trainer Richard Mandella, Hall of Fame jockey Gary Stevens and owner B. Wayne Hughes, awestruck but, thankfully, not speechless.
What did they say after watching Beholder produce an eye-popping swoop from third to first that made front-running Bayern, the 2014 Breeders' Classic winner, look "like he was standing still" then run away to an 8 ¼-length victory over nine males, in near-record time, in the 25th running of Del Mar's signature event?
Mandella: "Nature didn't make very many like her, ever. That was just amazing… I've never felt emotion over a race quite like this …When she made that move, it took my breath away."
Stevens: "I've never felt anything like that (acceleration) on a racetrack before, and the funny thing was she did it all on her own…She just turned on the afterburners …This is different than any race I've ever won, never mind the Pacific Classic. This is just something else…She's got a special place in my heart."
Hughes: "She is the first horse who has made me feel lucky to be her owner. Call it pride."
Beholder became the first female runner to prevail in the Classic. Previously, four had tried with the best result being a fifth-place, beaten six lengths. Beholder's margin of victory was the second largest in Pacific Classic history behind the 8 ½ lengths of Game On Dude in 2013.
To the delight of Del Mar racing fans, now 6-year-old Beholder and Co. are back again in 2016 with the expressed intention of matching last year's Clement L. Hirsch-TVG Pacific Classic double. The first step, the Grade I $300,000 Hirsch at 1 1/16 miles, which Beholder won easily by seven lengths in 2015, is this Saturday. The 1 ¼-mile, $1 million TVG Pacific Classic is Saturday, August 20.
Should Beholder repeat her feat of 2015, a case will undoubtedly be presented -- and a very good one at that -- for her to be declared the best female runner of all time at Del Mar. Even so, it's not likely to receive unanimous support considering the Great Ladies of Racing that came here before her.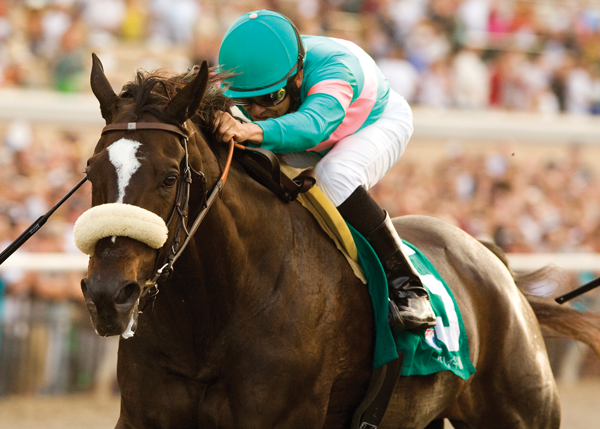 Zenyatta © Benoit
Zenyatta won the Clement L. Hirsch from 2008-2010, notching victories number seven, 12 and 18 of the 19-straight before a narrow loss to Blame in the 2010 Breeders' Cup Classic (which did not prevent a Horse of the Year title). Zenyatta's margins of victory in her three Del Mar wins were by a length, a head and a neck, typical in a career of heart-stopping, come-from-the-clouds triumphs. Zenyatta, like Beholder, raced through her 6-year-old season before retirement.
Azeri prevailed in the Hirsch in 2002 and 2003 by 2 and 3 1/3 lengths, respectively, going wire to wire in each for wins Nos. 5 and 11 in a streak of 11 Grade I or Grade II stakes victories. She was voted Horse of the Year in 2002.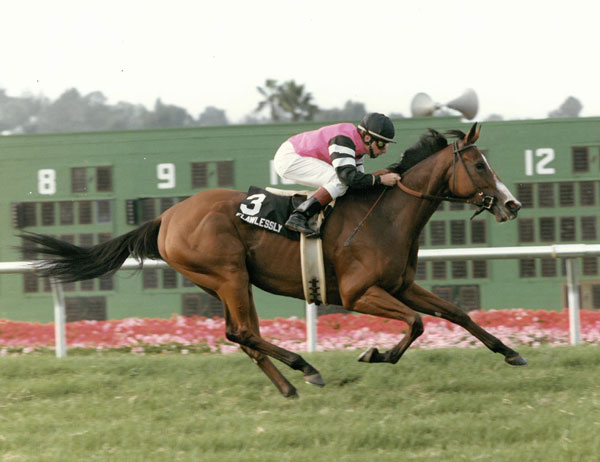 Flawlessly
From 1991—1994, Flawlessly lived up to her name winning the San Clemente Handicap and Del Mar Oaks as a 3-year-old, then the Ramona Handicap (since renamed the John C. Mabee) at 4, 5 and 6 years old.
In the 1991 Oaks, track announcer Trevor Denman noted the ease with which Flawlessly pulled alongside the front runner turning into the stretch and said "She should explode from there." And when it happened as predicted, Denman said "She cocks her ears, she's not even trying out there, she just ambles home."
Hearing that on the replay in the jocks room, one rider shouted "Aw, shut up," at the screen, expressing frustration rivals would feel the next three years in a row in the Ramona.
Trained by Richard Dutrow on the East Coast as a 2-year-old, Flawlessly was sent west and given to Charlie Whittingham (and ridden by Chris McCarron) for the final 20 starts of a career of 16 wins in 28 races, earnings of more than $2.5 million and Eclipse Awards in the Female Turf division in 1992 and 1993.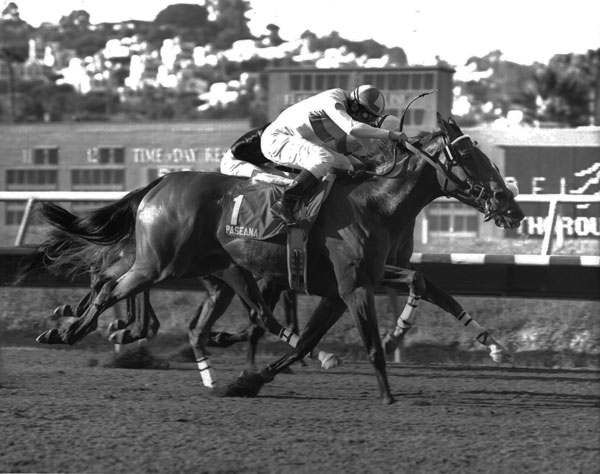 Paseana
Paseana, the pride of the stable of Del Mar's Sid and Jenny Craig, trained by Hall of Famer Ron McAnally, took a streak of seven stakes victories against her own gender, five of them Grade I level and the other Grade II, into the 1992 Pacific Classic.
For those, and sentimental reasons, Paseana went off as the 17-10 favorite in the second running of the event. Her fifth-place finish remained the best for a mare until Beholder came along. Paseana was, nevertheless, voted the top Older Female of 1992, and repeated as an Eclipse champion the following year.
Paseana came back to Del Mar in 1994 and pulled off a nose victory in the Chula Vista Handicap in what proved to be her parting performance for the fans here. Years later, when the Craigs purchased the former Rancho del Rayo training center near the track, they renamed it Rancho Paseana.
Immediately preceding Paseana as a star of the McAnally stable was another import from Argentina named Bayakoa. Her first stakes win in the U.S. came here under Aaron Gryder, a 10-length romp in the 1988 June Darling.
Bayakoa would earn Eclipse awards in the older female category in 1989 and 1990. The former came despite a clunker of a Chula Vista Handicap when she finished last of six, beaten 15 lengths. The latter when a runner-up effort to Quiet American against males in the San Diego Handicap led to victories in the Chula Vista, Spinster and Breeders' Cup Distaff that left no doubt about her worthiness for the Eclipse Award.
A precursor to the dominating distaffers to come at Del Mar was Princess Rooney. The gray filly, trained by Neil Drysdale for owner Paula Tucker, won the Chula Vista Handicap as a 4-year-old in her only Del Mar start, and it was part of a five-race winning streak to end her career that climaxed with a seven-length win in the inaugural Breeders' Cup Distaff and an older female Eclipse Award.
The bar these females raised may have seemed impossible to be topped. But then along came Beholder -- the past, present and probably future talk of the track.