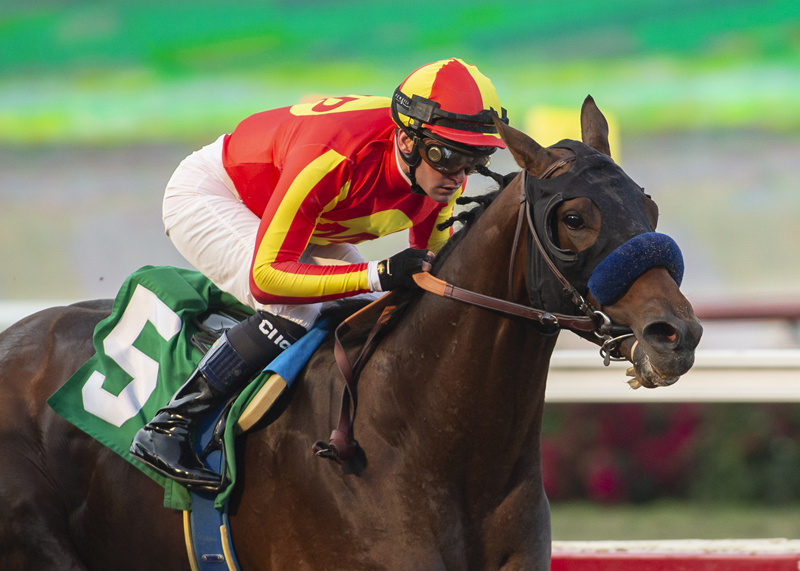 Azul Coast © Benoit Photo
Pegram, Watson or Weitman's Azul Coast tracked a moderate pace early, ranged up nearing the turn for home and fired smartly through the lane to come away a half-length winner of the $100,500 Native Diver Stakes Saturday afternoon at Del Mar.
The 4-year-old Super Saver colt ran nine furlongs in 1:50.55 under leading rider Flavien Prat and met leading trainer Bob Baffert in the winner's circle following the 44th running of the stakes named for California's first million dollar earner.
It was stakes win No. 77 at Del Mar for Prat and stakes win No. 147 for Baffert. The trainer's mark is far and away the most by a conditioner in the history of the seaside oval. Prat has 12 wins through 10 days of the current session, while Baffert has eight.
Finishing second in the Grade III headliner was John Sondereker's Kiss Today Goodbye and running third was Coolmore Stud, Starlight Racing, Madaket Stables, et al's favored Eight Rings.
Azul Coast earned a paycheck of $60,000 for his work and now sports a bankroll that read $221,280. It was the bay's fourth win in his 10th start.
Azul Coast returned $8.40, $4.60 and $2.60. Kiss Today Goodbye paid $5.20 and $2.80, while Eight Rings returned $2.20.
The track's Pick Six single ticket jackpot wager again proved too tough to handle for the bettors and carried over to Sunday with a prize of $347,763.
First post for the nine-race card Sunday will be 12:30 p.m.
---
FLAVIEN PRAT (Azul Coast, winner) – "We were in a good spot for the whole trip. I could tell the pace was only moderate, so I moved him up closer near the three-eighth (pole). Then when we went we were in good position and he was ready. A good win."
BOB BAFFERT (Azul Coast, winner) "'Azul' runs his best races down here. He likes this track and he ran really impressive. When I ran him in the Awesome Again he just laid an egg, he was up there close and I was really disappointed, but he was chasing Medina Spirit. I had no idea how it would setup, they were all on their own. I told the jockeys (he had three horses in the race) you guys ride your own races and hopefully we'll run 1-2-3. I'm happy for the connections, the well has been a little dry lately. Main thing is that we got the 'w'..."
---
FRACTIONS: :23.74 :48.41 1:13.18 1:3819 1:50.55
The stakes win was the fifth of the meet for rider Prat and his second (Battle of Midway, 2018) in the Native Diver. He now has 77 stakes wins at Del Mar, 10th most of all time.
The stakes win was the fourth of the meeting for trainer Baffert and his second (Dortmund, 2015) in the Native Diver. He now has 147 stakes wins at Del Mar, far and away the most of any trainer.
The winning owners are Mike Pegram (of Del Mar, CA), Paul Weitman and Karl Watson (both from Tucson, AZ).